New Brunch & Bar Menus at Mediterranean -Style Ysabel Restaurant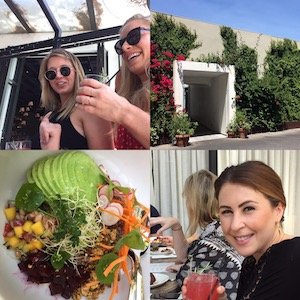 (Gerry Furth-Sides) Ysabel Restaurant is so dazzling  — inviting straightforward American cuisine, unparalleled craft cocktails and extraordinary service set into a private space that takes the best of classic Mediterranean and overlays a spiffy West Hollywood tone to it –that on on a sunny spring Saturday morning, it easily becomes the center of the universe.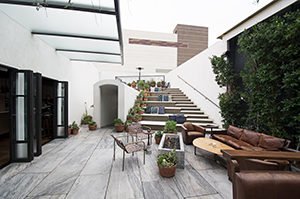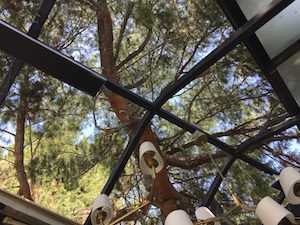 A gloriously sun-dappled (the harder to photograph you, my dear), tree-lined patio in town and extends itself by facing into three soaring dining rooms and bar with very high ceilings.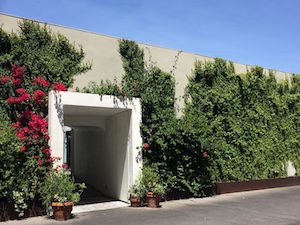 Set back from Fairfax Avenue,  spacious Ysabel is tucked in the back of a large building, down a long driveway, the white-washed Mediterranean ambiance, dotted with classic appointments and lush greenery.  It is not only the "quintessentially Californian, indoor-outdoor environment," it sets the standard for all others.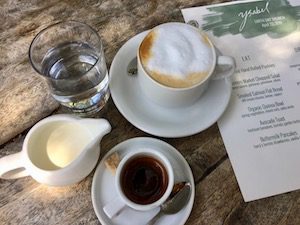 What can be added to our favorite breakfast cappuccino?  How about whipped cream, an espresso with soft brown sugar cubes.  Servers are only too happy to please.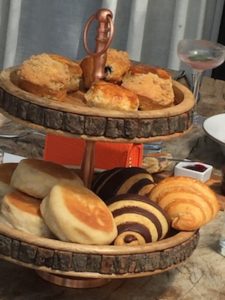 Assorted Hand Rolled Pastries
and a perfect bowl of fresh fruit?  The pastries are as light and fluffy as their picture; the sort of biscuit scone on the top layer made two of us at the table forget our paleo regime.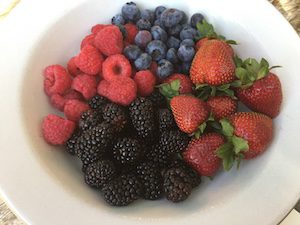 All of
Chef Allison Trent's
dairy, produce and oils are sourced through organic suppliers.  Local farms featured include the legendary
Coleman Farms
 and 
Harry Berries, wong Farms, Pudwill Farm
and
JJ Loan Daughter Farm.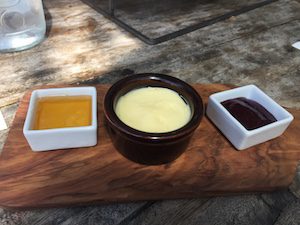 The small touches of luxury and a kind of pampering arrive here on a wooden block with small dishes filled with the finest honey, butter and jam.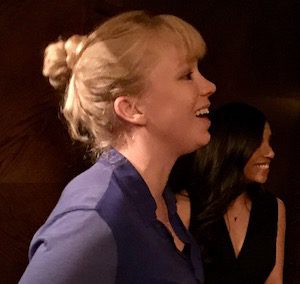 Chef Allison, who also directs the kitchen at sister restaurant,
Laurel Hardware
, hails from Australia and has a certain feel for dishes that work well in an indoor-outdoor setting.  Her menus also feature light but substantial flavors that perfect in the Los Angeles weather.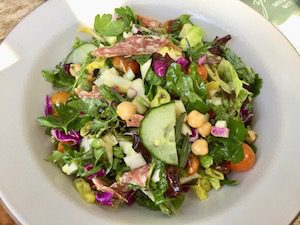 Farmers Market Chopped Salad
was chock-a-block rich with spicy salami, garbanzo, provolone and olives.  It was dressed perfectly, covering each piece but nothing more.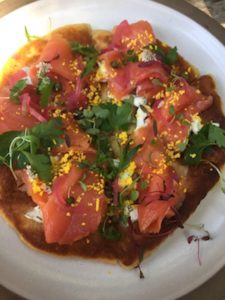 Smoked Salmon Flat Bread became new again with dill cream cheese along with lemon and capers.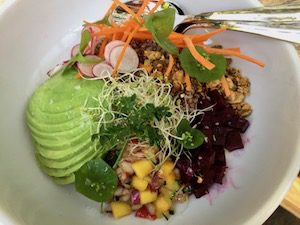 Chef Allison's artistic, composed Organic Quinoa Bowl made an organic naturalist out of everyone in the group.  Beets, radish slivers, English cucumbers micro-greens and carrots shreds for that hint of sweetness pulled this dish together with a touch of garden in every bite.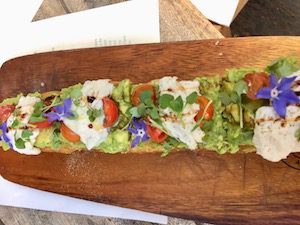 "Avocado Toast," another current buzz word dish turned out to be another surprise topped with a spring hat of heirloom tomatoes, burrata and garden herbs that again tasted as delightful as it looked.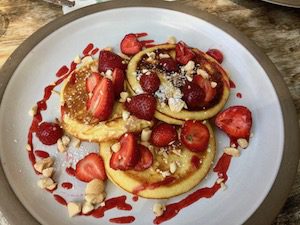 Harry's berries strawberries and vanilla cream added the final crowning touch to Buttermilk Pancakes.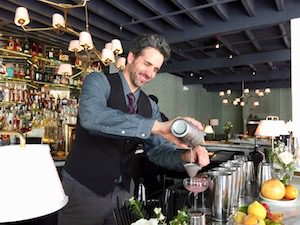 Masterful and engaging Italian-American Mixologist Frederico Vial seemed to take pleasure in preparing our cocktails.  Here he mixes the Mary Rose
cocktail
with  grey goose, black berries, rosemary and organic lime.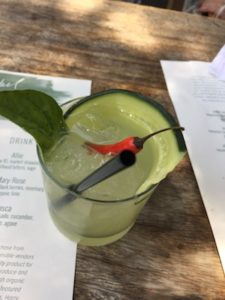 The Tosca – which the group toasted him with- brought together the spark and freshness of fortaleza repesado, cucumber, habanero and agave. the Allie was created with tanqueray 10, market strawberries, peychaud bitters and sage.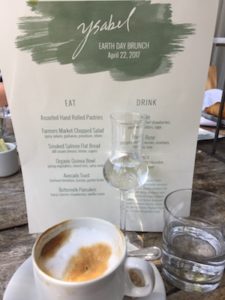 Mixologist Frederico was was equally pleased to prepare a glass of the finest grappa, which had the spark without the burn of other grappas.  He instructed us to sip the grappa and espresso alternately to savor each taste.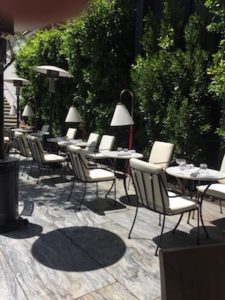 We lingered over brunch for an hour after the last course, moving from the warm common table to the warm deck.  Ysabel is a truly place that once you are there, you do not want to leave.
For more information or reservations at Ysabel, 945 N. Fairfax, Los Angeles, CA,  please visit http://www.ysabel.la/ or call 323-366-2940.