New Brunch Menu at Classic Maggiano's Little Italy
(Gerry Furth-Sides) Straightforward Italian-American dishes with a few novel twists weren't so much of a surprise in the  New Brunch Menu at Maggiano's Little Italy.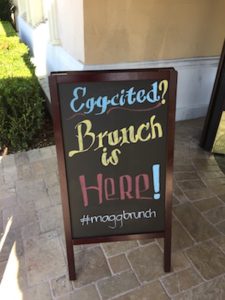 Apparently I am not alone.  A guest favorite for special occasions, Maggiano's Little Italy  was host to more than 535,000 celebrations in 2016 alone.  There were obvious bridal shower, birthday and baby shower party guests when we arrived and when we left.
The new Maggiano's Brunch menu, however,  is this year's surprise; it is the restaurant's first menu change since it opened.  Added to the made-from-scratch Italian-American cuisine repertoire are 12 new brunch items prepared  by trained chefs.   Each dish is inspired by an Italian classic.
Chef Alberto Bini is from Genoa, Italy and we caught him just before he went back to Italy for one of his regular research trips.   Our friendly, knowledgable waiter was genuinely pleased to be serving us — he will remain in my heart (and head) forever because he explained to me how to delete the images in my iPhone permanently when I was embarrassed to run out of space!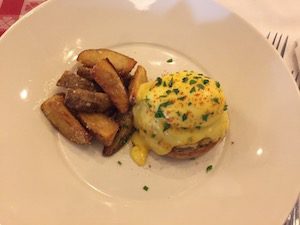 There are no less than five Benedicts.  Each is served with Crispy Vesuvio Potatoes  Jumbo Lump Crab Cakes, (above) on an English Muffin ($19.95) are filled with moist crab, about no filler, Poaches Eggs and topped with a rich but refined Hollandaise Sauce.
Other choices include The Meatball ($14.95), which we had instead as a side dish that included the Oven-Dried Roma Tomato and  Hollandaise Sauce – but without an English Muffin and Poached Eggs.
Other choices  ($14.95),include NUESKE'S SMOKED HAM,  SMOKED SALMON & SPINACH and  CHICKEN FRANCESE, which also layers Arugula along with the Poaches Eggs and Hollandaise Sauce.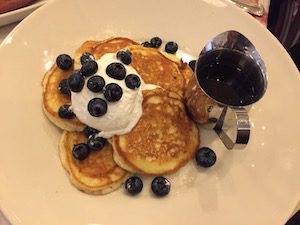 Lemon ricotta Pancakes are in the BREAKFAST CLASSIC section. They feature Whipped Cream, Maple Syrup, Blueberries, Choice of Side.  Our guest found them light and fluffy but needing more lemon flavor to her taste.
The choice of sides include:
2 EGGS*
NUESKE'S BACON
ITALIAN SAUSAGE
NUESKE'S SMOKED HAM
FRUIT & YOGART PARFAIT†
Also in the BREAKFAST CLASSIC SECTION are BUTTERMILK PANCAKES with Whipped Butter, Maple Syrup, Choice of Side
MAGGIANO'S CHICKEN & WAFFLES is in its own category! It is served with Whipped Cream, Maple Syrup, Strawberries, Blueberries ($19.95).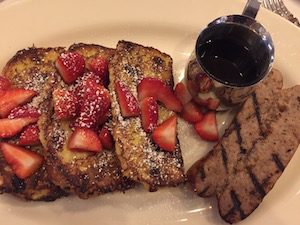 CRÈME BRÛLÉE FRENCH TOAST ($$14.95) come with Cranberry Raisin Focaccia, Maple Syrup, Strawberries, Choice of Side.  the "Brûlée or "torched quality" was very, very subtle.  the dish itself, served here with sausage, was thoroughly satisfying.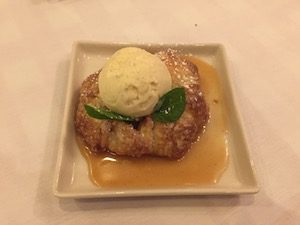 For DESSERT, we choose an Apple Crostada and had one more choice to make.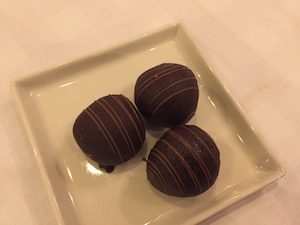 We chose the Chocolate Zucotto Bites (shown above).  When we asked if it was the same as the Chocolate Zucotto Cake, we were told "no!  You have to try it."  So we did.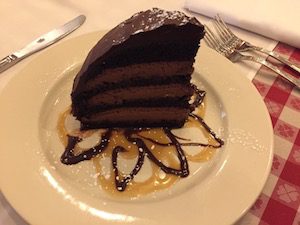 And this is what it grew up into – you could see the delight reflected in all of our faces!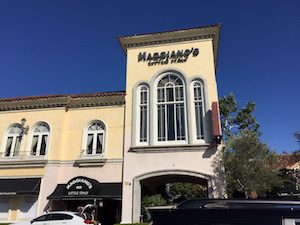 Other brunch choices include:
ITALIAN-AMERICAN BREAKFAST
Three Eggs, Nueske's Ham, Nueske's Bacon, Italian Sausage Link, Crispy Vesuvio Potatoes, Candied Orange
VEGETABLE FRITTATA
Shiitake Mushrooms, Spinach, Roma Tomatoes, Smoked Mozzarella, Crispy Vesuvio Potatoes
ITALIAN SAUSAGE FRITTATA
Spinach, Smoked Mozzarella, Crispy Vesuvio Potatoes
KIDS
BUTTERMILK PANCAKES
Whipped Butter, Maple Syrup, Orange Slices
BACON & EGGS*
2 Eggs, Bacon, Crispy Vesuvio Potatoes
BEVERAGES
Mimosa • Peach Bellini • Italian Bloody Mary
Maggiano's Little Italy® specializes in classic and contemporary Italian-American cuisine served in a warm and friendly atmosphere. The pastas, signature salads, prime steaks, fresh seafood, regular chef specials and specialty desserts.
Brunch is offered seven days a week from 10:30 or 11 a.m. – depending on the market – to 3 p.m. at all 52 restaurants across the country. On Saturday's and Sunday's,  12 dishes are offered.  Five are offered on week-days.
To view the full menu and learn more about Maggiano's brunch, visit www.maggianos.com/brunch.    Follow Maggiano's on (www.maggianoslittleitaly) and on YouTube (https://www.youtube.com/maggianoslittleitaly)
Maggiano's 52 restaurants nationwide offer lunch, dinner and brunch, delivery, carryout service and banquet spaces. Maggiano's is owned and operated by Brinker International, Inc., serving more than one million guests daily.