New Bru's Wiffle's Off-the-Menu Turkish Pizza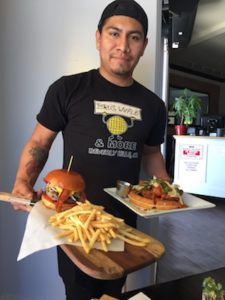 (Gerry Furth-Sides) Bru's Wiffle  in Beverly Hills takes on a slightly ethnic riff on the casual  "Waffle Joint."  Under the direction of the chef who created it, Ebru Fidan Caplan, al dishes are made from scratch, using only the freshest and finest ingredients.
Popular menu items include the always fresh Fried Chicken and Waffle, Burgers, Salads and more.  Gluten-free waffles represent the care for all diner's needs.  And for the little ones, this family-friendly establishment makes kid-sized waffles at kid-sized prices.
The space takes over the very large shoes of the original Andre's Continental Restaurant in Beverly Hills on Wilshire near La Cienega's Restaurant row.  Italian Chef-owner, Andreone, who wanted to share white tablecloth cuisine with more than high-end diners, opened and has operated Andre's across form the original Farmers Market for over a half a century.  http://localfoodeater.com/andres-first-white-tablecloth-italian-to-go-casual-50-years-ago/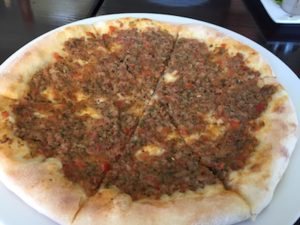 The feeling is contemporary at Brunch Wiffle but the hospitality is old-fashioned welcoming, and there is even one dish that goes back centuries. To get the idea of Chef Caplan's passion, try the substantial, light Lahmajoun or Turkish Pizza ($12) topped with ground beef, tomato, bell pepper, onions, garlic, oregano and  basil.  Another middle eastern treat, the Hummus Pizza ($14.00) is topped with roasted pepper hummus  and ricotta.
"Lahmajoun"  is the Arabic word (also used in Armenian cuisine) for "meat with dough." It regers to a round, thin piece of dough topped with minced vegetables and herbs including onions, tomatoes and parsley, and spices such as cayenne pepper, paprika, cumin and cinnamon. The round is then baked. Lahmacun is often served with turnip juice and a cabbage wrapped around vegetables, including pickles, tomatoes, peppers, onions, lettuce and roasted eggplant.
Ebru Fidan Caplan was born and raised in Turkey. She grew up in her family's hotel and restaurant business, learning the art of cooking.   Combining her European beginnings, fine management skills, her favorite recipes and her love for cooking, Ebru is bringing a new eating experience to Los Angeles via her restaurant near Restaurant Row and also in the heart of Santa Monica.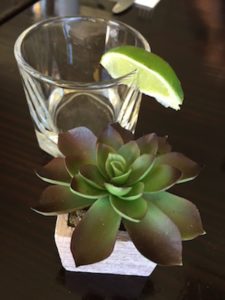 The staff is warm, hospitable from the moment you arrive at the door to pleasing customers in every way possible.  The full bar offers a range of cocktails, beers and specialty drinks that can be a true help!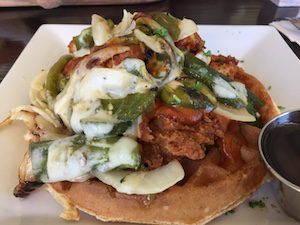 Bru Style waffles ($11.25 to $13.50) come as high, crispy Belgian waffles — which also hold in the flavors of their toppings.  they do justice to their namesake eatery.  The list begins with the popular Chocolate Waffle Party$13.50 (chocolate belgian waffle stuffed with housemade butter cream, topped with oreo cookies, whipped cream & chocolate sauce and the Banana Split Waffle (belgian waffle topped with ice cream, whipped cream, bananas, strawberries & chocolate sauce).  The intriguing "King" is topped with peanut butter, banana and  bacon.   The Waco is prepared with grilled or crispy chicken, lettuce, pico de gallo, cheddar, mozzarella, jalapenos, sour cream & salsa.
Although Churro and Red Velvet Waffles waffles are listed on the main menu, they could be eaten for dessert.  Other dessert waffles include Chocolate Belgian, Blueberry  and Banana Pecan.
Wheat waffles are made with organic whole wheat flour.  They are also offered in the mini size to which chocolate can also be added.  Additional toppings include fresh whipped cream, nutella, chocolate sauce, strawberries, grape, almond or pecan pieces, banana, chococlate chip, rainbow sprinkles or premium ice cream in  cinnamon or french vanilla flavors. 
French Toast ($12.00) arrives with an assortment of fruits, fresh whipped cream, peanut butter  on a cinnamon sourdough bread.   Nutella stuffed French Toast is another international favorite.  
The Breakfast French toast is stuffed  with turkey sausage, fried egg, bacon, cheddar on sourdough bread served with breakfast potatoes. The blazing monte cristo is even more substantial with turkey, swiss cheese and " blazing sauc" on sourdough bread served with breakfast potatoes
"Other goodies" include breakfast hash ($13.95) of ground beef, onions, citrus garlic potatoes & fried egg with greek yogurt sauce.  Breakfast pasta ($13.50) features penne pasta with fried egg, mozzarella, goat cheese, crispy chicken with basil pesto.  And this is not even the "Big Breakfast ($14.95) of turkey sausage, smoked applewood bacon, breakfast potatoes & scrambled eggs with waffle or toast.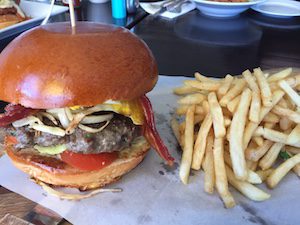 Bru's Burgers (all about $13.50) are served on a choice of pretzel bun or brioche bun with french fries sweet potato fries.  Shown above, the Blazing Burger ($11.50) features blazing sauce and grilled onions.  The Bru's burger comes with smoked applewood bacon, fried egg, grilled onion, avocado, tomato & garlic aioli.  Ben's burger ($13.50) is packed with sauteed mushroom, avocado, grilled onions, fried egg and  swiss cheese with spicy garlic aioli.
Appetizers in the range of $6 to $8* include Crispy Rice Balls and, to keep up with the times,  "Guac the Toast. "   Avocado takes the form of Avocado Fries and Baked Avocado Cups (that to which eggs can be added), along with  whole baked avocado with mozzarella, fried egg & bacon.
Bru's Wiffle, 8635 Wilshire Blvd, Beverly Hills, CA 90211