New Contemporary Japanese DELICATESSEN BY OSAWA Opens in Pasadena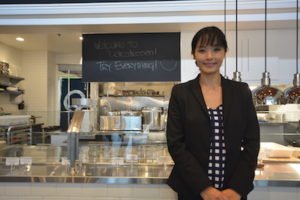 (Photo Credits: acuna-hansen) New Delicatessen by Osawa, a contemporary Japanese style delicatessen in the heart of Pasadena is officially open.   Owner  and Executive Chef Shigefumi Tachibe and wife, Sayuri Tachibe of  Osawa  (pictured above) are the forces behind this first contemporary Japanese deli-style restaurant in the Los Angeles area.  The couple has been envisioning the casual, high-quality concept for some time now. Distinguished Executive Chef Tetsuya Osaki, Chef Tachibe's apprentice,  is again at his side.
Revered Chef Tachibe, as foodie insider's are aware,  created the ubiquitous  Tuna Tartare, now considered a classic, when he headed up the CHAYA restaurant Group and M Café kitchens for over thirty years.  Chaya Brasserie was the "it" place from the moment it opened. And it always exceeded all expectations in food and in its high-energy, airy ambiance.  In fact, a  friend hosted a surprise birthday party for me there that we still talk about today.
While Chef Tachibe's momentous  career includes his chef knife on display at the National Museum of American History at the Smithsonian http://amhistory.si.edu/onthemove/collection/object_931.html,  we more closely relish his Chaya Brasserie dinner menu, each item so alluring that we happily worked our way through every single dish on it.  We also have the indelible memory of Chef Tachibe handing over his incomparable hamburgers through the kitchen pass at Chaya Venice and coming back for every one of his magnificent special Venison Menu dishes (among other special menus).  "Seamlessly integrated universal ingredients, exquisite and effortless prepared" defines his cuisine.
Chef Osaki's distinguished career spans over three continents including Japan, Europe and The United States and includes the kitchens of chic JiRaffe, Chinois on Main and the CHAYA Restaurant Group.
The fresh, exclusive selection of Delicatessen by Osawa offers such Japanese classics as  the Organic Mixed Seaweed and Hijiki & Soy Beans.  Chef Tachibe's unique, creative touch is most evident on selections, such as Potato & Edamame.  Russet potatoes are at the heart of the salad but it also stars snap peas, edamame & hearts of romaine.  Topped with micro wasabi, the salad is seasoned with wasabi mustard sauce.
The now ever-popular Panko is the coating-for-crunch in the lightly fried mix of mashed potato in the Potato Croquette and the  Crab Cream Croquette and the Kushi Pork Katsu.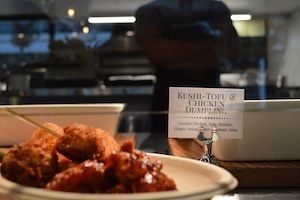 Other original, tempting dishes include Sweet & Spicy Marinated Tofu; Kinboshi Daikon; Ginger Cucumber, Nanban Zuke (Japanese Escabeche) and Assorted Inari Sushi.  Gobo, Renkon Kinpira is a mix of fresh burdock roots, lotus roots, konnyaku, mizuna, carrot, onion & celery dressed with spicy sesame sauce.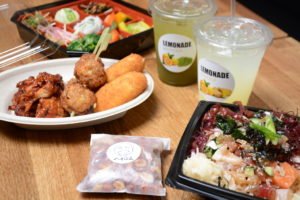 Organic Chicken Karaage, Japanese style fried chicken, is served with spicy sriracha sauce.  Soups, salads and rice bowls, or (Donburi) and a selection of vegetarian dishes round out the menu.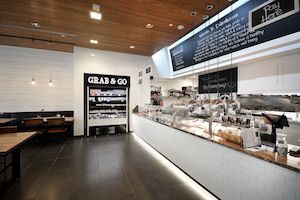 The Grab & Go section offers pre-packaged selections such as the Delicatessen By Osawa daily Bento Boxes.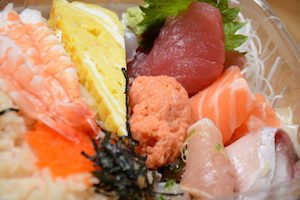 Fresh Sushi is notable because it features the American-influenced items such as the Spicy Tuna Roll, California Roll and the Cucumber Avocado Roll.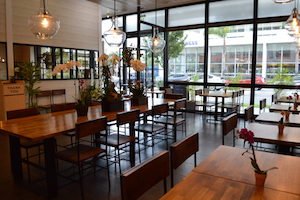 A minimalist interior is offset with warm wood and a special touch of Omotenashi, Japan's exquisite art of hospitality that sets Osawa apart.  Almost all the items in the to-go section will be available to in-house diners for example.  And familiar faces will be on hand to bridge the experience from Osawa to Delicatessen by Osawa.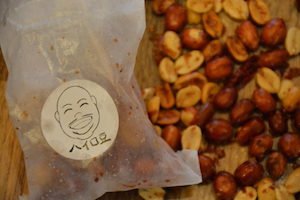 Delicatessen by Osawa is open every Monday through Saturday from 11:00 am to 6:00 pm. For more information, please visitwww.DelicaByOsawa.com or call Delicatessen by Osawa directly at 626.844.8788.