New Ethnic Classes in February at SURFAS, Culver City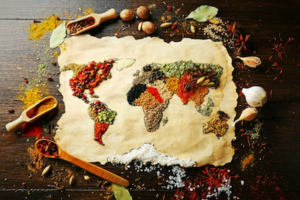 (Gerry Furth-Sides) Surfas takes on teaching families  how to create contemporary favorites out of popular Chinese-inspired and Mexican dishes in their new line-up of cooking classes.  It is totally in line with the family-like atmosphere at Surfas — which Diane Surfas' family founded decades ago, and remains a mainstay in Culver City for the amateur and professional alike.  The kitchen is under the supervision of Executive Chef Rubina Khan.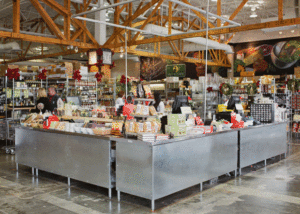 The staff is not only friendly but knowledgeable, and ready to help.   And the well-lighted store with its airy, beamed ceiling always gives the feeling of soaring (rather than warehouse).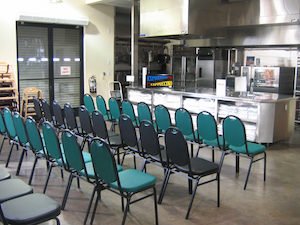 The classes feel like you are a valued guest rather than a student with a number. Not only is there ample seating with a long counter/stove/prep area for the instructor but an overhead mirror — and lots of samples.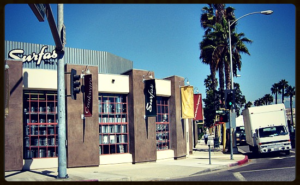 The huge store is an experience in itself (conveniently located right off the 10 freeway at Robertson).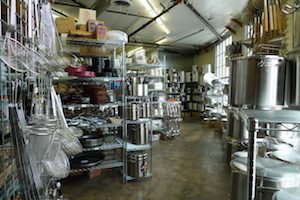 From the novel handprints on the sidewalk leading into the store and cafe from the (free) parking lot to the glass-enclosed cooking class area, there is a dazzling array of things to explore.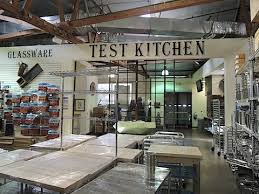 Tall shelves are lined with what appears to be very conceivable kitchen product and glass cases along the wall and in one corner feature mouth-watering, esoteric products such as French cheeses and snails.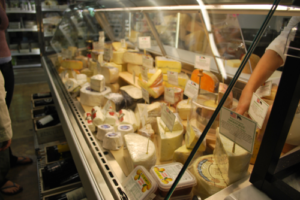 The trick is to have in mind what you are looking for or a limit.  It's easy to buy and buy and buy.  I have!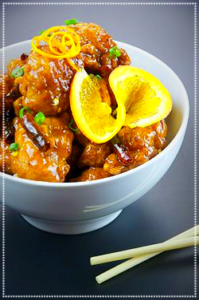 Family Dinners:
Chinese Take Out at Home
Whole Families Welcome
Hands-On Cooking Class
Saturday, 2/25/17
5:30pm-8:00pm
$69.00 per person
Students, adults and kids,  will  learn how to re-create signature favorites from  Chinese restaurants, and how to make these dishes more approachable at home.
Create and Enjoy:
Egg rolls (chicken and vegetables)
Soy Ginger Glaze
Crunchy coconut shrimp
Chicken Manchurian
Egg fried rice
Coconut pudding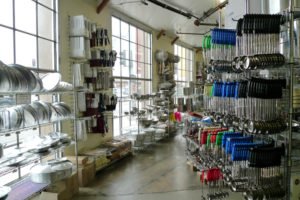 Another new class is the Mexican Tapas & Sangria night.  For us it is the perfect time of the end of a Sunday afternoon to close out the week-end, learn something and be motivated for the coming week and early enough to still relax at home.  The drinks give it a special feel.
Mexican Tapas & Sangria Night
Sunday, 2/19/17 3:00 PM – 6:00 PM
$75.00 per person
Tapas don't have to be Spanish.  This strictly Los Angelino take on quick, easy bites, is also perfect for socializing over a pitcher of Sangria. Surfas chefs show how easy entertaining can be with fresh ingredients and easy-to-prepare recipes.
Create and Taste:
Pico de Gallo – Fresh tomato, cilantro and onion salsa that pairs well with most dishes
Chili Garlic Shrimp & Avocado Tostada – a surprisingly  flavorful, quick party dish
Beer Batter Fish Tacos – Succulent fresh fish battered and fried, served up Baja style
Cilantro Lime Chicken Tacos – Chicken tacos with a twist of tart lime.
Mexican Cole Slaw – A lovely accompaniment to all of the dishes on the menu
Fruity Sangria – The perfect drink, full of juicy fresh fruit, to top it all off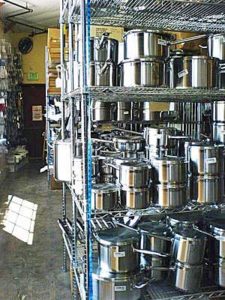 STORE HOURS
Mon – Sat 9:00am-6:00pm
Sun – 11:00am-5:00pm
CAFE HOURS
Breakfast
Mon – Sat 8:00am – 11:30am
Sun 10:00am – 11:30am
Lunch
Mon – Sat 11:00am-5:00pm
Sun 11:00am-4:30pm
 (Grill closes at 3:00pm every day)
Culver City, CA
90232
(310) 559-4770