New Five-To-Try (and Why) Cooking Tools with Ethnic Pedigrees
(Gerry Furth-Sides) Even the names of new (or "improved") products prove intriguing enough for a try: Himalayan Salt Table Cook-Top, Bear Paws and Burger Lifts — and the book, Salt Block Cooking.   Each of them has earned high marks in our own kitchens.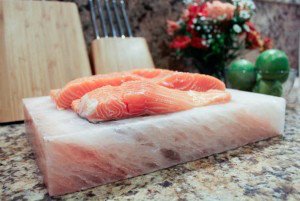 Salt Rox.  If you've ever eaten food prepared on this absolutely beautiful surface that mirrors the look of natural pink quartz you know this is true. We were first introduced to this extraordinary rock at a spectacular party hosted by the  California Restaurant Association as a closing event to a food show years ago.  It was their final one and they "wanted to go all out."  Glowing, glorious salt rock-covered food stations alone set the party apart even in jaded Los Angeles.  The food stations set with the festive food by Ciudad, the restaurant at the bottom of the escalator, dotted the mile-long lush forested "secret" park right at the edge of  — peek past the "moving tree" performers and the stations came into view as you rode to the top of an escalator took your breath away.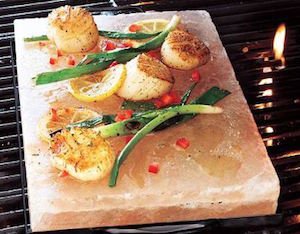 The practical idea, however, is to enhance and season food before and during the cooking process in a natural way. Salination is the process of salt attempting to equalize the sodium content between itself and anything with which it comes in contact.
Surprisingly and importantly, the flavor of Pink Himalayan Salt is much more mild than a processed sodium product. The quantity of trace minerals impart a mild and complex taste. 1.2% sulfur, 4% calcium, .35% potassium, 16% magnesium, along with 80 other trace minerals.  Salination is the process of salt attempting to equalize the sodium content between itself and anything with which it comes in contact.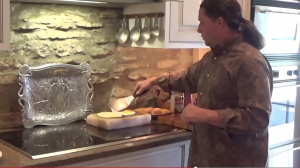 Pink Himalayan Salt has an extremely low porosity and virtually no residual moisture, thereby providing a small amount of surface area actually contacting your food during the cooking process. While the liquid content of the food does increase the salination process, the mineral content of the salt makes the flavor subtle and well rounded. The salt plates can be safely heated or chilled to great extremes from 0 F to 700 F. Salt melts at 1473.4 F.
An idea that originated in China with the first salt processing, Salt Rox is made in America. The  is a small, family-owned company located in Central Kentucky that manufactures Pink Himalayan Salt Cooking Plates and products.
The popular Pink Himalayan Salt Cooking Plates are the only salt plates manufactured to be documented as safe for cooking, grilling and baking. Salt Rox also manufactures Pink Himalayan Salt Shot Glasses shot glasses carved of Pink Himalayan salt – no salted rim needed.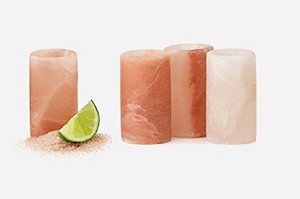 In the words of CEO and expert in the field John Tucker (Tucker), "Our goal is to introduce gourmet products that complement and enhance your cooking and eating experience! We invite you on this journey with us!" To back up his words, Tucker has logged thousands of hours in front of audiences showing people just how it's done, is always happy to share his knowledge and vast experience with our customers.
Salt has great value throughout history and was a precious and prized commodity to most nations. It was not uncommon to find settlements in the general vicinity of salt springs, and salt was traded as a commodity by many peoples. Both as a preservative and a seasoning, salt is indispensable to great cooking. For more information, please see (www.saltrox.com)
Mark Bittman even wrote an entire book about Salt Block Cooking.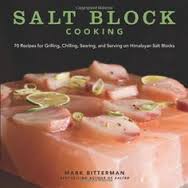 And for a singular, entertaining and enormously educational experience about the history of salt, we suggest Mark Kurlansky's book, SALT by bestselling author, Mark Kurlansky to reveal the long and intriguing history of this  to the household item.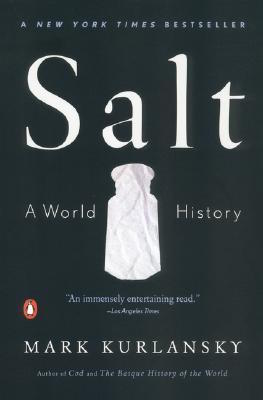 The only rock we eat, salt has shaped civilization from the very beginning, and its story is a glittering, often surprising part of the history of humankind.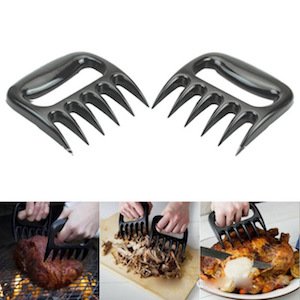 With their rounded, plastic handles, rounded Bear Paws look as appealing as a toy although they are the "the tool" to perfect barbecue pulled pork or chicken.  The extremely sharp tines and easy to grip handle allows the cook to simply and gently pull the paws through the meat.  The tines do all the work, gliding along the cutting board surface.  Bear Paws enables home or restaurant cooks present a visually appealing dish and somehow the uniformity of the pieces releases intensified BBQ flavor.  They can be also used to grip and pick up a roast before it even gets to the shredding process.  "Pulling, shredding, lifting, gripping, handling, transferring — and more" just about covers it all.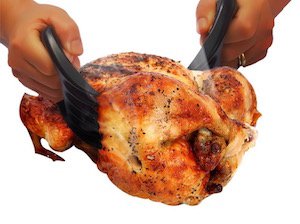 The ingenious, Bear Paws earned a first place award of excellence form the National BBQ Association. They are made from a FDA-approved, proprietary nylon material that is harder, denser, stronger, tougher, more heat- resistant and will stay sharper in use.  The handles stay cool even when a cook picks up a piece of meat up to 475 degrees.
Versatile Bear Paws also work for all types of kitchen uses, including handling turkeys, hams, roasts, large fruit and vegetables, as well as tossing salads and pastas.
Manufactured by Bear Paw Products (trademarked) come with a limited lifetime warranty and to this end, "paws" are dishwasher. Bear Paws are proudly made in the USA.
Bear Paws come in red, white and black at most outlets. Available at select BBQ stores and retail outlets as well as Amazon.com. Learn more at http://www.bearpawproducts.com/.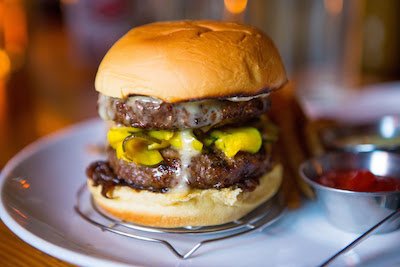 The original Burger Lift is constructed from stainless steel and is dishwasher safe. The design is both lightweight and easy to grab, but sturdy enough to withstand the test of time. It is also available in PP plastic in a vibrant red color –Both styles are sold in a set of four. $10.99 – $24.99. https://burgerlift.com/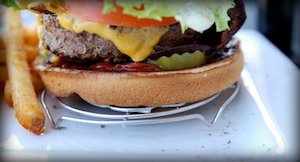 GRILL DADDY tools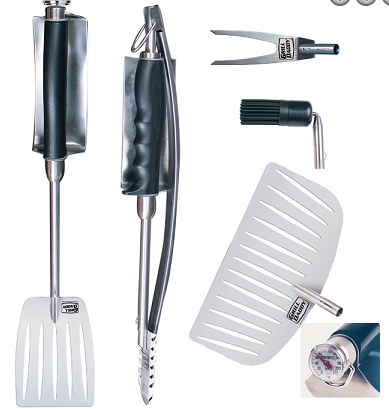 GRILL DADDY tools are the "muscle car" of cooking equipment. They beg you to touch and to hold them – instant power in the grip!  They are as distinguished from standard grill tools as an icebox is from a Sub-Zero, and at a much more affordable price.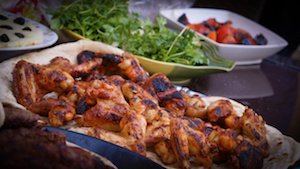 The tools are so beautiful, so seemingly over-sized (still just right for an outdoor grill) and so inviting to touch it takes a minute to remember that the patented steam-cleaning brushes were actually designed for cleaner, safer grilling that takes off annoying baked-on grease and food particles.