Melissa's Tea Room Café in Italy Captures British History

Melissa's Tea Room café, nestled in Liguria on the northwest Italian Riviera, has earned the reputation of being a travel destination.  In one visitor's words, "an experience that people come from around the world to savor."  It revitalizes the age-old tradition of a relaxing tea with cakes in beautiful surroundings.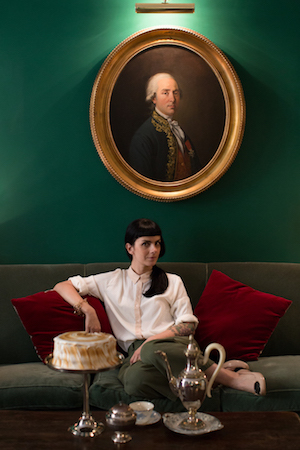 It is even more fascinating because  Italians are known for their espresso and the enjoyment of sharing it with others.  On a visit to Firenze while shopping, I was generously treated to espresso service, seated on a balcony  on the Ponte Vecchio as a matter of course.
Where better to do this than in Italy?  The tradition started with English ladies visiting "winters on the continent."  They enjoyed it because of their zuppa anglaise, a high tea dessert favorite filled with enough sherry or Madeira to make the effects of the tea time.
So afternoon tea is not so strange after all.
In La Bella Vita, Helen Ruchti writes about the mutual fascination the English and Italians have long had with each other.  "Two thousand years ago, British slaves were sold in Roman markets… Short, swathy Latins thought tall, blonde Anglos looked like angels…The enthusiasm with which the British enjoy Italy is displayed in the film, "Tea with Mussolini,"  (Judy Densch and Maggie Smith) about British expatriates arrested in Italy during world war II.  Even in prison, these ladies still demanded the guards bring their tea at 4 p.m. every day, as was their custom.."
And of the favorites, Zuppa Inglese – or English soup – is a pudding doused with excessive brandy.   It is fascinating that the French got in on this too because the "dessert,  Zuppa Ingrese, was invented by Neapolitan pastry cooks of Europe during the 19th century…inspired by English puddings that were fashionalbe [sic] at the time."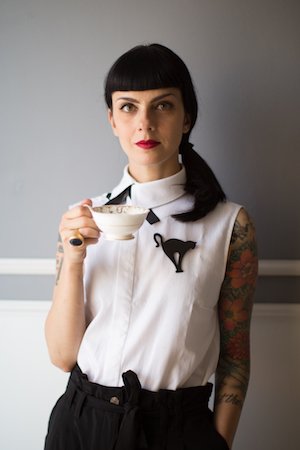 Forti herself has travelled around the globe collecting experiences, recipes and techniques to set her tea room apart. "My goal is to embody the world in a single café," she says.
You experience the best of Italy the second you walk through the door, when you're greeted by historical and traditional Italian artefacts that have been passed down through the generations, and see my paintings on the wall.
"And that's before you even get to the food!" says Melissa. " I wake up and bake by what inspires me the most on that particular day. It starts with me going out and hand-selecting the freshest, most apt in-season ingredients from local vendors, before locking myself in at the early hours to bake fresh goods ready for sale that day.
"Everything is always 100% fresh and, if ingredients are out of season or not of the very finest quality, I simply don't incorporate them. You can taste the freshness of my cakes and other baked goods with every bite – you're literally tasting everything that's great about Italy."
Forti first started to bake a decade ago, starting a cupcake and wedding cake business before opening up her tea room in 2010.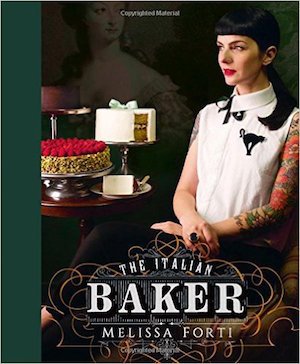 Melissa has also branched out into writing. Her  debut book, 'The Italian Baker' is published by Quadrille Publishing in the UK.  It shares many of her recipes as well as familial history and cultural showcases.  It's an extension of the tea room and is yet another chapter in Italy's boundless beauty and heritage.
The Italian Baker introduces readers and bakers to the atmosphere of Melissa's tea room within the idyllic medieval town near Tuscany.  In it, Melissa shares her signature style of baking, with insights and recipes for her    beautiful signature cakes and more that combine Italian traditions with her own modern twists.
The collection includes tarts, cakes, loaves, biscuits, and coffee-time treats.  Melissa gives perennial favorites like carrot cake, brownies, chocolate cake, and cheesecake a fresh, Italian makeover.  Each recipe showcases  popular Italian ingredients like olive oil, mascarpone, almonds, and fresh fruit.   And every cake and cookie is created to reflect Melissa's travels,  passion for good food, and love of her Italian heritage.
Born in Rome and having lived in Los Angeles and London, Melissa Forti taught herself to bake and started to collect baking books old and new to learn about the art of baking through the ages and throughout the world. After settling in the magical town of Sarzana, situated between Cinque Terre and Tuscany, she opened a boutique bakery and tea room, Melissa Tea Room and Cakes, where both locals and visitors enjoy her incredible, freshly baked cakes every day.
"I can't believe how things have grown in just six years!" Forti admits.  "I never imaged such a small tea room could be so profitable, or become so well known around the world. It motivates me to continue my travels across continents and oceans to collect inspiration for my "one world" vision for the place."
Melissa's Tea Room can be visited at: Domenico Fiasella, 33, 19038 Sarzana SP, Italy.