Authentic New IzakayaSLOWfish Adds Asian-Fusion Allure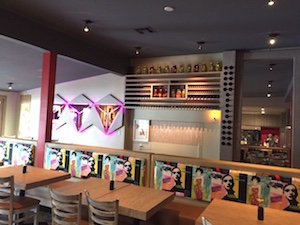 (Roberta Deen and staff) American versions of Izakayas have  been popular in America for years, sushi usually being the draw, with several in Los Angeles fully booked for their entire 24-hour daily runs.   Owner John Lee recently introduced a more classic version at Izakaya by Slow Fish in West Hollywood.   His executive chef, Hyunchang Han, trained in Tokyo to learn the Japanese version of dishes, and in New York to master current, popular American trends.  Chef Han and his crew strut their stuff in the compact performance kitchen along one side wall fronted by a specially built grill.   Below is a photo by Yakir Levy.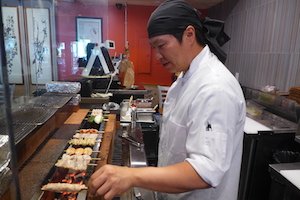 Chef Steve is there to also oversee the preparation.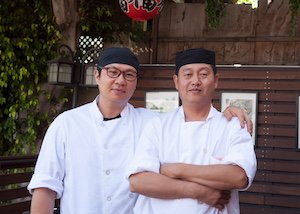 And all lined up on the serving board is an array of their work, still smoking.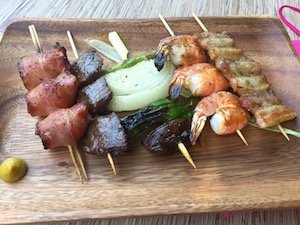 Because this izakaya is in Los Angeles, Lee and Han added Asian-Fusion, plus Korean and California -inspired dishes to familiarize patrons with the concept gradually.  Lee understood that more than simply "a tavern that serves small plates," a true "izakaya"  as "a fun hangout for unwinding, relaxing and sharing" calls not only for "gastropub food with owner and chef pride of fare," but an appealing menu to the wide range of diners.  In this place guests are seated at the long, colorful banquette-style tables or on the snug outside deck of the set back free-standing little building.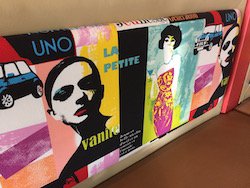 The Izakaya menu of simple comfort dishes aims for perfect bites of savory and umami.   Izakaya by Slowfish features the most updated classic  bites that go well with the soft drinks, beers, wines and Sake on the menu.   Special Soju cocktails are also offered.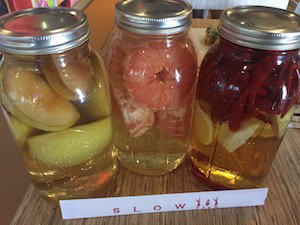 Infused sous are, in fact,  a specialty of the house.  Apple, grapefruit and hot pepper lemon are the three current flavors.  Fruits infuse the alcohol for well over a month in bottles that decorate Izakaya's shelves overlooking the dining room.  The more they sit to infuse the more flavorful they become, so patrons are encouraged to keep trying them for up to six months regularly to taste the difference after the first bottles are opened.
Edamame  in a blistered pod arrives at the table in a most startlingly beautiful makeover with smoked and grilled  green soybeans cradled in a corn husk (left)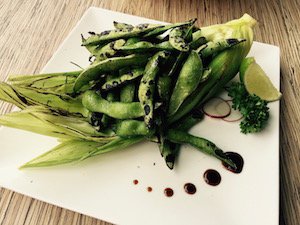 Corn on the Cob is grilled, sprinkled with Parmesan cheese and paprika powder for a smoky flavor that has become a classic Latin take on an American picnic favorite. Slowfish Fries are wedge-cut and delicately sprinkled with rosemary andserved with a trio of dipping sauces: spicy mayo, ketchup and bacon-mustard sauce. (Shown below)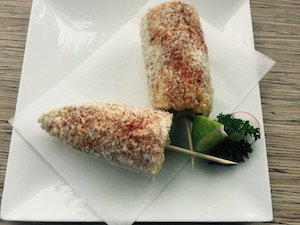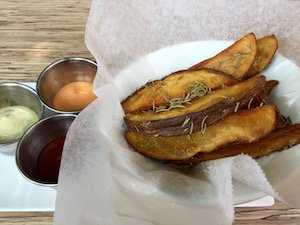 Taco Yaki, a favorite ball-shaped Japanese snack made of a wheat flour-based batter is cooked in a special takoyaki pan. Tucked inside is tender, chopped octopus, tempura batter bits, pickled ginger and green onion.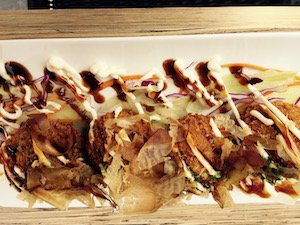 House Fish Cake (shown below) are balls filled with delicate ground white fish with calamari – not on the menu yet.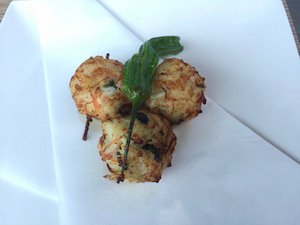 MEAT SECTION choices radiate with Korean influence.  The Galbi Skewers, marinated beef galbi and rice cake on a skewer with grilled veggies tops the list. The presentation of  sticky rice lollipops almost steals the show.  In Korea they are served as street food and children's snacks, sprinkled with sugar.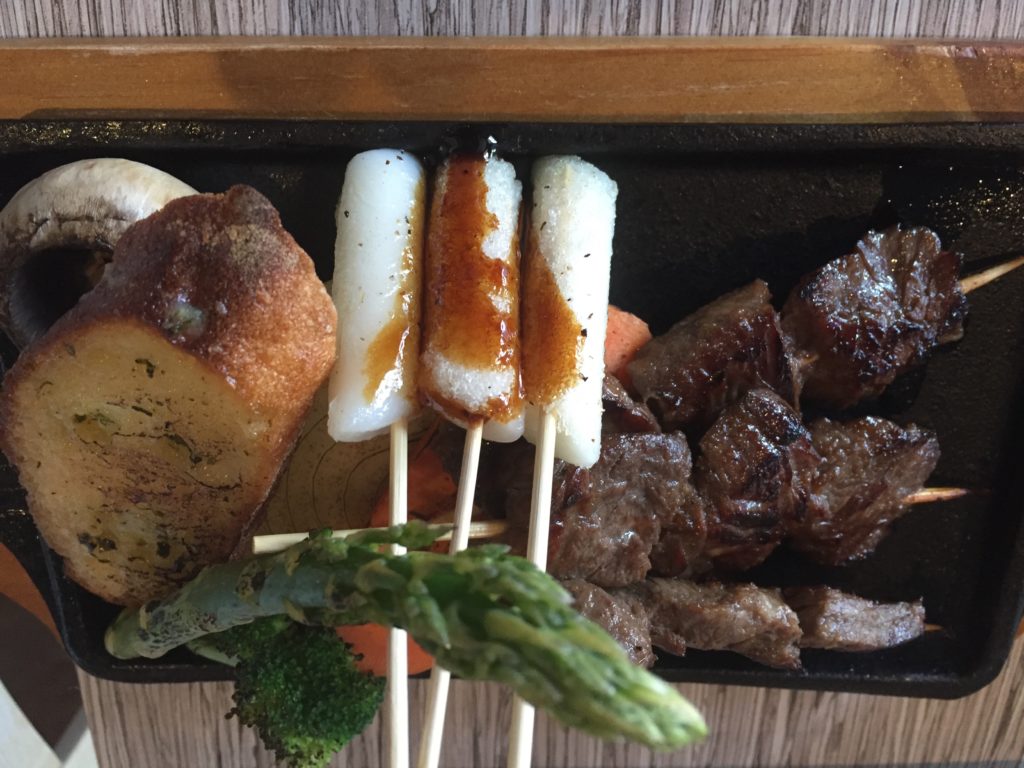 The Rib Eye Steak is dressed with balsamic sauce, along with red and green peppers.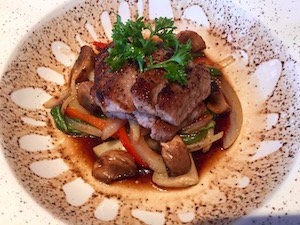 Jeon, the classic pancakes, are a "must" on any Izakaya menu. Jeon is also popular in Korean cuisine with many versions of the past developed for royal court cuisine.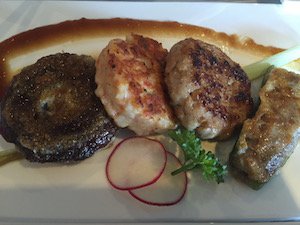 An assortment platter with one each of shiitake, seafood, pork and hot pepper offers a preview selection. Another version is the Chopped Shrimp, Hot Peppers and Ground Beef filled Pancakes in the form of seared patties, similar to crab cakes.
Chicken Karagae, the famous Japanese-style fried chicken is lightly coated in a subtle batter.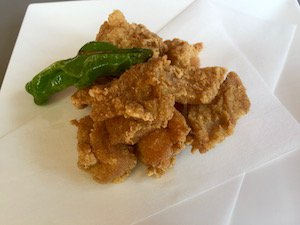 Also known as Champon, Nagasaki noodles from the region of the same name, are considered a favorite "comfort food." Inspired by Chinese cuisine, the dish is considered both Japanese and Chinese. Ramen noodles made especially for champon are boiled right in the soup so the flavor seeps through them as they cook.
One reason to visit is the Seafood Yakiudon, fat little noodles stir-fried with shrimp, calamari and scallop in a rich, rich sauce with just enough to coat it and have some at the bottom. The rice paper bowl is edible.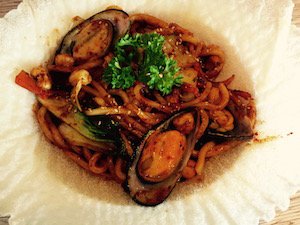 Kimchi Fried Brown Rice is pan-fried and topped with pork slices and a quail egg.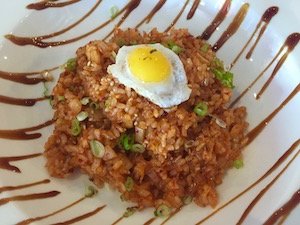 Garlic Seafood Rice speaks an international language of pan-fried rice with garlic, shrimp, mussels, calamari, scallions, leeks and asparagus – with a buzz of .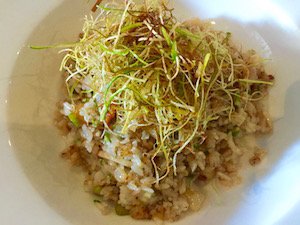 Salads have an American and European influence. A Mango Salad is rich with fruit, mixed greens, beets and teardrop tomatoes, topped with sweet potato and a beet tempura "frisee"  – coated lightly with a textured sesame dressing.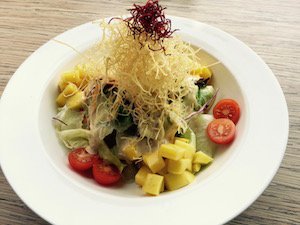 Korean influence in the high-style sushi means bigger, bolder creations in the SPECIAL ROLLS section, rather than  those found in more delicate Japanese creations.  The same type of complex design is in place with sideview as complex as a roadmap.   A burning salt mound creates a fiery sensation for the Dragon Roll of crabmeat, avocado, tempura shrimp, eel and eel sauce.A burning salt mound creates a fiery sensation for the Dragon Roll of crabmeat, avocado, tempura shrimp, eel and eel sauce.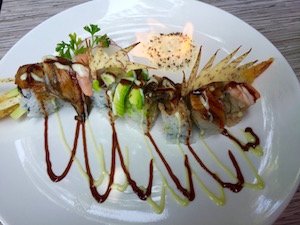 The Dragon itself sports jagged scales of taro paper. The gallery of SPECIAL ROLLS marching across snowy white platters deserve notice, each one with a different set of textures.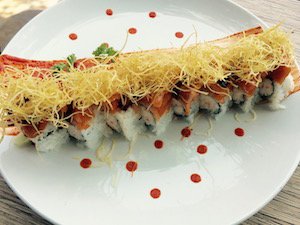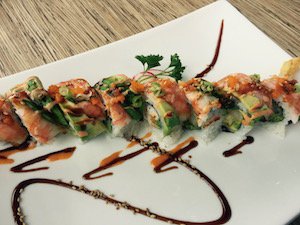 This high regard for sushi and sashimi comes as no surprise.  Chef Sean An's fish and seafood creations at the two original Slow Fish locations on the Miracle Mile and in Huntington Beach, inspired by the slow food movement, are acclaimed for freshness and sustainability.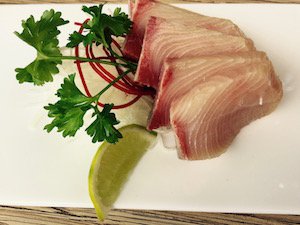 Kevin Kang's sophisticated festive atmosphere celebrates the concept of Izakaya by Slowfish.  The designer's muscular, organic WEHO exterior features bold wood and metal lines accented in red and chocolate colors.  The low slung, inviting interior looks out onto a snug patio in front.  Cheery, pop-art, painted cushions on the bench seats throughout the room and on wall hangings bring a sunny California feel. The Korean symbol framed under glass on one wall translates into "strength." Whimsical Asian paintings enliven other walls.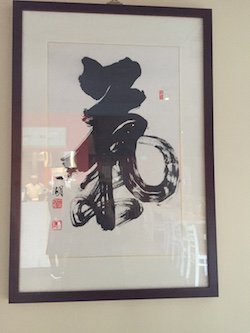 Customers can order at the counter near the door for quick service. Manager Iren Kim and her crew are there to welcome and host guests.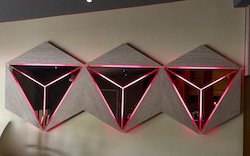 Opening Specials and dishes are being offered now.
Izakaya By Slowfish, 8267 Santa Monica Blvd, West Hollywood, CA, 90046 (323) 745-0533. http://izakayaslowfish.com/.