New Menu at The District by Hannah An, Los Angeles
(Gerry Furth-Sides) High-end The District by Hannah An continually evolves to fit its West Hollywood neighborhood, such as a new Business Express Lunch menu.  The "Express Lunch Box,"  is available for pick-up or delivery, featuring menu favorites like noodles, a variety of Bahn mi's, salads, and rice bowls. 
Chef An's primarily mission is to create an authentic, yet elevated Vietnamese restaurant with international influences on West 3rd Street.  The name is a reference to the diverse neighborhoods called districts in Vietnam, from which the menu draws.
Dedicated, earnest Chef Hannah takes control of the kitchen with her own version of classic dishes after watching her mother and her grandmother at the original San Francisco restaurant, Thanh Long, and later at her mother's restaurant Crustacean. She is is eldest of the An family sisters.  When we had an editorial request, Chef Hannah made it happen – even from her trip to Aspen.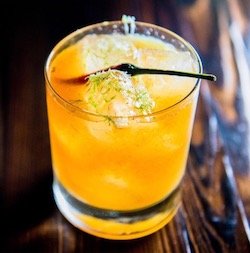 The 320-seat formal restaurant is minus white tablecloths and serves a modern take on Vietnamese food incorporating a global twist and California's local and sustainable fresh ingredients.
Chef An chose our menu to be representative of the various menu sections, e.g., Land District, Ocean District, Pho & Soup District, Signature tastes.  The menu features vegan and gluten-free options.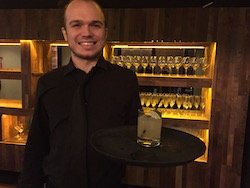 Server Brandon knowledgeably advised us on pairing cocktails and wines.  Signature drinks include the 'Hot Asian,' 'District Mule,' and 'Guava-Rita'.   Here he holds the "Hot Asian," referring to the spiciness of the drink.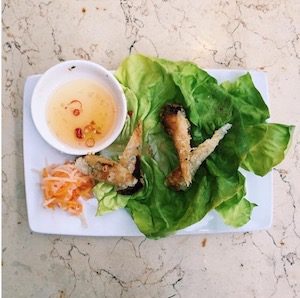 "Tastes of the District" section features the lightly seasoned Cha Gio Roll ($12) which packages chicken, jicama, taro root, onion & carrot crusted in very, very light panko.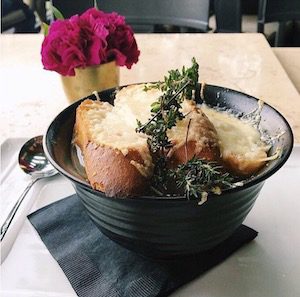 From the Pho & Soup district comes Filet Mignon PHO ($13) to which we requested the add-on of robust Oxtail ($4).  Brisket, Vietnamese Meatball (which had the texture of pressed meat) are also added to this carnivore's dream soup.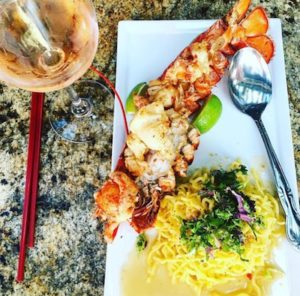 The signature  District Wok Lobster (half pound version $36 – shown above is a  pound version at $52) continues the An family tradition of "pairing crustaceans and carbs." The bite-sized tails (separated from the shell in the kitchen) and claws are grilled, flash-fried and roasted in a wok, we were told.  Handmade garlic-lime-butter egg noodles with herbed panko are added and artfully arranged on a plate.
And the plate itself is hot, hot, hot, which augments the dish enormously.  This was a problem at Crustacean that is solved here!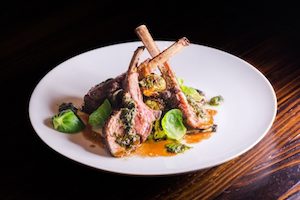 Coriander Crusted New Zealand Lamb ($35)  makes an elegant presentation with Curry Brussels Sprouts, Braised Fennel Savoka, Bordelaise & Mint Pesto.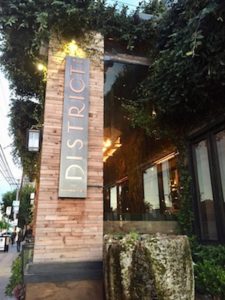 Hannah, the eldest daughter of  the famous Crustacean Restaurant's House of An family opened up The District as her first solo adventure,  almost across the street from Cedar-Sinai Hospital. 
From the street passersby can see the two beautiful patios detailed vine-trimmed walls.   Behind the grand 100-year-old Vietnamese-imported doors, guests enter a room with low lighting, a wood accented bar, and high-top tables that hold groups of people.
The main dining room was designed to evoke a classic colonial Vietnamese vibe with wood block walls, beamed ceilings and Edison light fixtures. Upstairs there is an additional bar and private dining room that is frequently booked out for parties, events, and private dinners.
The District by Hannah An, 8722 W 3rd Street, Los Angeles, CA 90048. The District is open for lunch and dinner Monday through Friday, with brunch and dinner service on Saturdays and Sundays. For more information on the restaurant, please visit their website: http://thedistrictbyha.com/