New Perfect, Perfectly Peanuty Health Bars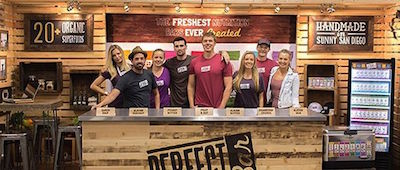 The Perfect Bar is a healthy and well thought out product with a long history for anyone who loves peanuts, protein bars or even candy bars. I was the perfect candidate. I first heard of them when we had just returned from a Joshua Tree trip, and stopped at Hadley's, where I bought a tub of honey peanut butter.  I ate the whole thing, just about by myself, without bread, in ten days.
So what attracted me was the image of a peanut on the Perfect Bar package – a taste I love and know is healthy. It overcame my last experience five years ago, the last time I tried protein bars. I was an LAUSD field researcher and substituted the bars for lunch because the public lunchroom food was inedible along with unnatural.  I looked at one of my "protein" bar labels one day and almost fell over from all the sugar, salt and artificial ingredients listed in the bar.
I was also excited because it's common knowledge that peanuts are considered about the healthiest food in the world. In addition to their monounsaturated fat content, numerous studies show they hold an array of other nutrients that promote heart health. Peanuts and are good sources of vitamin E, niacin, folate, protein and manganese. In fact there is a movement to feed entire regions of Africa with peanut-based products.
The bars come in the original Peanut Butter with 17 G of whole food protein. Flax Seed, Sunflower Seed, Sesame, Pumpkin, Olive Oils and a variety of fruit (oranges and apples, for example) and spice powders give the bars a full flavor. The bars are made with at least ¾ organic ingredients and provide 16 to 20 percent of nutritional requirements for daily fiber. The experience is really like eating a more pure peanut butter candy bar.
The uniqueness of the fresh ingredient bars (created in the 60's by health guru, Dr. Bud Keith, is that they are sold in the refrigerator section of stores.  This meant an humungous campaign by his children to develop the brand.  The full story is below.  We pay tribute to our father Dr. "Bud" Keith on every box of bars by putting 'WK73' under buddy the bee – which stands for William Keith who passed at 73 years of age.
Almond Butter bars have fewer protein grams than the PB (13G of whole food protein) but the experience is richer and much more intense and satisfying than regular almond butter in spread form. For an almond taste with fewer than the 300 calories in the Almond Butter or the Almond Coconut, with 260 calories, 8 G of whole food protein and vegan, and 100% organic ingredients. The Almond Acai, made with delightful crispy puffed rice is only 200 calories a bar.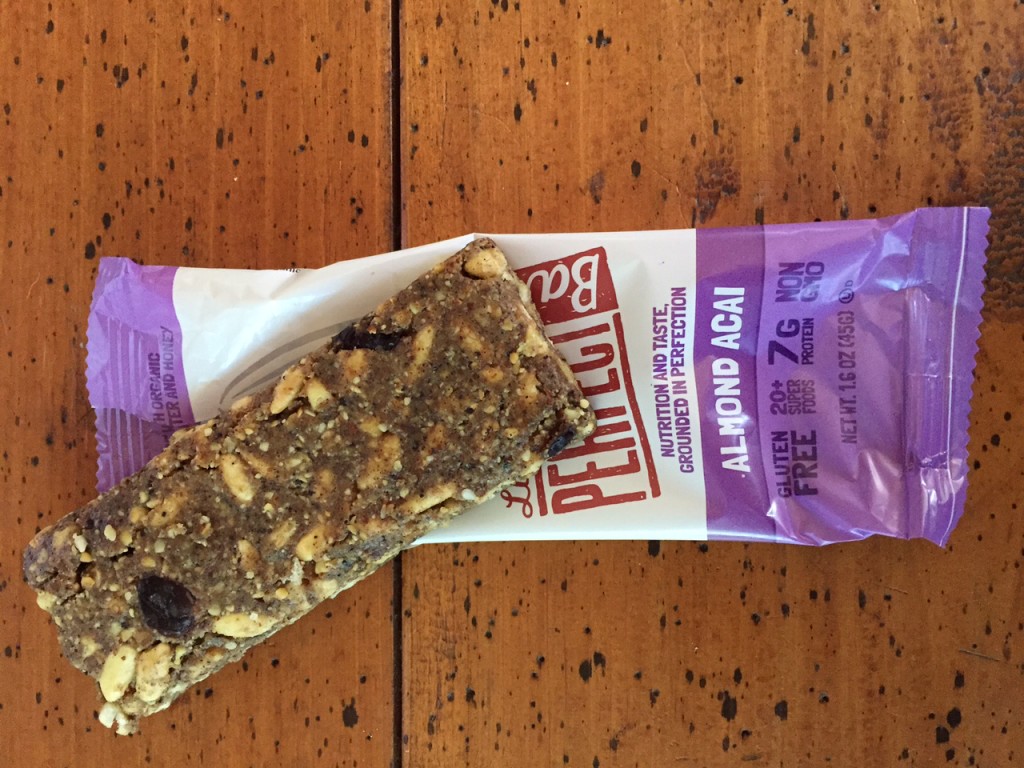 In the Fruit & Nut bar, plump raisins and snap of walnuts combine with the peanuts (16 G of whole food protein) for a true PB & J sandwich taste or natural candy bar. Cranberry Crunch (9G of whole food protein) more autumn holiday like taste.
The Carob Chip bar has a more nature carob rather than milk chocolate feel to it.  At 310 calories it is half the calories or less of a regular candy bar with the same chocolate satisfaction.  The Carob chip has 16G of whole food protein and is gluten-free.
The bars have a pedigree. Created by Dr. Bud Keith of San Diego, who worked with the legendary Jack LaLanne to help change the way people viewed health and fitness. Keith opened one of the first gyms, Healthhouse Gym and Juice Bar in Mission Beach in the mid-60's.   With his family, he also traveled around in a motorhome with his family in order to lecture and teach about the healthy lifestyle he lived. This began with the belief that "whole foods are the only acceptable source of nourishment for your body."
While on the road, Dr. Keith "constantly tinkered with recipes trying to discover a way to feed our king-sized family a healthy meal to eat on the go," recalls his son, Bill Keith, who has been carrying on the legacy by bars with his family since 2006 when he left college to help the family and his dad, who had contracted cancer. Bill had already been working on branding the bar in business school. The bar is not the 7th best selling snack bar on the market now due to the tremendous effort by his dedicated children.
The family also fought hard to get the bar accepted in honor of their father.  Adds Bill, "As children growing up in Southern California, we saw the devastating effects that skin cancer can have as we watched our father battle this disease for many years.  We will never forget the lessons we learned from our father and the courage he demonstrated battling this disease."
The PERFECT bars use organic honey a natural sweetener and preservative, contain no added preservatives, neutralizing agents or chemicals. Retailers were at first skeptical about this bar, which is kept in the refrigerator section.
They can be stored in the fridge for freshness, consistency and flavor, where they last for nine months. They can easily be taken on the road for the day, and will last two weeks unrefrigerated at room temperature. What happens is that the natural fruit, seed and nut oils may begin to separate.
The bars are gluten-free and are prepared in a gluten-free kitchen. The bars contain dairy in the form of a nonfat milk powder except for the dairy-free Almond Coconut. The Almond Coconut is also the only vegan flavor.  All the bars are soy-free except for the Carob Chip.
The flip side is that each bar is 200 to 310 calories, enough calories for an entire light meal unless you are looking to burn calories with sports or other activity. My solution was to eat the peanut butter with fruit spread to make a PB&J sandwich minus bread I don't miss. So this worked for one of three meals a day. Bill recommends having a bar and a smoothie for a while meal ($7) – a totally clean feeling comes with this, too. As a snack, the PERFECT Peanut Butter and PERFECT Almond Butter Mini packs of 100 calories works even better. Watch for it in Starbucks – perfect with coffee. I know I will.