From Exotic Persia to Down Home USA: Pistachio Chewy Bars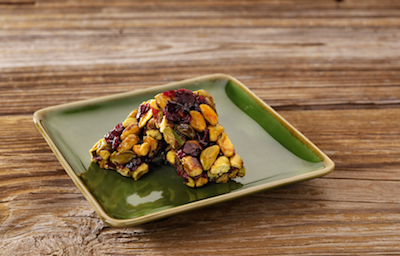 Heart Healthy, decadently rich yet natural,  Pistachio Chew Bites turns out to be one of my favorite finds of the year.  To add to the accolades, the pistachios are grown at Setton Pistachio of Terra Bella, Inc. in California.  As a former TV spokesperson and cook for California Fresno figs and almond growers, recent news of other countries undercutting prices and quality have brought on tough times for local farmers.  So it doesn't get much better than Pistachio Chew Bites.
One of my favorite salads contains only baby greens, pistachios and dried cranberries. One of my favorite snacks at night is a handful of pistachio and a handful of dried cranberries.  "Snacks" translates into "solution to appease feeling of "climbing the walls for sugar.  The natural sugars and fat completely does the trick.  So when I saw that this combination were the two main ingredients in a bar form, Pistachio Chewy Bites, I had to try them. They are so rich, so succulent, so decadent, the bars are like eating the best part of a fruit cake without the cake.  They redefine "protein bar" because there is only a wonderful, lush mouthfeel and none of the dryness that usually comes after eating such a bar.  And I break them apart and also put them in salads!  They originally were promoted for "meatless Mondays" and this works, too.
New on the market, Pistachio Chewy Bites are heart-healthy, 100% all natural, gluten and dairy free, low in sodium, GMO free, vegan and a great packable protein snack.  They also have no cholesterol, and are a good source of dietary fiber.  These nutrient-rich snack bars provide a great balance of carbohydrates, protein and fat for sustainable energy. With 7 grams of protein, 3 grams of fiber and healthy fat, the individually wrapped bars combine the best of two worlds.
Pistachios taste so rich because they are high in fat content. But it is thankfully a "good kind of fat." The nuts have been deemed nature's super heart-healthy snack, according to a wealth of research, Pennsylvania State University studies among them. Nutrient dense, full of fiber and antioxidants, lovely green pistachios give you more bang per calories than any other nut. Pistachio Chewy Bites hold  zero trans-fat (low in fat, especially compared to protein bars)
This year they have become available in major grocery store chains across the country, such as, Bristol Farms, Fairway, Shoprite, A&P, Roundy's, HEB, Safeway, Ingles, Gelson's, King Kullen, Earth Fare, Price Chopper, Wegmans, Save Mart, Lucky, Hy-Vee, Shop n' Save.  They are also available online at Amazon.com and Puritan.com.  Pricing: 2-Pack $1.99 6-Pack $5.99 and 16-Pack $12.50  ( http://www.pistachiochewybites.com).
There isn't enough history written to explain why until recently the good folks in Iran decided that the beautiful green pistachio would look much better in a coat of artificially dyed red instead of it's own natural sand colored shell. Could it be that they got a good price on the leftover dye from East Indian restaurant owners in the U.S., who do the same sort of garish red thing with tandoori chicken?
But that's what you got when you got pistachios – in the shell.  Addictive Baskin-Robbins pistachio ice cream remains "pistachio almond" for good reason (since this writing I've tried Ben & Jerry's Pistachio, Pistachio and it is superb).  There were true versions of the wonderful nut in ethnic food considered classics.  Gorgeous green glinted with gold pistachios add extra crunch to Middle Eastern baklava, already over the top with honey and filo dough; to the Italian cold cut, mortadella, and to the heavenly pistachio French macaron.
And there is lots of pistachio history. The nuts were cultivated thousands of years ago, making their way through Western Asia a millennium or so ago. Their popularity spread through the Mediterranean world by way of central Iran, where pistachios became the second most important export to oil.
Though the U.S. Department of Agriculture introduced the tree in California about 1904, it was not prompted as a commercial crop until 1929.  The first commercial shove given to domestic pistachios, not surprisingly, occurred in 1979 after the Iranian Revolution.  At that time, 1.5 million pounds of pistachios were harvested on 4,350 acres. By 2006 plantings topped 150,000 acres producing over 400 million pounds, making California the second largest producer of pistachios in the world.
The 30-foot pistachio tree is a desert plant, perfect for the California climate since it thrives in below freezing (14 F) to over 100 degrees in a sunny dry climate, requiring well-drained soil and long hot summers for proper ripening of the fruit. The tree can take up to 10 years to reach production levels and bears fruit every other year until it reaches its peak production after 20 years.
The pistachio is called a "drupe," meaning it contains an elongated seed,  and it is this edible portion that categorizes it as a "culinary nut," rather than a "botanical."  When the fruit ripens, the shell abruptly splits part way open with an sharp pop. Mature pistachio nuts split open at one end. Green "is good." The greener the nutmeat, the better the flavor.  It is pistachios in their "natural" undyed state that is new, and Pistachio Chewy Bites exemplifies the best.