New Special Off-Menu Feast at India's Tandoor, Brentwood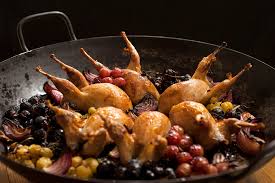 (Roberta Deen with Gerry Furth-Sides )  Passionate India's Tandoori Brentwood restaurant owner-chef Matin Shah will be offering a new "off the menu" $100.00 per person dinner family-style dinner featuring the most unusual and spectacular historic dishes of four regions of India.
Always the consummate host at the popular gathering place, Matin is always on the lookout to please his guests in new ways.  He has already served the dinner to several groups of guests (some celebrity world travelers!) who "loved it."
The dinner will start with three to four passed items – potato and pea samosa, egg roll, Kebabs and dips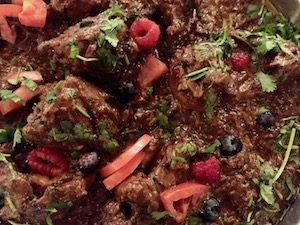 Mogli Quail or Game Hen – bird pieces (halved quail or quartered game hen or standard chicken pieces) half-browned for color in a bit of olive oil and ghee (clarified butter) and set aside while the sauce is built layer upon layer.  The Mogli sauce begins with onion, seeded chili serrano, and pureed ginger sauteed in a bit of olive oil.   Chopped tomato is added and the contents are allowed to cook down over medium-low heat.
The Mogli Quail or Game Hen dishes are very intricate, echoing their cultural and historic evolvement over the centuries.  (https://en.wikipedia.org/wiki/Quails_in_cookery)  First spices – cumin, garam masala, crushed green cardamom pods, stick cinnamon and powdered turmeric – are added to the tomato mixture and allowed to simmer over a very low heat for an extended time.
When significantly reduced, browned bird sections are added back into the sauce with yogurt, ginger paste, smashed garlic, cilantro and the dish again simmers for 15 minutes. The sauce becomes a rich color and texture with an inviting aroma that totally engages all the senses.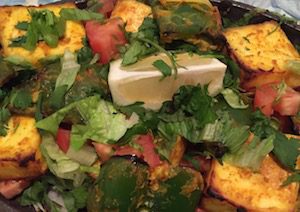 Tandoori Paneer – a colorful vegetarian dish of grilled peppers and onions with  grilled squares of fresh, white Indian cheese or Paneer. It is similar in texture and taste to a farmers cheese or a compressed ricotta.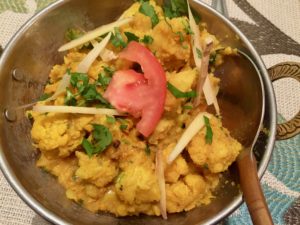 Aloo Gobi – Aloo is potato and Gobi is cauliflower. Together with the turmeric- yellowed sauce they are elevated to a flavorful marriage fully pleasing the eye and the palate.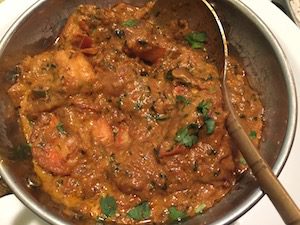 Bhagari Jhinga – Stir-fried shrimp in cream sauce – A heady coconut sauce, spiced with garam masala, cumin, cayenne, fresh cilantro, jalapeno pepper (seeds left in so this is a bit spicy), lemon juice and coconut milk is used to simmer cleaned shrimp that have been sauteed for a moment with black mustard seed and garlic. To finish the dish a slurry of cornstarch and water thickens the sauce to make it creamy.
Steamed Long-grained Basmati Rice – fragrant and alluring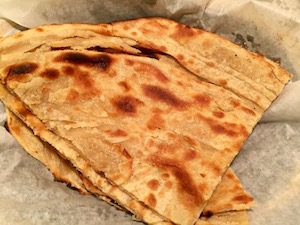 Laccha Paratha – A hearty, hand-made, flaky flat bread made with wheat and whole wheat flours
Dessert will be Gajar Halwah – pistachio-carrot halwah, herbal tea flavored with blueberries, raspberries, mint and orange, Black Cumin Biscoti.
Matin and his staff welcome you.  Details to follow!