New THAI CDC FARMERS' MARKET Expansion in Hollywood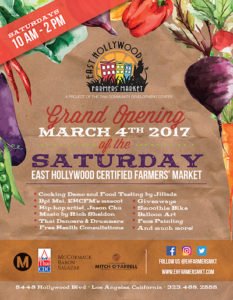 The Thai Community Development Center (Thai CDC) celebrated the Grand Opening of the second day of its East Hollywood Certified Farmers' Market. The Market has been bringing fresh produce to the community on Thursday evenings since 2012. Thanks to a grant from the U.S. Department of Agriculture's Farmers' Market Promotion Program (FMPP), the Thai CDC is now able to offer another farmers' market day on Saturdays for the next three years, starting Saturday, March 4, 2017.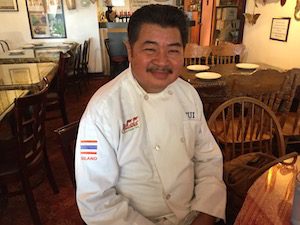 A cooking demonstration by Chef Tui from world-renowned Thai restaurant, Jitlada with food sampling for the crowds, was made with fresh produce from our farmers.
The market's famous "Smoothie Bike" will allow guests to pick their own fresh Farmers' Market ingredients and pedal their way into a smoothie. West Coast University pharmacy students will also be offering free blood pressure evaluations, vision checks, and consultations on general health.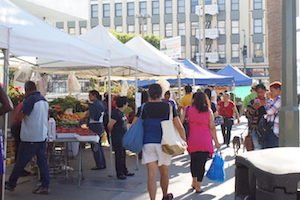 Always a culture known for pomp and circumstance, the opening  a procession lead by Wat Thai's musicians' ensemble played the traditional long drum. They were accompanied by Thai dancers and a special appearance by Bpi Mai, the mascot for the EHCFM. Speakers at the ceremony include Councilman Mitch O'Farrell, Royal Thai Consul General Tanee Sangrat, and Thai CDC Executive Director, Chancee Martorell.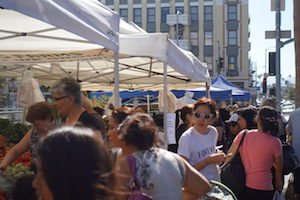 Thai Community Development Center was founded in April 1994 on the idea that all peoples have a basic right to a decent standard of living and quality of life. Its mission is "to advance the social and economic well-being of low and moderate income Thais and other ethnic communities in the greater Los Angeles area through a broad-based comprehensive community development strategy including human rights advocacy, affordable housing, access to healthcare, promotion of small businesses, neighborhood empowerment, and social enterprises." For more info, visit  http://www.thaicdc.org/.
5448 Hollywood Blvd, Los Angeles, CA 90027, at the Hollywood/Western Metro Redline Station at the western gateway of Thai Town