New "The Corner Restaurant" at the Water Garden in Santa Monica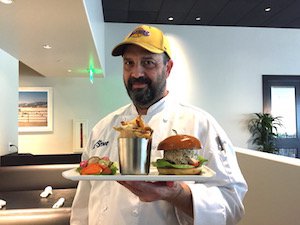 Even on a recent rainy day most of the seats in the new cafe The Corner in the Water Garden were filled with office workers from the complex- and there are 200 of them in the sprawling dining room (that took the place of Cafe Bizou).  Chef Brian Koopers Menu of warm Appetizers and pizza were a little more fitting on such a damp day although the Fresh Greens and"Between the Bread" were having a good run.  And this is even before the alcohol license arrives so that the glassed in bar at the front can be stocked and ready to go.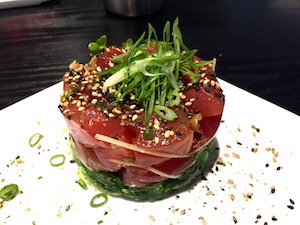 An cylindrical ocean version of Ahi tuna Poke is an interesting variation on the current Poke trend and brings to mind the famous Chaya tartare.  This one is a beautiful balance of sweet Hawaiian onions, seaweed salad, furukake, daikon sprouts and crispy wontons for a snap.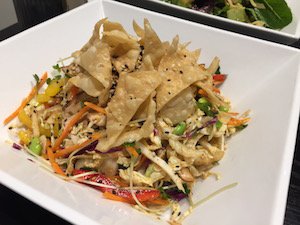 A little bit of international ethnic, with a distinctive sesame and ginger flavoring,  arrives in the Crunchy Asian Fusion (the menu notes that it is "served tossed") sesame pineapple chicken breast, diced trio of cabbage, red and yellow peppers, green onions, edamame, carrots, daikon, water chestnuts with a sesame and ginger vinaigrette.  The portions are more than generous and the ingredients are so fresh they almost stand at attention.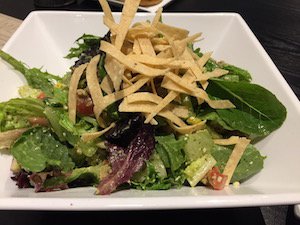 South by Southwest (served tossed) seasoned round turkey, pinto beans, Burmuda onion, roasted corn, red and yellow peppers, vine-ripened tomato, tortilla croutons, quest fresco with a yogurt and creamy avocado dressing.  We took a part of this salad home and it was every bit as flavorful after a few hours.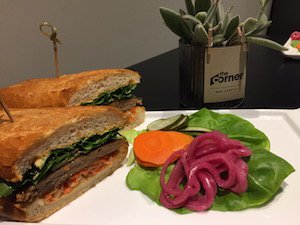 Banh-Mi comes with house- marinated ground turkey patty, pickled daikon and carrots, sriracha mayo, shaved jalapeño, cilantro on a French baguette.  The ground turkey patty could have been more juicy but the zingy overall flavors overcame this flaw.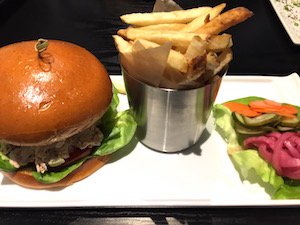 The Corner Burger is Chef Kooper's pride and joy:  custom-blended ground chuck, brisket and short rib, Danish Havarti, vine-ripened tomato, Bibb lettuce and cilantro pest, on country sourdough.  Notice that it is square to represent "a corner."  Added the chef, "all the plates and tables have the same 'corner' look.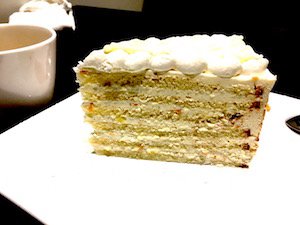 Daily-made in-house Desserts ($7) are as sumptuous and deft as the savories.
The Persimmon Torte jumped off the menu and it was so sophisticated yet elegant, that it could have been a highlight of any party at a Viennese Castle during the height of the Astro-Hungarian Empire.  Count them, six, layers of genoise with whipped cream that could have floated in air was studded with persimmons and apricots.   A springy whipped cream piping topped the cake.  This one I hope is seasonal because it is irresistible.
The Persimmon Torte The Corner Dessert Menu has most of the standards on it, including Apple Crumble and Traditional Pumpkin Pie  but the little touches add something distinct.   the Apple Pie adds tapioca and a brown sugar caramel drizzle.  Cranberry compote and house-made chocolate sauce ramp up the Chocolate Ganache Cake.
Attention is in every detail so the Hot Tea is by the company, 2 Buds, and Groundwork Coffee is server.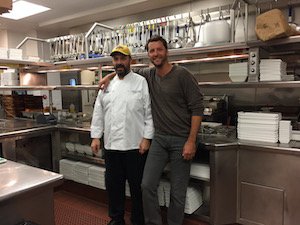 Executive Chef Brian Kooper (above with experienced, enthusiastic GM Troy Doram) was born in New York and has lived in California for most of his life.  He began cooking at the age of ten in his own home kitchen, creating dinners for his family, a far cry from the massive kitchens at The Corner with separate storage space for protein, veggies and a fun room waiting to be filled with beer and wines.
After earning a degree at Barbara City College' in the Hotel and Restaurant Management Hotel Program, Brian's first job was as a restaurant dishwasher. In his words, "one day the sauté cook called in sick and they asked me if I wanted to learn how to cook pasta. My answer: "yes!"
From there he worked in a number of San Francisco and northern California before heading the kitchen at the famous Plumpjack Balboa Cafe in San Francisco.
Brian rounded out his culinary and hospitality skills by way of a high- end catering chef position with "Catering with the Paula LeDuc Fine Catering Company. There he cooked for notables the likes of President, Bill and Hillary Clinton, Al Gore and Prince Phillip.
Moving to Los Angeles at the turn of the century, Kooper began chef work at Universal Studios in 2001, in charge of high profile events that eventually numbered in the thousands. In 2006 he became an exclusive Wolfgang Puck catering operation, where Brian took on a more seasonal, local, sustainable approach to cooking and Catering.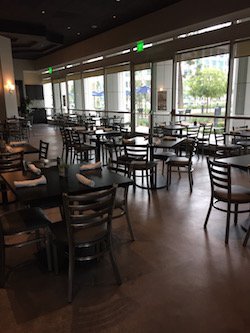 Chef Kooper is "excited to be back in a restaurant kitchen where it all began for me," in his words. He labels his menu, "Clean California cuisine with some classics in the mix. This means lighter, healthier, protein-centric food that won't make people want to take a nap after lunch. Big flavor profiles and just having fun with food again. "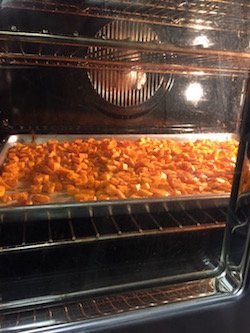 All sorts of "fun" equipment is in the spacious kitchen, including a convection oven to roast diced sweet potatoes for a seasonal dish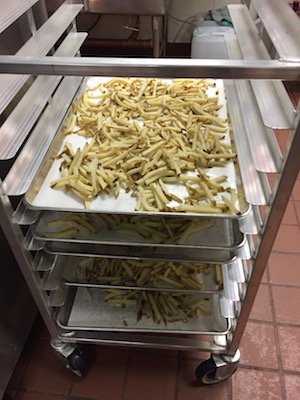 Easy to tell how many fries go out with each lunch by this one tray that is constantly refilled.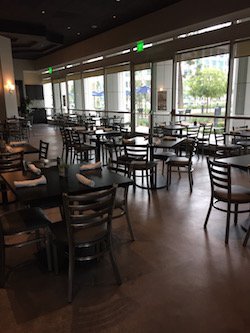 It's our belief that restaurant chefs who have been in the catering business (think Turquoise in Redondo Beach) are more attuned to pleasing diners in a restaurant. And we applaud the way he enjoys "traveling all over LA looking for new and exciting places to eat to get ideas. The only way to stay current in LA is to get out there and try everything, everywhere. "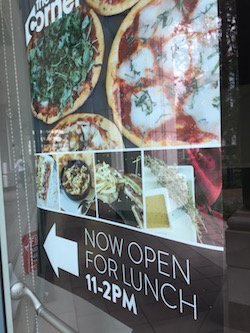 The Corner, 2450 Colorado Avenue, Suite 1050W, Santa Monica, CA 90404, (424) 744-8669 (www.thecornersm.com).Validated free underground parking for lunch.