New TIKIFISH White Tablecloth Owner-Chefs Go Casual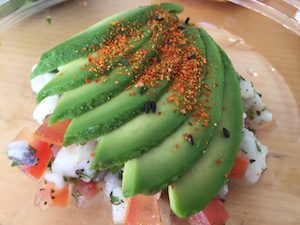 (Gerry Furth-Sides) TiKIFISH combines the best of high end restaurant preparation and street food casual counter service in  Classic and BYOB (build-your-own-bowl) poke items filled with fish and seafood on a bed of rice or salad.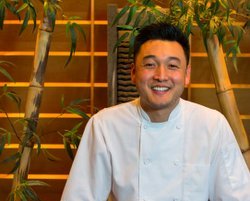 Chef-Owner Wonny Lee (former of Hamasaku) spins the simple Hawaiian beach treat from a popular, current fad into a trend.
The chefs adds his own vibrant seasonings.The fish, such as albacore and salmon, is often marinated or cured, and ceviche has been added to the poke menu.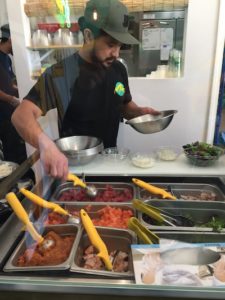 Manager Ed creates a Poke Bowl at the TiKIFISH counter where customers pick their toppings over a base of white rice, brown rice, mixed greens, or organic baby kale.
TIKIFISH sauces are developed and prepared in-house, then worked into each dish by hand for an even flavor in each bite.  Rice in the style of sushi rice is carefully  prepared throughout the day for freshness.
Refined  seasonings and preparation reflects the pair's experience in preparing fresh, Japanese cuisine and Latin seafood at "white tablecloth" restaurants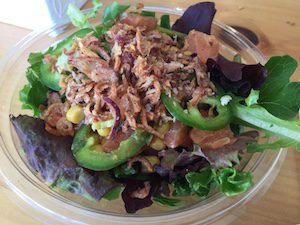 Chef Perry Cheung of Phorage, is the neighbor next door, who brings with him the pedigree of San Francisco's famed Slanted Door. He also brings his backing.
TiKIFISH is located in a tiny right-angle strip mall in an area billed as "up and coming Palms" (I've live nearby and am always startled to hear this description). El Nopal and Sampang Asia down the street has been destinations for decades,  and a stretch of nearby Venice Boulevard is home to the city's best Indian restaurants. Still it took hipster places like Roy Choi's Chego and Matthew Kang's Scoops  to draw media attention and make them destination dining.
 A stark, minimalist interior is offset here, as at Phorage and Chego, by the friendly, professional staff. The welcome, even on the phone, makes you feel like a neighbor by the time before you walk in for the first time.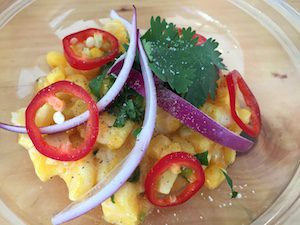 Selections include:  TIKI TUNA  (ahi tuna, sesame soy sauce, white & green onion, wakame, sesame seed); WIKI SALMON  (spicy sesame dressing, green onion, cilantro corn, jalapeño, crispy shallot; SPICY TIKI TUNA (spicy tuna, citrus ponzu, cucumber, sesame seed, shredded nori) ; ALOHA ALBACORE (garlic ginger sauce, cucumber, crispy onion, pickled ginger); AVOCADO POKE CRISP  (rice cake, avocado, cucumber, tuna poke, furikake).
TikiFish also serves agua frescas made fresh daily, including the famous Hawaiian POG, Pineapple, Passion Fruit, Orange and Guava Juice.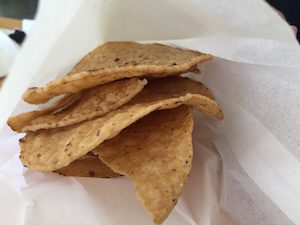 The wall art was painted by Bobby "Hundreds" Kim, founder of The Hundreds, an LA-based streetwear brand, and also a partner of TikiFish. More original artwork by local artists will also soon be up.
The white tablecloth-to-casual concept is not new:  Some 50 years ago Andre's Italian Restaurant was conceived as a simpler idea providing wholesome and gratifying and affordable ethnic food in a relaxed, casual atmosphere.  The thriving cafeteria across from the Original Farmer's Market serves 800 on week-ends.
Tender Greens revived the cafeteria tradition about a decade ago with a performance kitchen, followed by Alan Jackson of Lemonade.   Chef  Hans Rockenwagner transitioned from his wonderful, white tablecloth  Rockenwagner restaurant in Santa Monica to a tiny bakery storefront and wholesale baking concern producing half a million pieces of baked good daily.  And this month revered Chef Tachibe, formerly the Chaya Restaurant Group Executive Chef opened the Japanese deli, Osawa in Pasadena.
TikiFish, 3300 Overland Ave. #103, Los Angeles, CA,  11 a.m. – 5:30 p.m. on weekends, and 9 p.m. on weeknights.