New Torrance Tavern in the Heart of the Beer Trifecta



 Torrance Tavern owner John Shapiro's South Bay beach town neighbors at 24th and Strand unknowingly inspired him to open his brand new pub. They inspired him by throwing parties at their place and serving beer served fresh from their bathtub. Yeah, the neighbors were Strand Brewing Co. founders, Marcello Joel Elliott and Jeff Parker.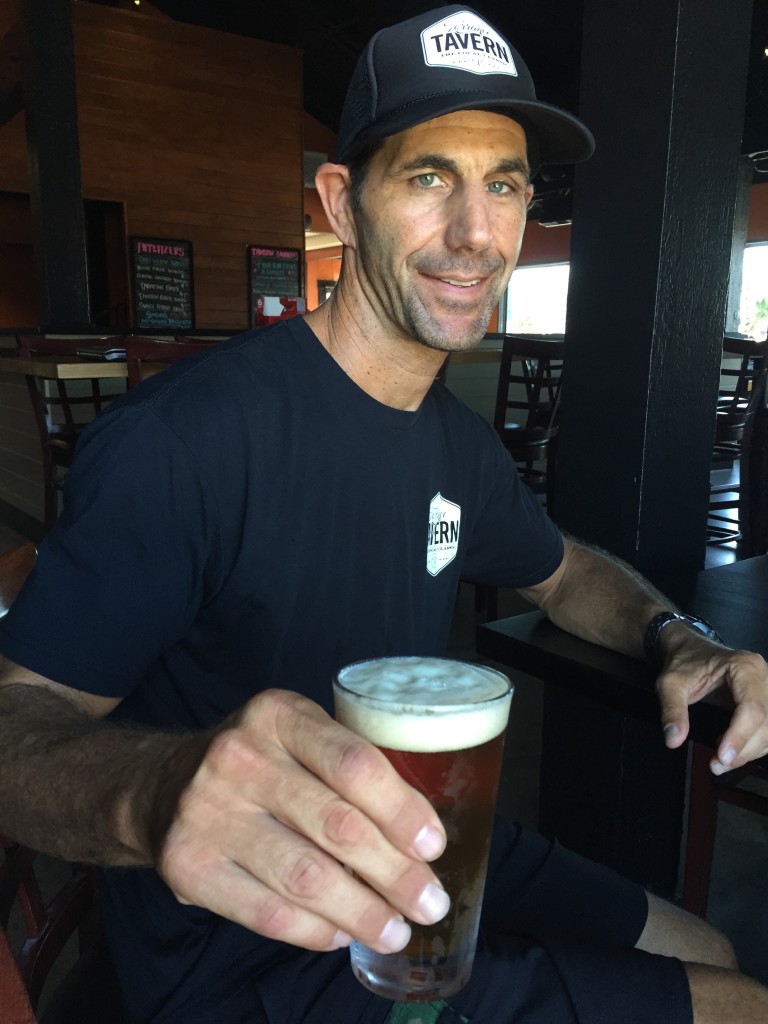 Shapiro, first took on  partners with practice in the bar business (shown below), Kenny Garmoe and Patrick Mescall.    Kenny owns the Hermosa Saloon and The Office in El Segundo, two popular bars in the Soothsay area.  They remodeled Torrance Tavern into a free standing pub on a highly visible corner of a small shopping center.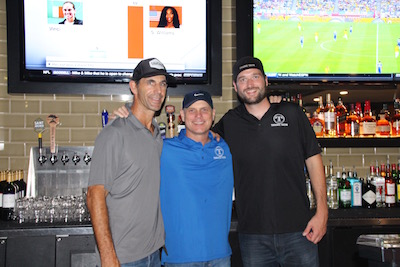 The feeling is muscular but organic and inviting with lots of wood, exposed beam high ceiling areas and an adroit use of low room dividers to make it feel spacious but personal at the same time.  Sixteen TV monitors, sports on them of course, are easily visible but overhead and unobtrusive.   Common tables encourage conversation and create a clientele of regulars.
Locally crafted beers, domestic and international brews are offered at their gorgeous full bar that takes up an entire wall. Smog City Brewery joins Strand Beer among the pours at the huge, beautiful bar covering one entire wall.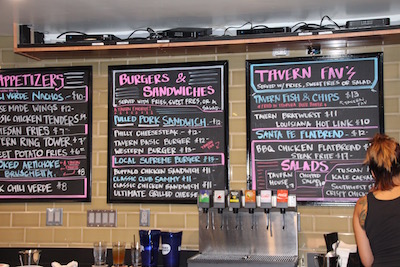 Best of all, however, the staff from Manager Pat to server Wendy make anyone and everyone coming through the door immediately feel at home.  And there is lots and lots of free parking right outside the door.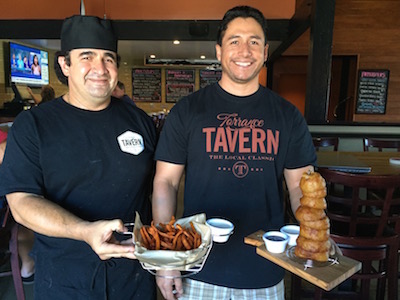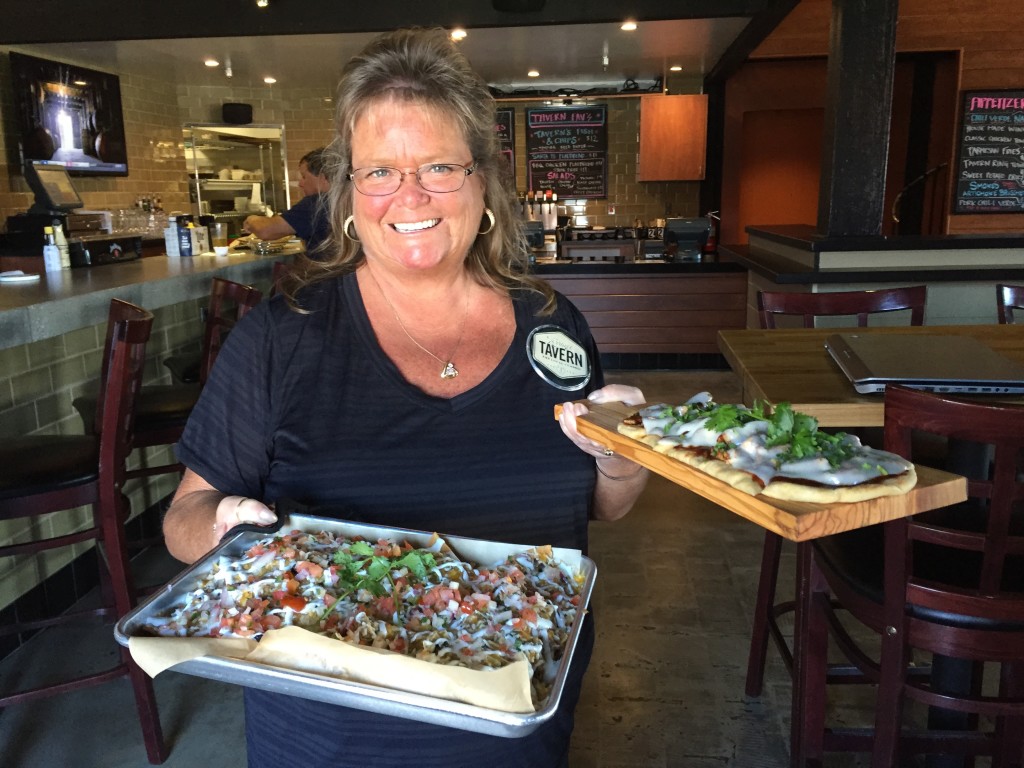 Crispy beer-battered fish served with classic French Fries and a row of fat onion rings, fried, on a little wooden pole head up the Tavern's Favorite menu section.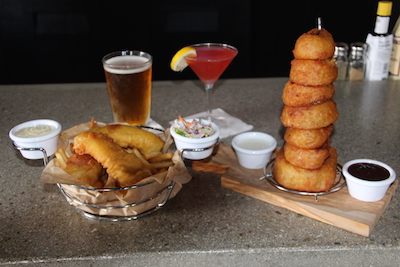 Most of the serving dishes are pretty wooden platters. "Thanks for noticing," laughed Shapiro. " I took a lot of time with details like this." Yes, it shows.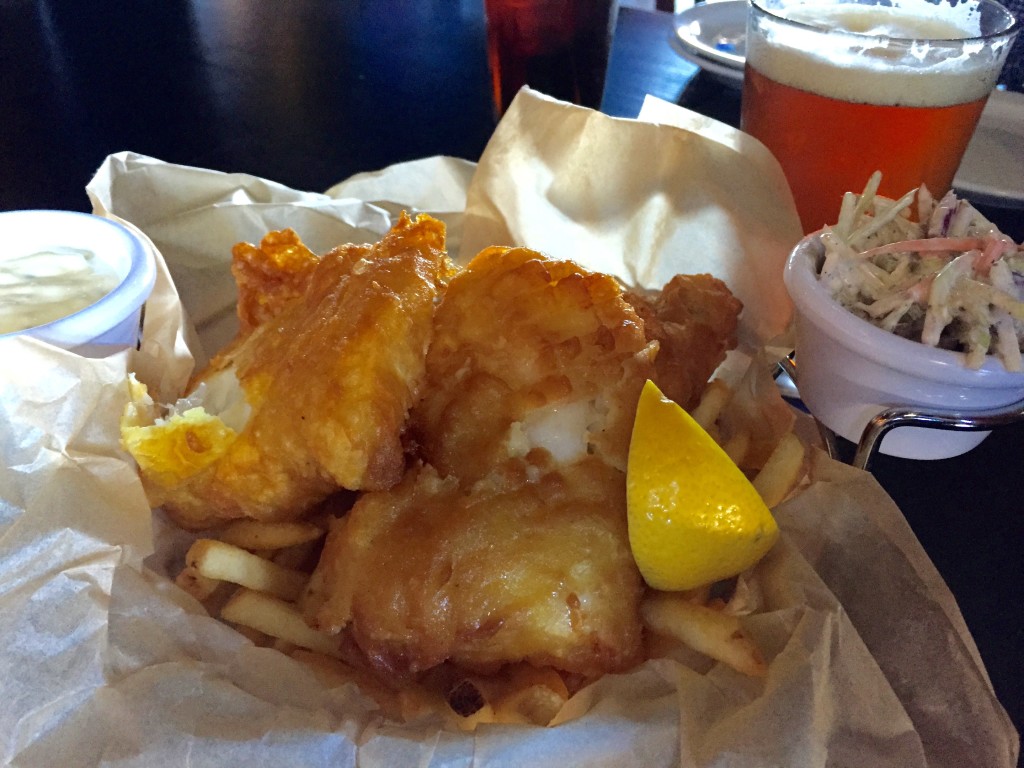 The Tavern Favorites section also includes the popular Sante Fe Flat Bread (Chili Verde, smoked pork and cheddar cheese, pico de gallo and black  beans), which is also offered in a salad with twigs of Fried Chicken.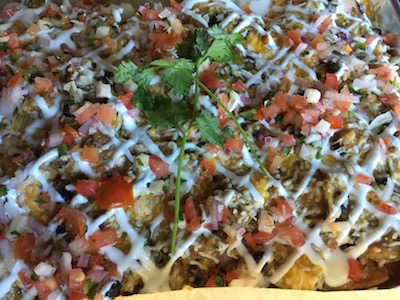 The popular fried chicken is also offered in the Southwest Crispy Chicken Salad, which reflects the contemporary menu, as does the Tuscan Kale Caesar  in the Salad Section on the menu.
A longer list of Burgers & Sandwiches includes modern favorites such as beer-focused, Tavern Bratwurst (grilled Guiness brats, peppers and onions) and the Tavern Ultimate Grilled Cheese.  This hearty bite packs in three cheeses on sourdough bread: Cheddar, White and Provolone  ($7) with the option of adding Ham ($2) and $BBQ Pulled Pork ($3), which gives an idea of the how Shapiro keeps prices down for customers with initial counter ordering. A bartender and server roam the room to check on customers for additional orders from guests once they are seated.  Torrance Tavern is also able to offer Happy hour 4-6; 50% off all apps$2 off well cocktails; $2 off beer and wine.
Tall, lean, Shapiro, who downplays his own career as a football layer with the Los Angeles Raiders, is still well-known in the community for coaching high school teams. He also honed his skills at his two other successful, well thought-out casual dining places before taking on a tavern.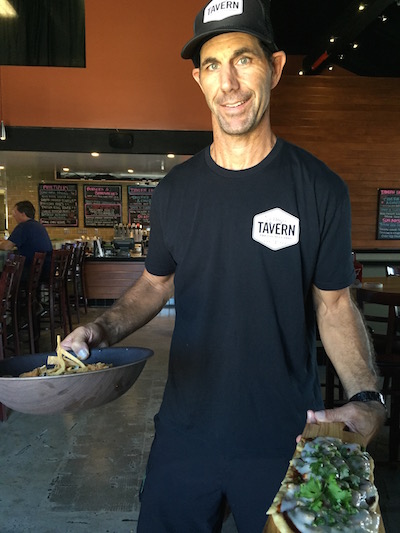 And Torrance is currently the place for a beer tavern , right in the center of the industrial park area filled with craft breweries, known as the Beer Trifecta. Take Strand Brewing Co. After brewing their first batch of beer in a Torrance industrial park, Elliott and Parker. Strand Brewing Co. grew by leaps and bounds and is now offered as far south as San Diego and as far north as Sacramento, It is considered mong the best  Los Angeles has to offer.
Smog City Brewery is the largest of the three and the most traditional. They brew a handful of excellent IPAs (Hop Tonic and Amarilla Gorilla, particularly), reviewed as "a perfectly crisp and floral bohemian pilsner, also one of the best coffee porters out there," by no less than beer maven, Josh Lurie. He adds, "At the brewery, bold stouts get the bourbon barrel aging treatment. Smog City is also known for their small-batch experimentations that often feature foraged fruits and herbs, one-off cask preparations, or explorations into wine/beer hybrids; they may be the region's most well-rounded brewery."
 Strand Brewing Co is now known for their flagship beer, 24th Street Pale Ale. Lurie describes it as, "a hoppy 6.1% ale that scored them (Strand Brewing Co) prized tap handles at most of the city's best beer bars and a Small Business of the Year award.  Noted beer expert, Josh Lurie: "Strand calls it a 'pale ale,' but at 6.1% ABV, it packs more of a punch than that. Whether "pale ale" is technically accurate or not, I still want another pint."
Absolution is another beer offered. The brewery operates on a small converted 7 barrel grundy and a direct fire system provides opportunity to brew in old world style to craft high quality small batch beers, five to six barrels at a time.
Torrance Tavern 22735 Hawthorne Blvd, Torrance, CA 90505, 310-375-9158