New Global Café Concept Updates Ancient Japanese Matcha Tea
It took the "California Roll" with a familiar name to entice Americans to try eating of Japanese sushi back in the day.  So it took Taku H. Maeda winning  a green tea ice cream manufacturing challenge to eventually launch an Americanized version of Matcha tea products and menu at SHUHARI Matcha Café.
As the successful entrepreneur and heir to a generations-old green tea business, Taku H. Maeda had always envisoned making green tea an American  mainstay since he became an U.S. resident over 17 years ago.  In 1989 he  opened three traditional Japanese tea stores, and in 1993 was challenged to include green tea ice cream in his line.  It became the best-selling green tea ice cream in the U.S., and he established a factory three years later.
This summer Maeda chose Venice, California  to launch SHUHARI Matcha Café, representing an updated ancient, classic Japanese concept going global.  More than 40 handcrafted beautiful packages tea beverages, sponge cakes and candies are displayed on the wall shelves and on the menu that mirrors American tastes, from traditional sencha and gyokuro teas to the not-so-traditional creamy matcha lattes, bubbly sparkling matches and shakes.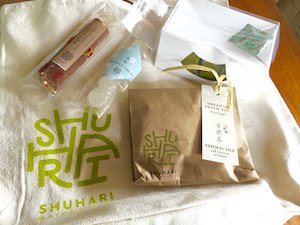 The café offers an American twist on traditional Japanese grab-and-go food options including onigirazu,  inside- out- sandwiches, which are a creative take on the the popular traditional Japanese rice ball that originated as street food and has become "almost famous" on the west coast. The onigirazu comes filled with chicken or spicy tuna with wasabi.  They are wrapped in kombu, seaweed that takes the place of bread and looks outlandish and colorful and like a lot of fun.   Every bite  becomes the very definition of mixed sharp, tangy tastes and layered textures that are by turn unctuous, chewy and supple.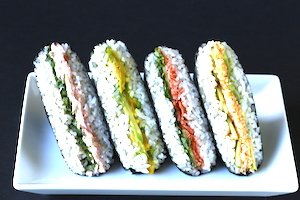 Also are on the menu in the California-style grab-and-go eats category are a sumptuous variation of the now obligatory American sliders with toasted, pillowy Bread Rolls and Japanese twists to them — all too light and easy to down a few at a time before you know it.  Hence, no photos.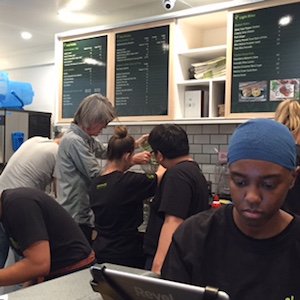 Chef and Menu Developer, Michael Bower Johnston (that's him in the photo above showing the very eager staff how to strain tea on the first very intense opening day, and his hands are hospitably holding the cones below!) described his process as "combining the texture-driven Asian palate with the more flavor-oriented Western one."  He expanded on this concept in this way:  "consider that all nations will generally have a preference.  And we find that generally with Europeans and westerners  the preference is with flavor and that Asians have a preference for texture.  Green tea has such different nuances in its flavor already, and it can be quite strong, so  in creating this menu we tried not to complicate or overpower it with too many other flavors.   Instead we introduced texture to the dishes and drinks in order to complement those things so that we get a fullness, so we get a crunch, so we get a 'slurp,' so we get a gulp.
"And I do believe that this will be the difference  between the menus we're tasting now in LA and in all of America that will be developing  as we get more immigration in.  And we'll also start to understand this on a much broader basis."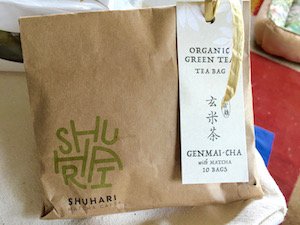 So what is "Matcha and why is everyone talking about it now?" This special type of powdered green tea, most often grown and produced in Japan, derives its green color leaves because they are shaded from the sun for the last few weeks of their growth, increasing the chlorophyll content.  Once picked, the leaves are carefully ground with stone grinding wheels to produce a fine powder.   The powder can then be used to brew an antioxidant rich frothy green tea or in recipes like smoothies or baking to produce the calming energy and the life-balancing properties. Unlike other types of teas, the green tea powder is not strained out before consuming, so you are consuming the entire leaf, making Matcha more potent than other tea varieties. In fact, only 1/2 tsp is needed to brew a traditional cup of Matcha.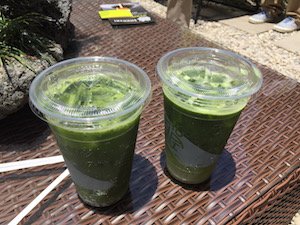 The cautionary note in using the entire leaf, even organically grown ones, is the trace amount of lead and fluoride since the whole leaf is consumed. When brewed as traditional green tea, the leaves are removed, and most of the lead (and some of the fluoride) is removed with the leaves.
And the name SHUHARI?  It is a reference to the stages of learning to achieve mastery in the world of tea ceremonies. "SHU" (守) alludes to the obedience of traditional wisdom; "HA" (破) is a reference to breaking away from established rules; and "RI" (離) means to separate from the conventional teachings thereby achieving a unique style and independence. To align with the meaning of SHU HA RI, the café will deliver a full range of green tea beverages from the classics to new contemporary concoctions of green tea.
The staff is friendly, lively and smart.  Here is Madeline, representative of the welcoming staff for whom it seemed nothing was too much to ask.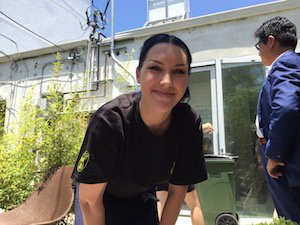 Madeline slices the creamy Ume Chicken Sliders for us. They turned out to be silky, hearty and light in the Asian style. Other skiers include Zesty Yuzu (Asian citrus) Pepper Chicken, Pork Ginger, Creamy Wasabi Tuna Heat of Palm, Miso walnut Pumpkin Salad and Yuzu Miso Avocado.
A line up of puffy ice cream sundaes featuring Japanese flavors such as matcha, ginger and black sesame as well as a variety of Japanese sweets flown in from Japan.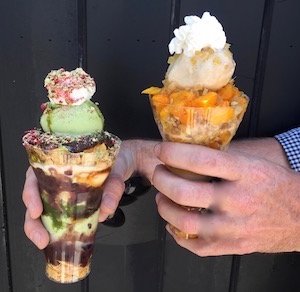 Below is the Shuhari Milkshake that comes in a variety of Asian-inspired flavors including Matcha Sweet Asuki Bean, Black Sesame chocolate, Vanilla Black Sugar Kinako, ginger, Matcha and Black Sesame.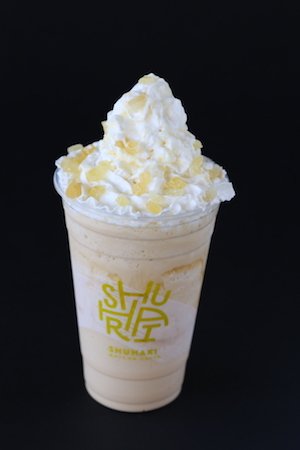 The festivities started on the street out front with a big flower wreath and plenty of photographers.  The neighborhood retains its local charm that still holds street parking places and a wiff of ocean air.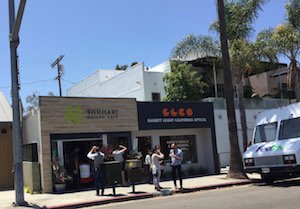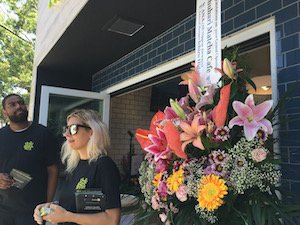 Out back, in the patio a screen frame, all the better to take Instagram images, a lottery for a trip to Japan and an assortment of products, such as the sponge cakes, candies and packaged teas were on display.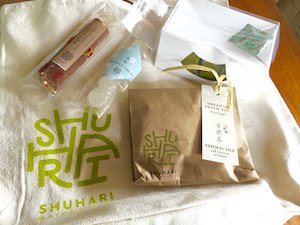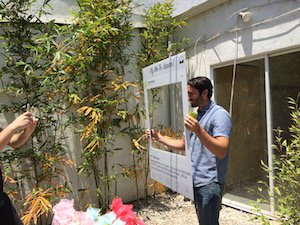 It was an international, globe trotting crowd with guests from two to 80.  The newly gentrified Abbot Kinney neighborhood brought young families and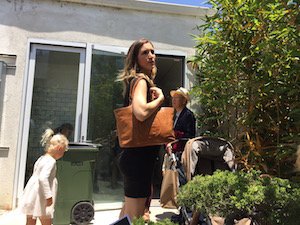 Below are visitors from the Philippines, Japan and France who now live in Dubai and are friends with the menu developer, Michael, who is from Australia.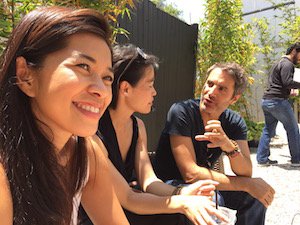 The July 7th opening was planned to be on the Japanese Star Festival or Tanabata. A celebration based on the romantic folklore of Princess Orihime and the young Hikoboshi, this day is known to be one from which hopes are realized. For SHUHARI, it symbolizes the beginning of a new era of Japanese green tea enjoyment in America.
Cool Japan Fund, a public-private fund that supports the development of overseas demand for Japanese products and services jointly funds the project with green tea distributor Taku H. Maeda and Maeda-en USA.
For more information and to stay up-to-date about the SHUHARI Matcha Café opening, visit www.shuharicafe.com.