New Fruity Cocktails at NoMa Social Worthy of Big Apple Name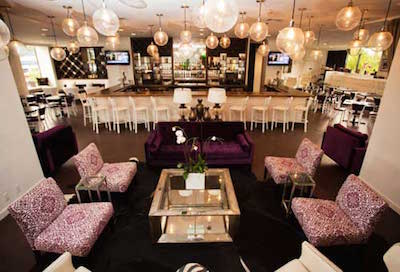 (Gerry Furth-Sides) Signature Indian summer fruity cocktails are the newest marks of luxe, inviting NoMa social, restaurant and lounge.  The name is inspired by its location just north of Manhattan in New Rochelle, NY.   For this writer, who once called Larchmont home and still dreams of the beach, NoMa Social's atmosphere continues the vision of spiffy Westchester County.
Inspired by such famous NYC destinations as SoHo and TriBeCa, earned high acclaim by the prestigious New York Times when it opened in 2012 as a "standout" dining destination with "deliriously good" food.
Easy to reach from anywhere in the region, NoMa Social  follows the trend of expanding Manhattan, with Brooklyn a designated extension of the city. And if you don't feel like driving, you are already in the Hotel Radisson.
New, sophisticated seasonal drinks, created by featured mixologist, Colby Brock, and food and beverage manager, Matt, along with Nina Rodriquez, follow the  trend of incorporating fruits and muddled herbs into high end spirits.  These cocktails are an addition to a long list of specialty cocktails, with some fittingly under 150 calories.
NoMa social's 3,000-square-foot environment seats 125, yet feels welcoming and warm.  The first view of the  library décor is rich in warm purples and grays to create a welcoming, relaxed atmosphere. Numerous couches in various sizes and low cocktail tables are conducive to dining and conversation, with traditional seating also available.
NoMa Social's Black Rose: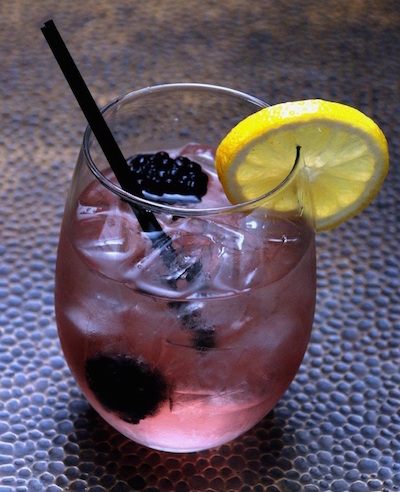 The Mexican influenced  GinThinny is prepared with refreshing Hendricks gin (two parts), Margaritaville margarita mix, muddle me and mint leaves.
The Femme Fatale is made with Sparling Cava, Limoncello, Muddled Strawberries, Sugar, Lemon.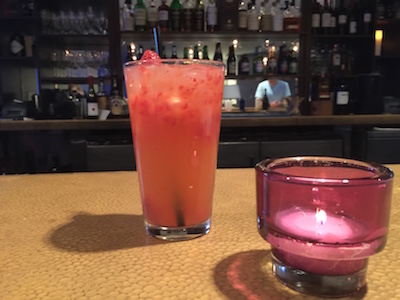 Other cocktails include the Gummy Bear (Stoli Raspberry Vodka, Splash of Peach Schnapps, Club Soda & Fresh Peaches), and the Scooby Snack (Malibu, Banana & Melon Liquor, Pineapple Juice, Whipped Cream).
Live entertainment and late-night dining/dancing on Friday and Saturday evenings add to the relaxed, interactive dining and drinking experience.
The thoughtful menu, created by Executive Chef Bill Rosenberg, offers entrees and an array of Mediterranean-style small plates for mixing, matching and sharing.  Chef Rosenberg works with organic, sustainable meats, fish and local produce for the dining room and Tapas bar menus, with suggested wine pairings. With a Spanish bent to the cooking, paella and whole market fish are popular. The huge hotel kitchen also features a Spanish Plancha, where most food is cooked.  A  wood burning stove for pizza and flatbreads sounds enticing, even more so because it is also used for the preparation of whole fish and smaller animals, such as spring lamb, suckling pigs and baby goat.
NoMa Social, 1 Radisson Plaza, New Rochelle, NY, 10801 (www.nomasocial.com), 914.576.4141.