Novel Ethnic Food Eats in The World's Healthiest Foods Book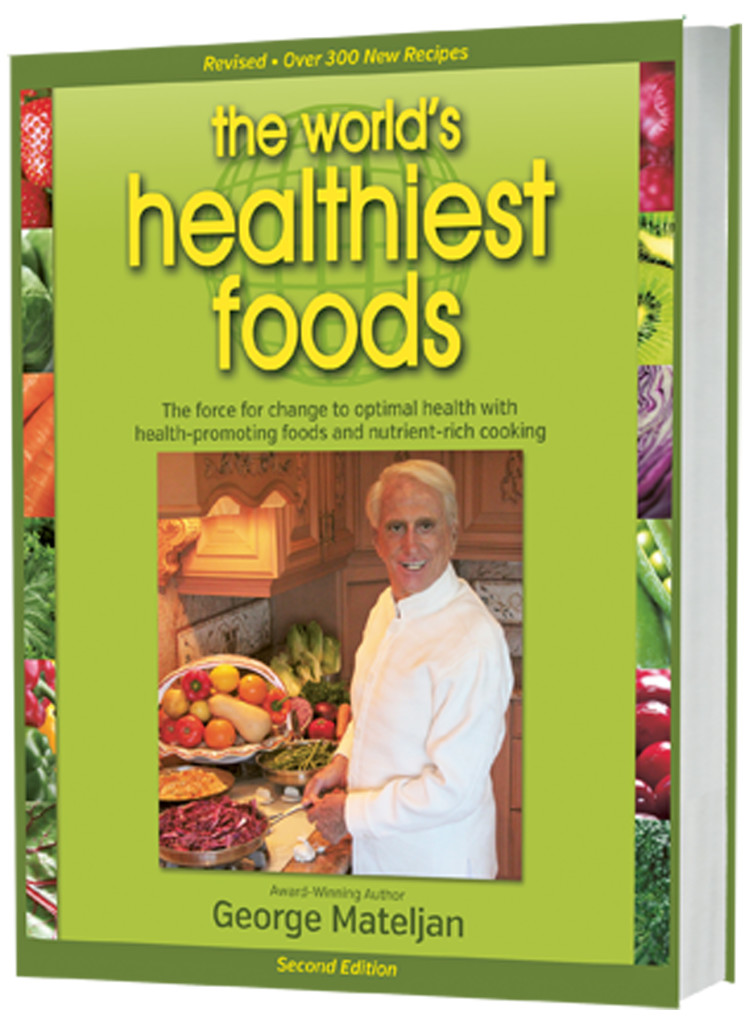 Just in time for those New Year's resolutions, Award winning nutritional blockbuster, The World's Healthiest Foods (GMF Publishing, 2015), by George Mateljan, has just been revised into a long-awaited second edition. It will be available online and on store bookshelves January 1, 2016.  Better yet, you have the choice of book, website and blog. Mateljan's excitement about eating in a nutritious manner is contagious and his enthusiasm also shows in the upbeat manner of the book.
This works well for me. Not only am I not left with food-stained cookbooks, our well-worn Betty Crocker "American" family cookbook, falling open to the page of Baked Alaska as soon as you hold it up. But these days whenever I have a nutritional question these days it seems easiest to just pop open the internet instead of a book, and I am definitely a book reader. It just seems more up to date. Yet with a book, you have the reference and in this case a reference book in the sense of being able to easily refer to it. Mateljan also writes in a conversation, clear style while packing a wallop with the amount of information in the book.
Today, for example, I wanted to compare sweet potatoes and winter squash and wound up reading all the pages on each of them, plus white potatoes and summer squash (zucchini).   Interestingly enough, Mateljan does not include any reference to "yams" and the difference between them and sweet potatoes (although we in the United States only have sweet potatoes. It is also of interest that the author includes sections (often repetitive ) on "cooking methods not recommended. I was happy to see microwaving among them, and it confirmed that it is as fast to "fast-steam" as to microwave, and healthier. There are tons and tons of nutrient-richness charts (no calorie count) to go along with each food description.
One fascinating section, Chapter 6, for example, is about "How the world's healthiest foods can affect our genes.   Like the rest of the book, it holes only a few pages at a time to "digest" but is filled with enough charts, photos and paragraph headings to enjoy and grasp the information.
The World's Healthiest Foods (GMF Publishing) is an encyclopedic-size hard-cover paperback, written by healthy cooking expert and award-winning author, George Mateljan. The author of eight best-selling books and founder of Health Valley Foods, one of the largest health food companies in the world, George was a pioneer in the organic food movement, encouraging and supporting the development of organic farming. After 26 years with Health Valley, he turned his energies and resources to the George Mateljan Foundation, including a website on healthiest foods — whfoods.org (with 40 million unique visitors per year) —and the publication of health-promoting books.
The authoritative book has as its roots evidence from proven science and the latest research.   The key here is health lifestyle, with comprehensive, updated information on nutritional benefits from vitamins to minerals, anti-inflammatories and anti-oxidants. Some 10,000 new scientific studies were consulted for this edition.
Countless misconceptions and myths are replaced with helpful, genuine expertise, including "best way" tips for handling every ingredient.
The book is structured to be handy and easy to reference, from nutritional information to the most elementary shopping to storage tips and cooking ideas. The cooking ideas for almost every vegetable include steaming and the photos are bland and unappealing. I already quick-steam my vegetables for the most part so it was a conformationt hat I was doing this right! What I would welcome is a new way to season and to bring these vegetables to life in a new way.  There are many ethnic foods that are going mainstream that are not included, such as the very healthy citrus, yuzu.  On the other hand, there is a comprehensive shopping list (with space for checkmark) that is very handy.
Spanning over 1000 pages, the book page sections are color coded into categories of veggies, fruits, fish and shellfish, nuts, spices nutrient-rich eating – each page has as its border the color so you know exactly that you are reading at all times. This is colorful and helpful.
A selection of Smart Menus shows how to combine foods for synergistic reactions that pack a nutritional wallop. Mateljan also addresses the obesity epidemic in both adults and children, and offers invaluable practical tips as well startling revelations, such as:
How even washing and storing foods the wrong way can sap them of vital nutrients.
How overcooking can deplete up to 80 percent of the vitamins and minerals in food.
How you can create an entire meal with optimum nutritional value, in just 15 minutes.
The real toll that refined sugars and grains take on our immune system and other functions.
How you can add anti-inflammatory power to your diet by changing a single meal a day.
Mateljan also debunks many myths about eating right and cooking well. There is an index to his random questions and answers, that are throughout the book.
An introductory section focuses on his research and a closing section with an appendix, which again makes finding a topic very easy. It also includes pages of superfluous accolades signed with first name only. Praise for The World's Healthiest Foods  an much more authoritative source is much more impressive:  "Keep this book within easy reach, and everything you need to know about eating for optimal health and pure delight — from which foods to choose to how they should be prepared — will be at your fingertips. If every kitchen held a copy of The World's Healthiest Foods, and every cook referred to it often, the health benefits would be dramatic."
— David L. Katz, MD, MPH, FACPM, FACP; Yale