Odysseo Cavalia Stars Return to Irvine, California
(Gerry Furth-Sides) When the stars of Odysseo Cavalia, the horses themselves, were last in town, we interviewed these extraordinary creatures about their diet, which they told us about and also how well they are treated.  
The startling bright white tents are back on the field next to the 405 in Orange Country, signaling something very special.  And special it is indeed:  Odysseo has come back to town.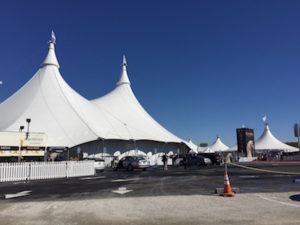 Imagined by Normand Latourelle, one of the co-founders of Cirque du Soleil, the show is a celebration of horse and man. A show unlike any other, Odysseo stars 65 horses and 48 riders, acrobats, aerialists, dancers and musician.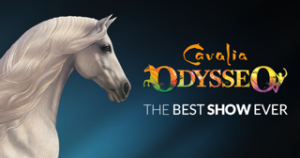 The  $30 million extravaganza is double the size of Cavalia's eponymous creation, which enjoyed a successful Irvine run in 2007.  Odysseo's  epic and soulful experience has astonishing l1.5 million audience members and wowed critics across North America.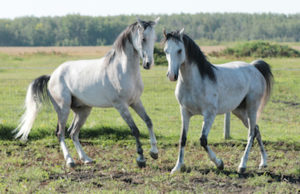 The horses are the heart and soul of every Odysseo performances. These magnificent animals play in complicity and with freedom, in a symbiotic and respectful relationship with the riders, acrobats, and aerialists, charming and fascinating everyone who has the chance to witness this moving artistic and emotive partnership.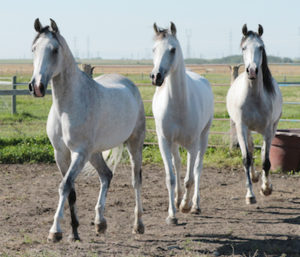 The liberty number features purebred Arabian horses directed only by the soft murmurs of their trainer, and the fabulous caravan act that comprises people and horses too numerous to count.
When they last visited close to a year ago, we "interviewed" them about their diet.
All three horses are saying they "they love being together and part of this family.  …They are very happy and they love positive feedback…they get down time as well.  Their performances are traded out with other horses so they get play time and down time.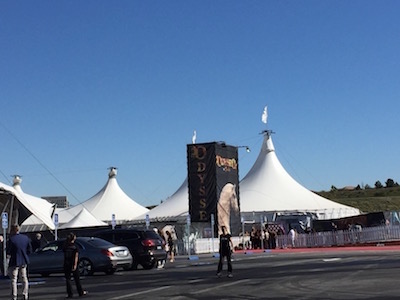 When we talked to the show management, they agreed.  "The well-being of the horses is the primary concern of Cavalia and they show this off during the show, where they are so pleased to express their natural tendency to play. A team of 20 people, including a stable manager, two veterinary technicians, a blacksmith and several grooms, takes care of the horses' well-being. Together they provide a balanced and personalized diet, a training program, care for their hooves, etc. Every day horses get their share of pampering, including a shower, grooming, massage, outings to the paddocks and workshops with their riders.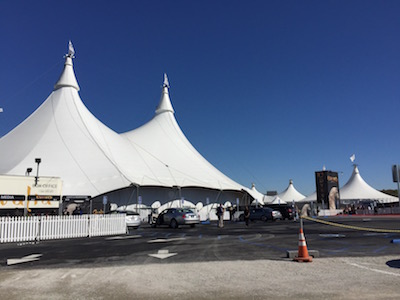 "The horses eat eight meals daily — a diet of Timothy hay five times and Purina grains three times per day. On Sundays, they receive special treats including apples, carrots, bananas and pears. Depending on a horse's role in the show, their diet may be modified by one of the three technicians responsible for feeding them. Some horses receive oats instead of grain or have supplements added to their diet.
The Cavalia Odysseo show is performed Under the White Big Top, 16576Laguna Canyon Road, Irvine, California, 92603.
For details and ticket information, please see  http://www.cavalia.net/en/
Acrobats present an amazing mix of force and sensitivity, interacting with the spellbound audience, to the chorus of  live musicians.   Our favorite was majestic life-size merry-go-around featuring much of the cast and set of Odysseo.  For others, it was the dexterity of the African acrobats, the enchanting sound of the Kora, or sets that captured the sport of "favorite of the show."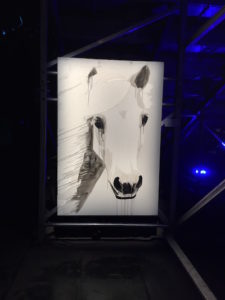 The mindboggling theatrical effects are as spectacular as they are numerous: a state-of-the-art video screen three times the size of the world's largest cinema screens, a three-story mountain for dazzling perspectives, and a real lake made of 40,000 gallons of recycled water which magically appears for a splashing finale.
The layers of mesmerizing decor make the audience part of the action while the gigantic stage takes everyone's breath away.   Odysseo's technological and scenographical effects create places no one has ever seen before; places where one can feel the deep connection between horse and man.
The sumptuous Odysseo takes the audience into a magical world where human and horse live in harmony for the pleasure and delight of all.Beginning in a misty, enchanted forest where horses graze and frolic under a sky of rolling clouds and a setting sun, Odysseo takes the audience on a fantastical journey to some of nature's greatest wonders, from the Mongolian steppes to Monument Valley, from the African savannah to Nordic glaciers, from the Sahara to Easter Island, and even to a lunar landscape, illuminated by shooting stars and brilliant nebulas.
The  impressive list of superlatives about Odysseo include: the world's largest touring production; the biggest touring tent on Earth – the surface covered by the White Big Top is 68,000 square feet, equal to an NFL football field; the biggest stage – 17,500 square feet, larger than the Honda Center ice rink in Anaheim; the most breathtaking visual effects; and the greatest number of horses at liberty.
Since its Montreal world premiere in 2011, the Odysseo cast has already mesmerized more than 1.5 million spectators in Canada, the United States, and Mexico.
TICKETS – * A gift-giving season special discount of 10% on all ticket categories is offered through December 24.* Tickets are priced from $29.50 to $144.50 + applicable taxes and fees.
For a memorable evening, the Rendez-Vous package offers the best seats in the house, exquisite buffet-dining before the show, open bar, desserts during intermission and an exclusive visit of the stables after the show. This unique VIP experience takes place in a tent alongside the White Big Top. The Rendez-Vous package prices range from $149.50 to $269.50 + applicable taxes and fees. Special pricing and packages also available for groups, children (2-12), juniors (13-17) and seniors (65+).