Old-World Jarlsberg Cheese Debuts New Cheese Snacks, Crisps

(Gerry Furth-Sides) We literally grew up with Jarlsberg cheese.  And it always comes through on taste, texture and also has a light and healthy feeling to it somehow.  And such a novel distinctive, open surface with irregular 'eyes'. This, we read, is because of its semi-soft part skim texture and uniquely mild and slightly nutty taste—and consistent quality thanks to Norwegian Cheese Producers.  We have Anders Larsen Bakke, who created the cheese, in particular to thank.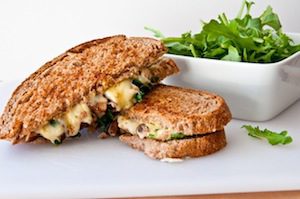 When you even think about Jarlsberg, a whole wheat, ham or roast beef, lettuce, tomato and mayo seems to pop into your head.  Or a grilled cheese sandwich.  Or a Reuben! For recipes please see http://www.jarlsberg.com/us/recipes.  I cannot think of anything that would not be made better with this remarkable cheese.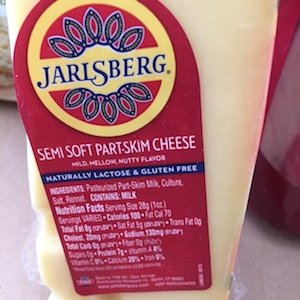 From www.cheese.com (which has a wealth of information on all types, origins and pairing information):  Jarlsberg is a mild, semi-soft cow's milk cheese of Norwegian origin.  Although Jarlsberg is sometimes marketed as a Swiss cheese because of its characteristics, it tends to be sweeter and stronger than Emmentaler.
Beneath the yellow-wax rind of Jarlsberg is a semi-firm yellow interior that is buttery, rich in texture with a mild, nutty flavour. It is an all-purpose cheese, good for cooking as well eating as a snack. Since the cheese melts so well, Jarlsberg tastes delicious on sandwiches, fondues, quiches and on hot dishes. The versatility of the cheese is appreciated well beyond the Scandinavian world in US, UK and Europe.
Rinded and rindless Jarlsberg is available in wheels, slices, wedges, minis, and random weight pieces. A good Merlot and a nutty Jarlsberg will provide to be a fascinating mix.
This spring, however, the nationally recognized premium brand of cheese,  Jarlsberg® Cheese, debuts a most festive and perhaps possibly most addictive product to their  cheese family yet with Jarlsberg® Cheese Snacks.
We recommend starting with the individually wrapped triangle cheese wedges, all "dressed up" in heavy plastic envelopes for portability.  This perfectly portioned Jarlsberg Cheese on-the-go 3/4 oz easy-to-hold triangle snack is filling and portion-controlled along with a few roasted almonds and an apple.
Every Cheese Snack seems to be naturally portion controlled with only 70 calories in the  all-natural snack with 5 grams of protein.Jarlsberg Cheese Snacks are also naturally gluten and lactose free .
Not so easy to portion control with the Cheese Crisps.  The new Cheese Snacks are perfect for parties, picnics, back-to-school lunches, or wholesome on-the-go snacking.  Snacking is a booming, $87 billion business, and on the rise, with snacks accounting for 51 percent of all food sales.
The Jarlsberg® brand of cheese has been exported to the United States for over 40 years and is America's #1 selling brand of specialty cheese, also most recognized. Norwegian Cheese has been imported to the United States since 1940 reaching 1.5 million pounds of exports by 1969.
Historically, in the early 19th Century, Norwegian Cheese Makers were among the number of countries attempting to produce a domestic version of the increasingly popular Emmenthaler cheese from Switzerland.   This resulted in a slightly different product but still a version of the original Swiss cheese.
Starting in 1956 through 1965, the University of Agriculture in Norway conducted developmental research on a semi-soft part skim cheese with eye formation. Prof. Ole M. Ystgaard is credited for developing the bacteria cultures and manufacturing techniques used to process the cheese. This new cheese, later to be known as Jarlsberg®, was named after Count Vadel Jarlsberg®, whose estate was on the Oslo Fjord near where it was first manufactured.
Jarlsberg® is manufactured in 20 lb wheels and 10 lb loaf forms and is made from pasteurized cow's milk. The cheese is classified by the United States Food and Drug Administration as semi-soft part skim cheese but, because of the eye formation and the method of product, Jarlsberg® has been classified for U.S. Customs purposes of entry into the U.S. as a Swiss/Emmenthaler type cheese.
Norseland, Inc., owned by TINE SA, is the exclusive importer and sales and marketing agent responsible for the continued success of Jarlsberg® in the United States.  They aim to please: Jarlsberg® Lite, a reduced fat version of Classic Jarlsberg®, was introduced into the U.S. in 1990.  It  has become the #1 Brand of specialty, reduced fat cheese in the U.S.  Norseland also  represents the García Baquero Spanish cheeses, Old Amsterdam aged gouda, and Gabriella & Suprema Italian cheese line.