Ooh La La: "Ladurée" French Macaron Arrives in LA and Beverly Hills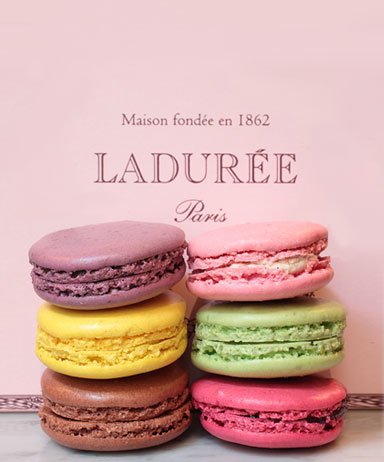 (Gerry Furth-Sides) At the turn of this century, New York and Los Angeles bakers seized upon this confection that had earlier took Paris by storm.   This year it has arrived quietly in Los Angeles at The Grove (Original Farmers Market)in Los Angeles, complete  with more dramatically long lines  and more recently a tea room with cafe opened on Beverly Drive in Beverly Hills in a more quiet manner – and easy-access free parking.
It marks one more time that Parisian tea room history is ties to the history of the Ladurée family.  It all began in 1862, when Louis Ernest Ladurée, a miller from the southwest of France, founded a bakery in Paris at 16 rue Royale.
In 1871, while Baron Haussmann was giving Paris "a new face", a fire in the bakery opened the opportunity to transform it into a pastry shop.  The decoration of the pastry shop was entrusted to Jules Cheret, a famous turn-of-the-century painter and poster artist.
At The Grove (Original Farmers Market) in Los Angeles as  the famed macaron merchant opens its first store on the West Coast. The sprawling boutique and outdoor terrace serves more than pastries.  Along with its macaron gems, pastries and chocolates, the store also features a restaurant and tea salon. Highlights of the menu include the Champs-Elysées Club, a vegetarian version of the classic sandwich; Ladurée omelette with mushrooms, ham, cheese, tomatoes and herbs; and a tofu burger.
Macaron flavors range from the classic (vanilla, pistachio, caramel with salted) to the seasonal (chestnut, coconut, violet), and you can order them from a gleaming white marble bar in the front of the shop.
Ladurée, 189 The Grove Dr., L.A., 323.900.8080. thegrovela.com
Today the French macaron arrives in a variety of classic and contemporary flavors all with bold, vibrant colors: Apricot and Raspberry, each filled with jam; Lemon with lemon crème filling; sophisticated bittersweet chocolate; Coffee; Vanilla and Pistachio, which, as combined with the almond paste flavor, is reminiscent of Baskin-Robbins Pistachio Almond.
If you haven't the will to brave the crowds at The Grove (said to be bigger than the ones at Disneyland, here are a few other suggestions.
La Provence has an assortment of delicacies, crispy on the outside and creamy on the inside.  SherryYard's macarons have been perfect as specials from her days at Spago to her own new bakery at Helm's Bakery.  (Sherry is second from left below)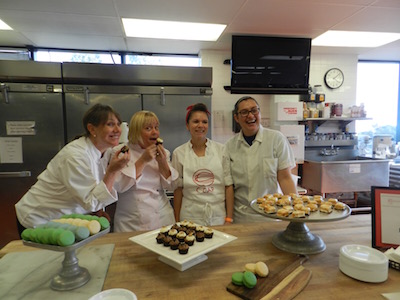 For the richest raspberry macaroons, Bottega Louie (www.bottegalouie.com). 
For the most delicate lavender macaroons. (www.thelittledoor.com).
For the finest coffee version, La Provence Café is the place to go.  A selection the finest French pastries and cakes are also in the alluring counter cases, which you pass waiting on line to order.  Indoor banquette and outdoor seating are options to enjoy the pastries (and fresh salads and sandwiches) right on site, served by an efficient friendly staff.
(www.laprovencecafe.com).
These days even Trader Joe has gotten into the act and their variety assortment is very, very good even though their seasonal pumpkin flavor falls flat. (www.traderjoes.com) 
And we can't forget the Moroccan macaron, made without dairy here at Got Kosher Cafe.  It is impossible to taste the difference between thee beauties and dairy versions.   (www.gotkosherinc.com)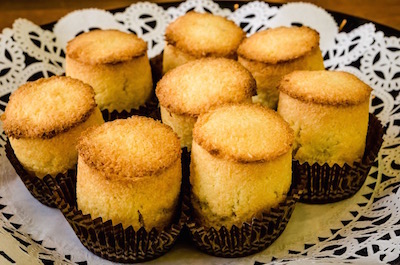 These days we're referring to the French macaron, not the candy-kiss-shaped coconut meringue cookies, though are made of egg whites and almond paste and got their biggest boost both originated in Italy. But leave it to the French. Their more fragile version with a crispy outer shell and pillowy- soft yet chewy inside is inordinately tricky to prepare and .
"Macaroon," comes from the Italian word for paste, maccarone, and, the first maccarone can be traced to an Italian monastery. The cookie arrived in France in 1533 with the pastry chefs of Catherine de Medici, wife of King Henri II (literally the Martha Stewart of her time, she who spread many glorious culinary trends across Europe).
The story continues with two Benedictine nuns, Sister Marguerite and Sister Marie-Elisabeth, who when seeking asylum in the town of Nancy during the French Revolution (1789-1799), baked and sold so many French macarons to pay for their housing, they became known as the "Macaron Sisters."
About that time Italian Jews adopted the cookie for Passover because it has no flour or leavening, also adding chewy coconut to the dough. This "Jewish" sweet became popular all over Europe and America, and came to define "macaroon" – until recently!