The Pasadena RAYMOND Makes American Regional History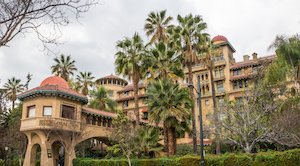 Executive Chef Tim Guiltinan introduces his  New Summer Menu with imaginative ethnic twists to the The Raymond 1886, Pasadena's  historic Craftsman cottage on South Fair Oaks Avenue.  The nostalgic building, at one time a caretaker's cottage for the grand Raymond Hotel in the late 1800s, shown above.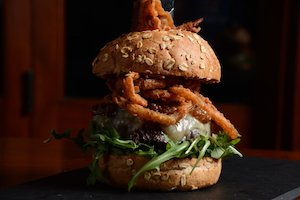 With this new menu, Chef Guiltinan also updates mid-century American regional classics which might have been served to the Pasadena families "up for the summer" from Los Angeles a century ago.  They would not recognize the children's favorite burger, now with bacon and bourbon.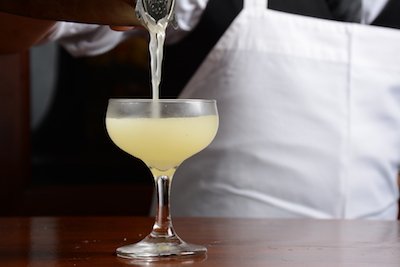 A  New Dessert Menu from New Pastry Chef Raymond Morales and"rabble-rouser"Maxwell Leer's New Wine Program add to the celebration although one look at the true champagne goblet tells that Leer also respects the past.
Guiltinan explains that in his eclectic style of cooking, "We take our influences from all around the world."  What ties his menu together is his attention to individual ingredients, making nearly all of them from scratch, including tortillas (Mexican), ketchup (created as an Asian fish sauce), Worcestershire sauce (British) and even his XO sauce.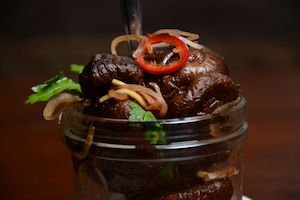 Sourcing the finest ingredients is also key.  Pasadena's Whisper Farm's Aquaponic Lettuce with lemon dressing and smoked salt is perhaps the ultimate in local sourcing, the lettuce grown sustainably just a few miles away. Seasonally rotating Wild Northwestern Mushrooms are all organic with smoked vinegar.
The Quick Bites menu section features oysters sourced from a co-op of small oyster growers in Massachusetts, sold exclusively to the chef. The Raymond 1886 features just one type of oyster at a time, offered raw with a house made barrel-aged hot sauce, or grilled with a jalapeño butter sauce. "When I receive the oysters, they have been out of the water less than 24 hours," Guiltinan reports. "We sell an incredible amount  because they are so fresh and so unique."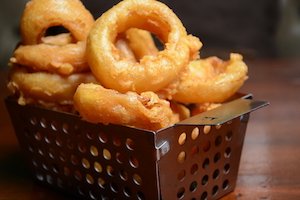 Classic vintage American appetizers become streamlined under the chef's direction with  Marinated Mushrooms and spicy Hand Cut Smoked Onion Rings.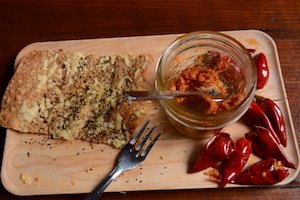 International ethnic twists show up on similar ones such as  the Sticky Potato,  roasted spuds in a Korean-style sesame-chili sauce.A fiery house-made spreadable salami native to southern Italy is integral to Be Calm and Eat 'Nduja, is complemented with Guiltinan's own Parmesan crackers.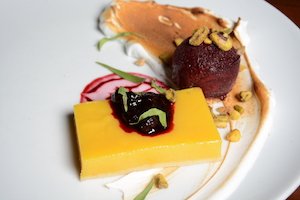 Ethnic techniques influence Starters as well, from seasonal-vegetable  to decadent meat specialties. One of the most popular items, the Tandoori Cauliflower, features a half-head of the vegetable marinated with Indian flavors, roasted until nicely browned and served with a mint-cucumber dip. Greek yogurt  accompanies Chef Guiltinan's  Roasted Golden Beets along with organic citrus, crushed pistachio, watercress, and Greek yogurt.   Roasted Fennel Soup is made with potato, anise pickled carrot and pasilla-honey.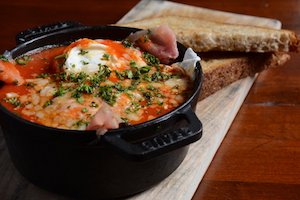 Mar y Tierra, invokes a menudo-like stew with squid, shrimp & tripe, smoked pasilla, and a handmade tortilla.
Japanese  Miso-Sake Glazed Hamachi Kama presents an uncommonly found, tender and juicy hamachi collar.  Other Asian-accented items include Indonesian Shrimp and Little Neck Clams, cooked with potato in a broth of pale ale and house made smoked XO sauce, and Grilled King Alaskan Crab with a sweet and spicy Thai nam jim, radish salad.  The crispy-fried Japanese Jidori Chicken Wings are prepared with a modern Thai twist; caramelized fish sauce, mint and garlic.
The Raymond 1886 dinner menu concludes with generously portioned seafood dishes like the Columbia River Salmon, caught wild in Washington State, grilled with Maitake mushrooms, English peas, basil and a smooth potato emulsion, and the Pacific Lingcod is served with za'atar roasted carrots, green pea purée and black lentils. Hand Harvested Scallops are seared to perfection and paired with Chinese black garlic, quinoa "fried rice" and fresh edamame.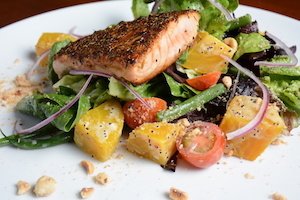 Raymond 1886 entrees make the mouth water just reading the menu, including an ethnic twist on  Roasted Duck, cooked with fermented black bean jus, smoked onion, grilled kai-lan, and creamed broccoli.   Shredded Beef & Layered Pasta is Guiltinan's twist on the classic Italian Lasagna, here with wild and farmed summer vegetables and a goat cheese mornay sauce. But the most visually impressive All-American dish is the Dry-Aged Prime Bone-in Rib Eye for two, served with elephant garlic and seasonal vegetables.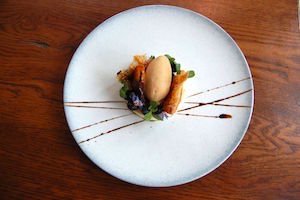 International influences dot chef Morales desserts as well, such as the Peach and Destroy, comprised of Fromage Blanc cheesecake, roasted peaches, charred peach and buttermilk sherbet, pickled blueberries, macadamia nougatine, buckwheat graham cracker and a variety of microgreens and herbs.
The Raymond 1886 is open for Lunch Tuesday – Friday from 11:30 am to 2:30 pm;  Dinner every Tuesday – Sunday from 5:30 to 10:00 pm and Brunch  Saturday and Sunday, 9:00 am to 2:30 pm.
For information on 1886 Bar or reservations, please visit www.theraymond.com or phone 626.441.3136.