Best Historic: The Raymond Restaurant and 1886 Bar in Pasadena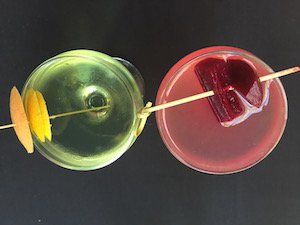 (Roberta Deen with Gerry Furth) From the starting explosive cocktails to the decadent desserts, the new seasonal menu under the direction of Executive Chef Tim Guiltinan, at the historic  The Raymond 1886 in Pasadena turns lunch into both a festive party and a culinary education.  Pasadena-born and bred chef Julia Childs favorite saying fit here: "A party without cake is really just a meeting."  It was a party.  Pastry Chef Jose Morales alone was worth the trip.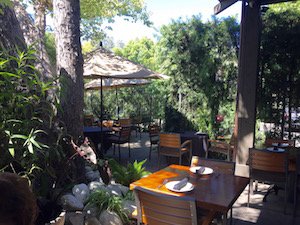 Drop the Beet (by Casey Level) and ($12) and The Blue Steel (by Adam Vaughn) need nothing more than their descriptive names and  a list the uncommon ingredients in them  (violet liqueur, pickle juice, pickled beets) although  the over-the-top descriptions on the Cocktail Menu  "showed the work" that went into the creations.  Dill and cucumber-infused Stoli Vodka, lemon juice, Mikey's home-made pickle juice and Pickled beet make up a savory martini of  Russian ingredients that are "anything but orthodox." The interplay of flavors They pour liberally so choose carefully.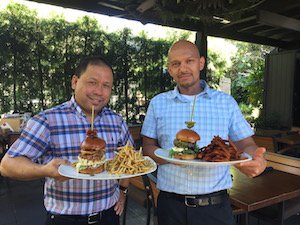 As a shared appetizer the "Colorado Lamb"  and the Bourbon Bacon Burger burgers under the Sandwiches and Other Things "The Burgers" section are served with a choice of  French Fries, Potato Chips, Sweet Potato fries or Side Salad.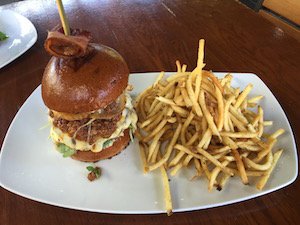 Medium raw to perfection, the patties are juicy and hand-shaped, well-seasoned and generously portioned with creative toppings (baconaise, bourbon-bacon jam, spicy grilled onions and cheddar on the beef and feta, garlic aioli, mint pesto and peppery arugula on the lamb).   Chef Tim told us that he used to grind the meat in the kitchen but then when the kitchen got too busy, "we tried a number of things.  Finally we found what we were looking for through our meat vendor – who hooked us up with a company that sells exclusively to Las Vegas high -end venues.  We are his only client in the LA area and it is a very special burger because we want to give our customers the best."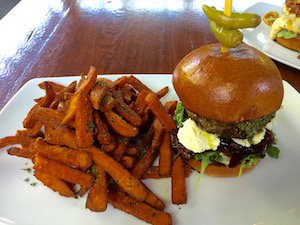 Brioche buns, pillowy but firm enough to stand up to the weight of such abundance.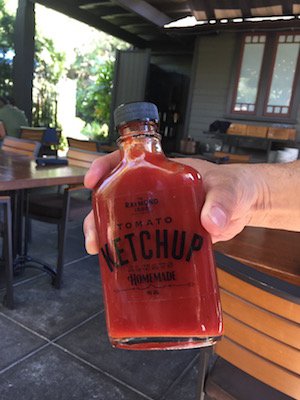 The catsup for the fries is based on the original recipe from Asia.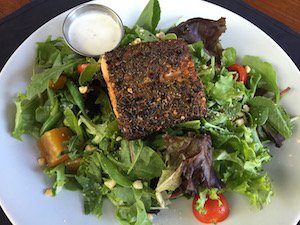 Blackened Salmon Salad ($16)  gave a new meaning to the lunchtime favorite with a crust of seeds and spices well charred never invoking charcoal or with the usual spiceness. Flaky, moist, tender – and served on a bed of baby spinach and greens, with hazelnuts, tomatoes, haricot vert and marinated beets. The poppyseed dressing provides a balancing acidity to the rich ingredients.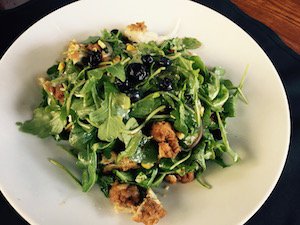 The chef's new summery Blueberry and Grilled Corn Salad is dotted with tender, crispy chunks of Southern-style fried chicken breast tossed with red and yellow vine-ripened pear tomatoes, creamy fresh mozzarella, a touch of red onion, tossed with the traditional Raymond house dressing.  $15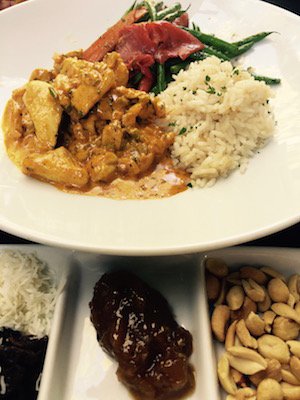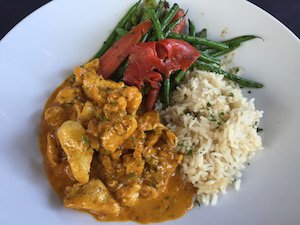 Ol' Time Raymond Classic Chicken Curry is the most ethnic of the choices. Tender large diced breast of chicken in a gently curried cream sauce, a lovely fan of grilled assorted vegetables of the season, toothsome white long grain rice and a dish of toppings – roasted peanuts, raisins, coconut, and very light, fresh in-house mango chutney.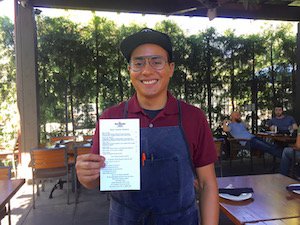 Stunning both in flavor and presentation, desserts by very young, very serious, very friendly pastry chef, Raymond Morales truly crown a meal. Chef Raymond came out and us relating his remarkable path to the station he holds at The Raymond 1886. His remarkably sophisticated creations are intricately layer and dimensional.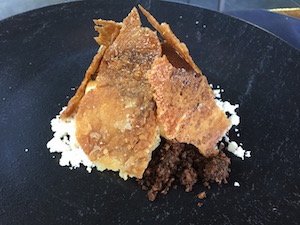 The "High on Fire" consists of many but belonging flavors – a rich, dense ganache, applewood-smoked salted caramel mousse, deep dark chocolate sorbet, caramelized Arlette (paper thin cookies of puff pastry weighted so it cannot rise, brown butter powder (my favorite flavor surprise!).  There was only a smear of the dessert left on the plate.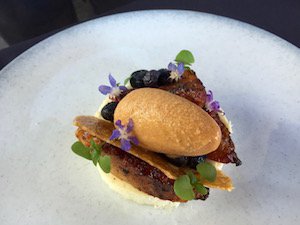 The Peach and Destroy dessert lived up to its name as well with Forage Blanc Cheesecake, Roasted white peaches, Charred Peach and Buttermilk Sherbet, Macadamia Nougatine Buckwheat Graham Cracker and lovely edible flowers.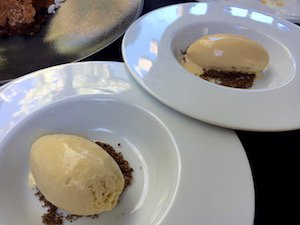 Chef Raymond served two of the ice creams, coffee and mallow, as delicately shaped quenelles in a gleaming bowl on a bed of the brown butter powder. The Raymond also pulls classic double espresso shots as one, both caffeinated and decade.  Not only did his dessert turn the meal into a party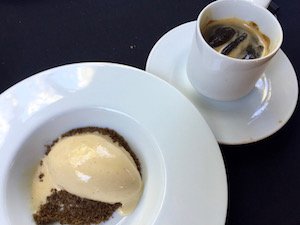 And as for the proverbial "frosting on the cake," when we asked Chef Morales what he'd like to see on a dessert menu he answered with our exact same wish, " I wish that people would finally recognize and know Caneles!"  Not only did his desserts turn the meal into a party, but he proved to be a most favorite host, too!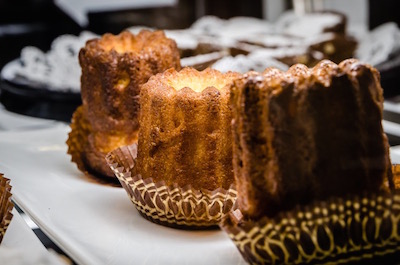 The Raymond 1886 is open for Lunch Tuesday – Friday from 11:30 am to 2:30 pm;  Dinner every Tuesday – Sunday from 5:30 to 10:00 pm and Brunch  Saturday and Sunday, 9:00 am to 2:30 pm.
For information on 1886 Bar or reservations, please visit www.theraymond.com or phone 626.441.3136.