Paso Robles "Reverse Wine Dinner Series" Features Italian Imports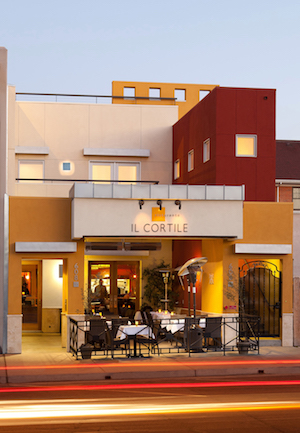 (Gerry Furth-Sides) Every Wednesday this winter, starting January 18, Il Cortile Ristorante will be offering  a 'Reverse Wine Dinner' series.  Each week, a selected Paso Robles winery is the focus of the dinner with special ingredients imported from Italy.
A few key of these  imported Italy items include bottarga and prosciutto. Italian Truffles are used in several signature dishes  – black truffles in the summer and the coveted white truffles November through January.
Il Cortile Ristorante is the passion of co-owners and couple Executive Chef Santos and Carole McDonal. Seasonally available, locally sourced ingredients and imported specialty items drive Santos's kitchen.  So the 'reverse' aspect of the meal creatively asks guests to choose their wine first with Chef Santos then creating a special three-course meal around the wine selection.
Carole MacDonal, owner of Il Cortile explains. "Unlike the traditional pairing of wine with food, we ask our guests to choose their wine and we'll pair the food to match."
For nine straight weeks, the featured winery brings a selection of their wines for guests to choose. Once guests select their wine, Chef Santos crafts a unique three-course meal that complements the flavors and textures of their chosen bottle. The meal is $50 per person, plus the cost of the wine, which varies per winery. The 2017 schedule is set for:
January 18           Clos Solene Winery
Originally from southern France, then Bordeaux, Guillaume Fabre crafts impressive wines from select Paso Robles vineyards. Less than a decade old, this boutique winery has quickly attracted critical and commercial acclaim.
January 25           Giornata Wines
Inspired by Italy, crafted in California. This perfectly describes Giornata. Owners Stephanie and Brian Terrizzi focus on Italian varieties grown on the Central Coast, specializing on food friendly wines like Barbera, Nebbiolo and Aglianico.
February 1          Law Estate Wines
Winemaker Scott Hawley crafts noteworthy wines from Law's westside estate vineyards. Law has quickly become a must-see estate in Paso Robles, focusing on Rhone-inspired blends that show complexity and intensity.
February 8          Tablas Creek Vineyard
For over 20 years Tablas Creek has produced world-class Rhone wines. With the partnership of the Perrin Family of Chateau de Beaucastel and the Haas Family of Vineyard Brands, Tablas Creek effectively started the Rhone tradition in Paso Robles.
February 15       TH Estate Wines
Proprietors Jennifer and Terry Hoage focus on the production of Rhone-style wines from their organically-sustainably farmed estate of Paso Robles' acclaimed Willow Creek AVA. The wines are beautiful fruit-driven examples of precise winemaking.
February 22       Adelaida Vineyards & Winery
Winemaker Jeremy Weintraub makes a diverse selection of impressive food-friendly wines in the heart of the Adelaida District in west Paso Robles. The mountain-grown estate fruit is expressed in stunning wines that showcase intensity and complexity.
March 1                 Ranchero Cellars
Amy Butler, an acclaimed industry veteran is the winemaker behind Ranchero Cellars. This passion project focuses on wines that are expertly made with select vineyards.
March 8                 Oso Libre
Sustainable farming, winemaking and ranching define Oso Libre. Translated as "Free Bear", Oso Libre is truly a one-of-a-kind spot in the Adelaida District of west Paso Robles. They make a range of beautiful wines that pair excellent with food.
March 15              Jacob Toft
Jacob Toft has been making wines in Paso Robles for nearly 15 years. His small production allows Jacob to focus his attention of fruit source and handcrafting his blends. Jacob's strong background in the food and wine world is evident in his wines.
Book your table for a Reverse Wine Dinner and capture the passion, art and pride at Il Cortile and experience how Chef Santos and Carole MacDonal are transforming the culinary scene in Paso Robles Wine Country. Il Cortile Ristorante has won the Wine Spectator Award of Excellence for three consecutive years – 2014, 2015 and 2016. This award recognizes restaurants whose wine lists feature a well-chosen assortment of quality producers along with a thematic match to the menu in both price and style. Reservations can be made at 805-226-0300 or online at www.ilcortileristorante.com
About Il Cortile Ristorante 
Il Cortile Ristorante is located in Paso Robles Wine Country, a top destination for exquisite wines, picturesque landscapes and beautiful weather – the perfect pairing for Executive Chef Santos MacDonal's rustic Italian cuisine. Owned and operated by Chef Santos and his wife Carole, the menus are seasonally inspired and created with the freshest ingredients. Chef Santos makes an array of exceptional homemade pastas, fresh seafood, top quality meats and antipasti. The wine list, inspired by Chef Santos' food, completes the dining experience. Visit Il Cortile Ristorante in downtown Paso Robles. www.ilcortileristorante.com