Global Cuisine for a Global Cause at PPLA Food Fare 2016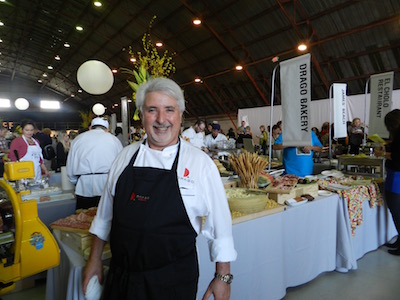 (Gerry Furth-Sides) The Inimitable Chef Celestine Drago's wide smile (above) says it all about 
the
 event of the season, 
Planned Parenthood Food Fare
,  now over a quarter century running.  And so does the playful grin of another regular icon, Chef Mary Sue Milliken of Border Grill (below). Chef Celestin0 was an honoree of the event recently, and Mary Sue and partner Susan Feniger were two of the first honorees a few years ago.  It's been a joy both to help and enjoy supporting this great health/educational organization since I first did a Newsweek TV broadcast at the Sherman Oaks clinic!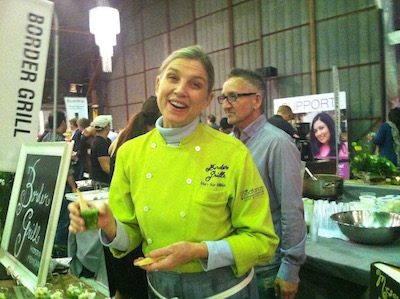 A variety of Global cuisine is part of the eclectic food station presentations at Planned Parenthood Food Fare, March 3,  2016. Over 100 chefs, restaurants and caterers serve dishes that cover European and  Asian comfort and fusion foods from appetizers to desserts plus gourmet dishes they prepare uniquely for  Food Fare. (below is Mario Marino, a 6th year participant, with the restaurant's signature cheesecake)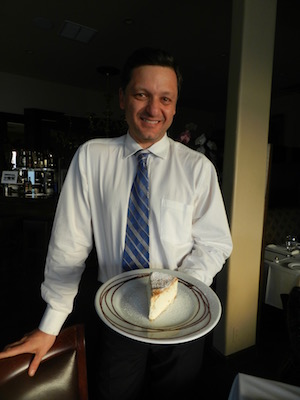 The event is top notch because it is produced by the PPLA Guild, a group of ladies that spends the entire year preparing for it.  It is so much fun to see the third generation of "helpers" just as excited as their moms and grandmas.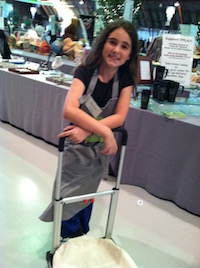 Planned Parenthood Food Fare is returning to Santa Monica's Barker Hangar on Thursday, March 3, 2016. Some of last year's favorite returning participants include Tatami Sushi, Momed, Angelini Osteria, Lucques, Il Piccolo Verde, Porta Via, Ayara Thai Cuisine, Marino Ristorante.  New restaurants include Mayura Restaurant, considered to be among one of the top 100 restaurants of all cuisines in Los Angeles.  An Catering by Crustacean will also participate.  Cappuccino Man and Kikori Whiskey will pour, along with other  coffee, wine, beer and spirits purveyors.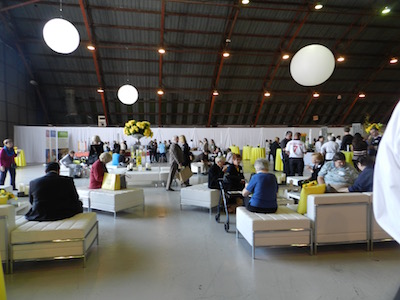 More tempting than any high end boutique are the clothing and gift vendors at one end of the hall.  These days items that are not food-related are also shown.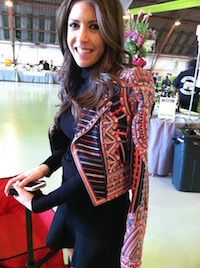 This is the perfect way to visit old restaurant friends and meet new ones in one day.  For example, Mayura restaurant is superb way to be introduced to a regional Indian food from the Kerela area.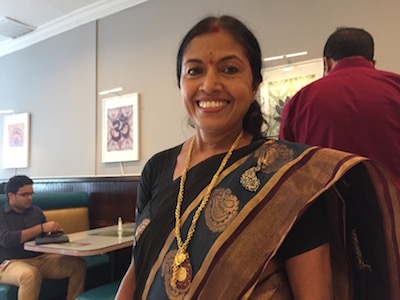 Venice Boulevard in West Los Angeles, with its many blocks dotted with Indian restaurants, sweet and spice shops and even a major temple, has evolved into a "Little India" second only to Artesia. And Mayura Indian Restaurant has become the official star of the show, in part due to the blessing of a prominent LA Times writer's top 100 list.
Welcome to your new savory bakery with dough starring in half the menu sections.  Perfect and unique dosas, uthappam, idly, naan, kulcha, parathas, porotta, poori, chapatti and roti, every one of which will make anyone forget the word, paleo. The treats are stuffed with or served with chutneys, veggies, potato, tamarind instead of more butter and jam.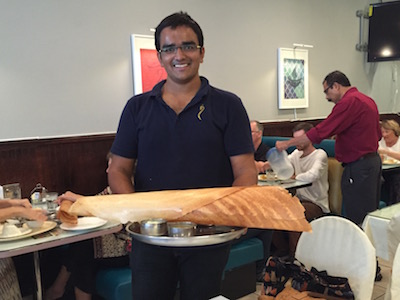 There are close to 20 Dosas, paper-thin crepes made of fermented rice and lentil batter, grilled to a crispy gold and prepared with an abundance of ghee.  To give an idea of how thin the dosa dough among their list of 22, the crepes are accurately labeled "paper." (filled crepe like) Spring dosas are filled with carrot, pea, potato and other veggies.  The piped mashed potatoes may seem like too much "frosting on a starch cake," but they to go together perfectly with the dosa.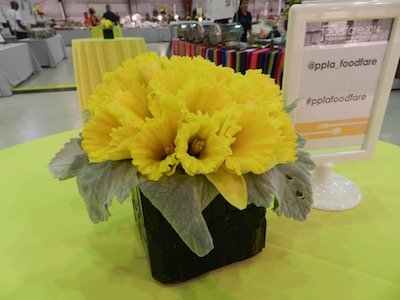 For a complete list of participating restaurants, beverage purveyors and vendors, and ticket, please visit www.pplafoodfare.com.  Tickets can also be purchased by calling (213) 284-3300. Advance purchase tickets for Food Fare 2015 are $150 for the daytime session (11:00 AM – 2:00 PM) and $250 for the evening session (6:30 PM – 9:30 PM). PPLA Food Fare 2016 will take place on Thursday, March 3, 2016 at Barker Hangar located at 3021 Airport Ave, Santa Monica, CA 90405. Sponsorship packages are available. For more information, please visit www.pplafoodfare.com.
About Food Fare & Planned Parenthood Los Angeles Guild
Food Fare began in 1979 with a cooking demonstration by Julia Child and has grown over the last 37 years to become one of Los Angeles' oldest and most celebrated food events. An annual event, Food Fare is highly anticipated by food lovers, PPLA supporters and the general public as an opportunity to sample the best food and drinks LA has to offer. Food Fare is hosted by the Planned Parenthood Los Angeles Guild, a group of over 170 women dedicated to providing financial and volunteer support for PPLA.
About Planned Parenthood Los Angeles
PPLA's 20 health centers throughout Los Angeles County provide care to nearly 150,000 women, men, and teens each year. Over 93% of the care PPLA provides is preventative, including life-saving cancer screenings, birth control, annual exams, and STD testing and treatment.  PPLA's education and community outreach programs reach nearly 60,000 women, men and teens in Los Angeles County each year.