Q Sushi Brings Japanese Endomae Style to Los Angeles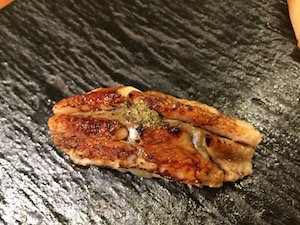 (Roberta Deen and Gerry Furth-Sides)  Stepping through the magnificent wooden doors into intimate (26-seat)  Q Sushi, Tokyo-bred Chef Hiroyuki Naruke's Edomae-style Sushi takes you back centuries to the best of the Edo period.  It is distinguished for simplicity, timeless refinement and pride in technique and quality.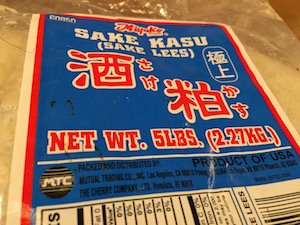 At the same time, globalization updates the availability of fish and seafood for the omakase ("meal in the hands of the chef").  About 60 percent of Chef Hiro's fish is imported from Japan, transported fresh and never frozen.  Chef Naruke prepares his own sauces and soy blends from a special sake, kombu (green sea kelp) to enhance them.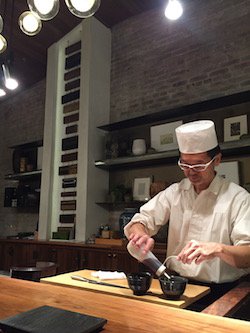 Primarily, the idea of edomae sushi is one of elegance or paring down the fish to its very essence with the smallest amount of condiments.  For example,  when served raw, its flavors are highlighting only by way of pickling or aging or slicing it a particular way.
Kai-Seki (set order) encompasses a richer,  yet very subtle style of cooking that is done in a certain progression.  The style, while formal, is not meant to be artistic.  Succession is key: Sushi follows sashimi.  Raw comes before steamed.  Steamed comes before grilled.  The meal itself begins with small appetizers (tsunami) before multiple sashimi and nigiri sushi courses.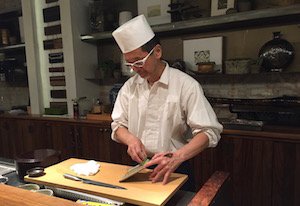 This is also a meal of human connection.  It is one of sharing and appreciating  Chef Naruke's knowledge and technique.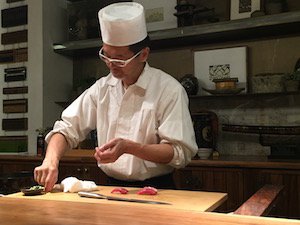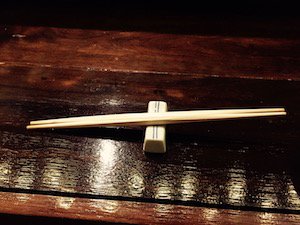 The interior is organic, timeless and serene  with a row of abacuses running up the middle of one wall.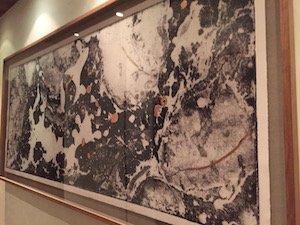 All the appointments continue the organic richness, including the heady free flowing triptych (above) by Kira Azelhaus.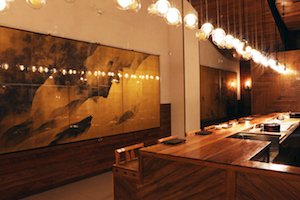 Another mural sets us undersea, "swimming with the fishes" as it were, happily so.  There is even a pastoral scene on the restroom ceiling; the signs are carved concrete. (photo by Carl Larson).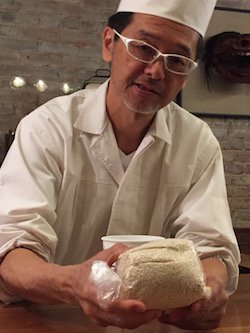 Purity is also apparent.  To achieve a clean, direct flavor, Chef Hiro considers his rice as important as the fish.  Naruke's balanced rice is more austere than even Tokyo rice (which has a little seasoning), according to Chef Roberta Deen  – rice, water and a touch of salt.  Reports Roberta, "The perfect texture feels a bit more al dente (and possibly less sweet) than Americans are used to but still very tender."  The larger proportion of fish to rice in this style, compared to American-style sushi, also makes the meal costly.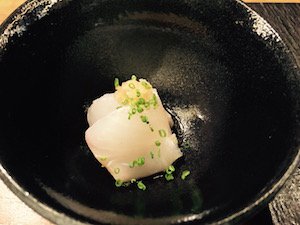 The superb,  delicate fresh Hirome (fluke) from the waters of South Korea was a lovely way to start  the meal.   "It's color contrasted within a deep black ceramic bowl and a sprinkle of ponzu, chive, plus a wonderfully sharp, house-pickled, young Hawaiian ginger gari  (pink pickled ginger), finely minced," as Roberta described it.  "The light, mild taste had a meaty texture without being tough, and an eminently, excellently pleasing consistency.  We learned it was cured with kelp, which makes the taste a bit sharper."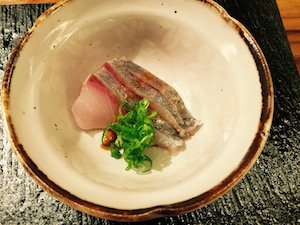 Kampacho, amber jack from Ehime, Japan arrived next.   The  satiny, unctuous feel of the fish shined through because Chef accented it only by the barest of seasonings ( Grated onion, soy and a scallion garnish), drawing no attention to itself.  The three slices placed ever very carefully showed off the deep pink top line on top.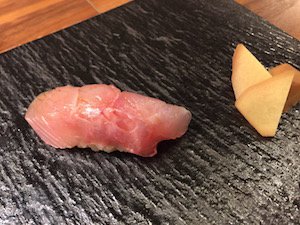 Yellow tail, garnished with mild shishito pepper and soy arrived on a plate to match in design.  shishito pepper paste, seared fatty bluefin tuna – this was the best appetizer. It came with two pieces of bluefin. The first melted in my mouth, as it was extremely fatty. The second piece had more bite to it, and less fat. I enjoyed the textural contrast, as both were delightful. The shishito pepper paste was wonderful. It had a light salinity to it, along with the natural, zesty taste of the pepper
With the otsumami dispensed with, the wonderfully sharp, house-pickled, young Hawaiian ginger gari. The Ginger is cured so that it has a solid texture but tender, mild slightly spicy and hot.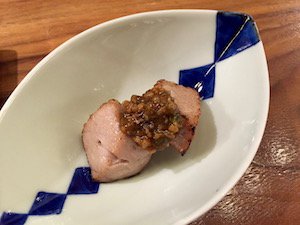 The Spanish Octopus (known as the famous Pulpo A La Galena in  Spanish Tapas repertoire) was, to Deen, " a surprisingly soft yet meaty bite with a complex, subtle flavor.  The local squid I found was soft, mushy, but in a good way. The flavor and texture was magnificent."   Shisito pepper sauce separates the fish.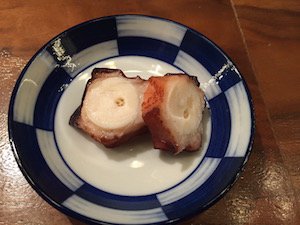 Tako – octopus tentacle braised in roasted Kura tea (Hozi) and sake brought with it a revelatory contrast of texture between the almost jellied skin and firm inside muscle.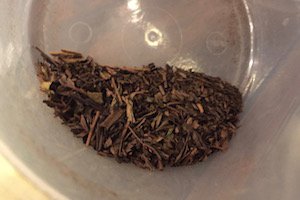 Our prepared cups of hot Kura tea for us to taste with an intriguing smoky flavor and beautiful tobacco color.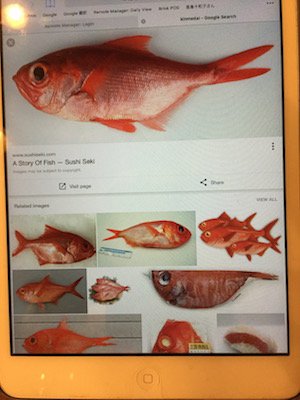 Kuro Kai – red snapper, clean, subtle and satiny. Chef Hiro was thoughtful and eager to share information.  His soft-spoken wife, Kyoko, in fact, brought out an iPad to excitedly show us a picture of the whole fish.  Kyoko acted as hostess the day we were at Q, very Parisienne, very lithe  in a "little black dress" and heels – and fitting well into the ethereal Q experience.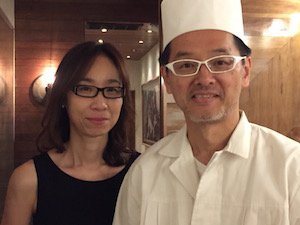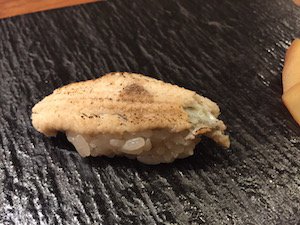 Shima Aji – premium mackerel known as slap jack –  has a handsome texture mirrored on the serving plate.  It tastes as tender and mild as it looks, not strongly flavored like most mackerel.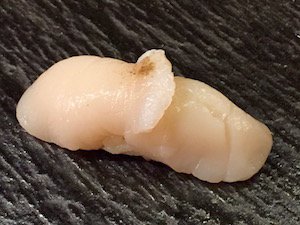 Upon learning that we were interested in visiting Hokkaido, one of the northernmost islands, Chef Hiro gifted us with a Hokkaido Scallop – butterflied and garnished with kombu and sea salt.  The scallop was as  tender, sweet, soft as the snow images most often associated with Hokkaido and filled pure ocean flavor.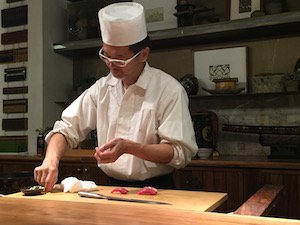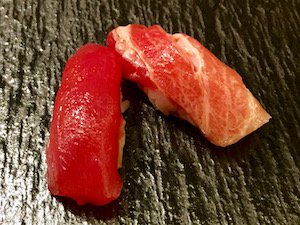 Blue Fin Tuna from Boston, alive with color displays the contrast between the tender, mild and lean back cut of Akamai (left) and Chu Toro (right) or fatty cut that is chewier and slightly stronger.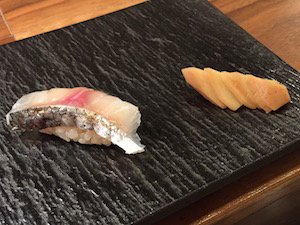 In the presentation of gently aged Kimedai, Golden-eye Snapper bottom fish, fillets are layered with green kombu kelp from Hokkaido.   The fresh, meaty texture contrasts with the very mild and tender  flavor of this golden beauty.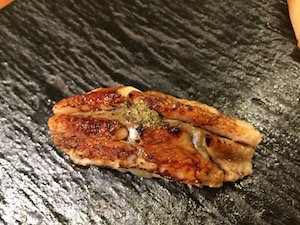 Amago, sea eel from Nagasaki, has a sultry smokey taste, here lightly coated with a sweet sauce along with a dusting of Sancho (a ground Pepper blend).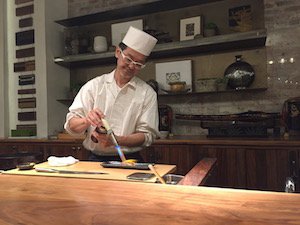 The chef lightly seared the Amago with a blow torch.  "It's natural taste makes one forget all about the thick, sweet sauce usually used that smothers the taste of the eel," reported Chef Deen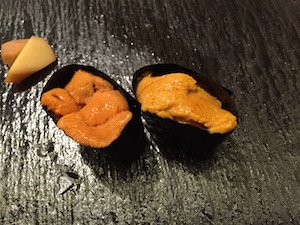 A classic manner of comparing two seafoods is pairing one roll of each from different waters.  These oval Uni (sea urchin) "rolls" are shaped with Nori (toasted seaweed strips) constructed over a small platform of sushi rice at the bottom.  The lighter colored one is from Santa Barbara.  "It tastes so creamy and mild it seems to dissolve on the palate," remarked Roberta.  The darker one is from Hokkaido and has a firmer, textured and  stronger flavor. It was charmingly offered by Chef Hiro after I mentioned how I wanted to visit this northernmost island known for farming, fish and seafood.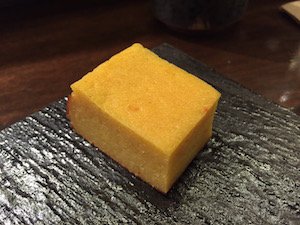 Chef Naruke's Tamago is comprised of 60% finely chopped shrimp with egg "custard," not at all like Chow wan mushi custard.   Chef told us that this very traditional method he uses  takes two to three hours to gently cook one layer –  not very cost effective!   The result, however, Roberta found, "is smooth texture with a very mild shrimp flavor and not at all sweetened as you would find in most places."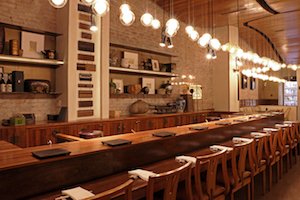 Globalization these days also plays a major part in connecting east and west players to obtain the most exquisite sushi in the world.  It was Ryan Goldstein of the Tokyo-based law firm of Quinn Emanuel who was responsible for Chef Hiroyuki Naruke coming halfway round the world to  Los Angeles three years after the 2011 earthquake disaster.   Q is named for the first letter of the law firm's name.  And the firm is responsible for the serene, organic decor with authentic Japanese pieces.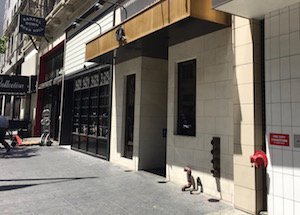 Reaching Q is an downtown adventure in itself, hidden from sight except for the letter Q over the door and having the distinction of being on the same 7th Street block as Mas Malo and the bar 7 Grand.  There are friendly public parking lots within a block.
Q Sushi, 521 W. 6th Street, Los Angeles, CA 90014, (213) 225-6285
www.qsushila.com (Closed on Sunday)