The Raymond 1886's New Cocktail Menu Honors International Inventors, Innovators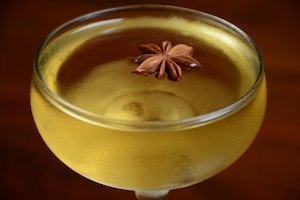 Editors note: We are featuring the new winter cocktail menu of the The Raymond 1886 as much because American regional inventors, innovators and legendary pioneers inspired it, as its creative team provided the most creative and tasty drinks of 2016. The program was established by original Cocktail Consultant and Barman Marcos Tello and currently lead by Head Barman Peter Lloyd-Jones.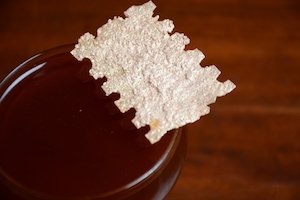 Peter Lloyd-Jones explains the rules. "We stay true to our set ethics and systems with a rigorous "5 palate rule" test: Once a cocktail has a name and story, it must be approved by five people that have been through the 1886 bar program in order for the cocktail to appeal to a wide audience.
Casey Levental honors two turn-of-the-century American pioneers for their revolutionary ideas, though their genius is separated by one hundred years.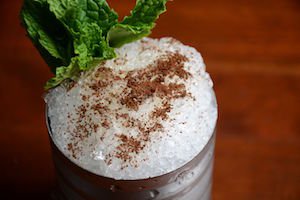 The Ice King, a Julep variation, which features Rhum J.M. Gold Agricole, Solerno orange liqueur, Clement Canne Sirop, muddled mint, and sprinkled coffee grounds, is dedicated to Frederic Tudor, founder of the Tudor Ice Company and nicknamed the Ice King.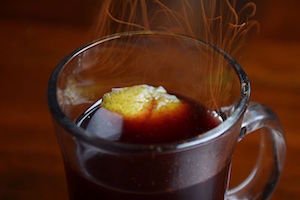 Reed Hastings, whose $40 video late fees ignited the fires that that would revolutionize home entertainment and quickly put video stores into the grave, is commemorated with Netflix and Chill, a mulled wine toddy variation made of Glenfiddich 14yr Single Malt Scotch whisky, homemade mulled wine with a torched proprietary winter spice blend, vanilla syrup, and orange peel garnish.
Three cocktails represent advances in the medical field. Saluting Christopher Wren, one of the fathers of the modern day syringe, is honored with Wren's Remedy by Marcos Tello, a Negroni variation with Beet-infused El Silencio Espadin, Carpano Antica Formula vermouth, and Campari, while a sour variant.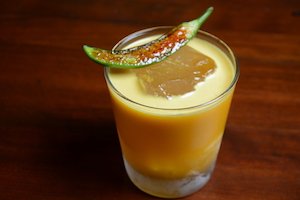 Second is the Blackwell by Adam Vaughn and Pastry Chef Raymond Morales, which pays tribute to Elizabeth Blackwell, the first woman to graduate from an American medical school in 1849. It is comprised of Fennel-infused Rittenhouse 100 proof rye, honey, ginger, lemon juice, turmeric, and a brown-sugar brûléed Serrano pepper.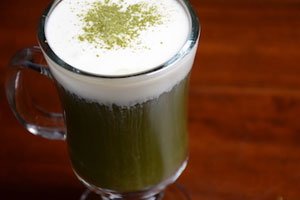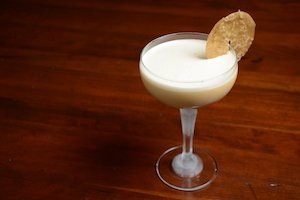 American in the sense that matcha has proven to be the "hottest" ingredient of 2016 and that Americans use the concept of honoring the soul as well as the body to bring about healing, such as the practice in the Kaizen school of thought. The Raymond 1886 team came up with a hot toddy variant, The Improvement created by Cameron Masden, featuring Akashi Japanese whisky, Matcha green tea , layered condensed milk cream, and honey.
American botanist, horticulturist and pioneer in agricultural science, Luther Burbank is honored with The Burbank Flip, a Flip variant. It is a combination of Camus VS cognac, Rittenhouse 100 proof rye, Cynar, Allspice Dram liqueur, Demerara, whole egg, and a croissant chip garnish.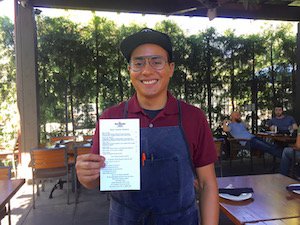 The Burbank Flip was created by Peter Lloyd-Jonesand brilliant Pastry Chef Raymond Morales (above).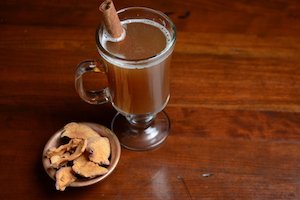 Marcos Tello also pays homage to John Chapman, the American pioneer nurseryman known as Johnny Appleseed, who introduced apple trees across several states, the fruit of which could be used only for cider. A variation of the toddy, the drink features Laird's Straight Apple Brandy, heated Samuel Smith cider, Grade B maple syrup, Barspoons Apple Butter, Angostura bitters, side of apple chips, and a cinnamon stick garnish.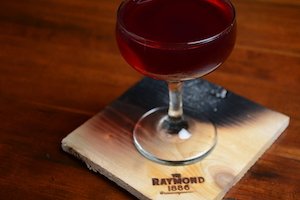 Four modern day innovators churn out three avant-garde interpretations of the Manhattan, starting with the brainchild of Peter Lloyd-Jones and a new technique called "Accelerated Esterification," wherein a combined cocktail is exposed to partially charred wood (and other ingredients) inside a vacuum; the Burning Bridges, a nod to Elijah Craig and his alligator charred whiskey barrels, features Elijah Craig bourbon, Campari, Jammy vermouth, and a scorched maple coaster.
Elijah Craig is a premium brand of bourbon whiskey produced by the Heaven Hill distillery company in Kentucky. It is known for its "Small Batch" and 18-year-old "Single Barrel" bottling, touted as the older Single Barrel Bourbons in the world.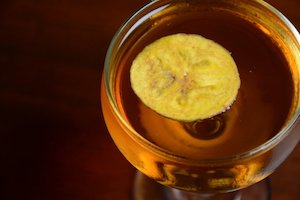 The second concoction, That Caribbean Funk created by Jesus Gomez, pays tribute to the legendary Ernest Raymond Beaumont Gantt, better known as "Don the Beachcomber," who traveled back and forth to the Caribbean since and gave birth to the Tiki movement in 1933 Los Angeles. This tropical ingenuity is comprised of Hamilton Black Rum, Wray and Nephew Jamaican Rum, Lillet Blanc vermouth, Giffard banana liqueur, pecan bitters, and banana chip garnish.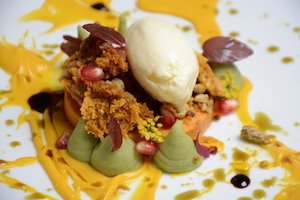 Happy Hour with an extensive bar snack menu designed by our favorite Executive chef, Tim Guiltinan from 4:00 pm until 7:00 pm every Tuesday through Friday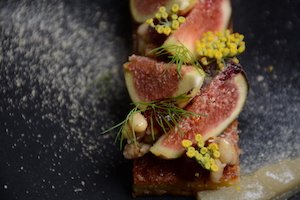 The Raymond 1886 is open for Lunch Tuesday through Friday from 11:30 am to 2:30 pm, for Dinner every Tuesday through Sunday from 5:30 to 10:00 pm and for Brunch every Saturday and Sunday from 9:00 am to 2:30 pm. 1886 is open every Tuesday through Thursday, 4:00 pm to 2:00 am every Friday and Saturday, and 4:00 pm to 12:00 Midnight every Sunday. 1886 Happy Hour is every Tuesday through Friday from 4:00 pm to 7:00 pm. For more information or reservations, please visit www.theraymond.com or call The Raymond 1886 directly at 626.441.3136.