Recipes to Keep "All in the Family"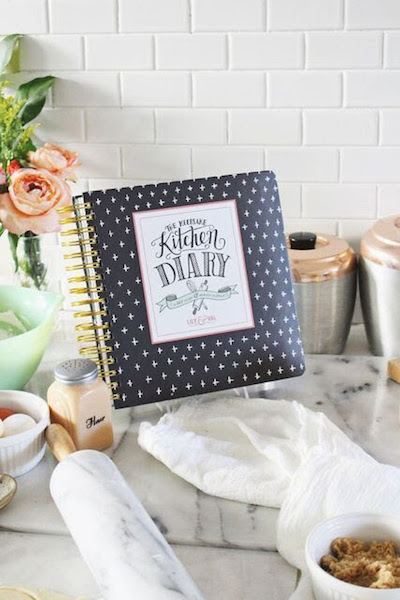 (Gerry Furth-Sides) A lot of memories came up when I recently received an email introducing the book above, Kitchen Diary. It read, "Do you remember the first time you tried your Grandmother's cookies? Or that dish your mother makes that takes you back to your childhood with every bite?"
Actually no, I do not. I remember at the age of two looking forward to my grandmother's "Carrot Pennies," sweet and sour sliced carrots prepared the Viennese way, and her tissue-paper think streusel as a teen-ager.  And "she died with her recipes," since that was a way (I've heard not uncommon) that she would not die.
I remember my mother's fried chicken (I learned to make and it was so good that when I made it for the Jimmy's (Asian Oscars) green room table at the Hilton, the fabulous dancer Paula Kelly (declared it the best she ever ate — I know  a lot of love went into that chicken when my mom prepared it, and I think that was an important part of what was passed down.
Even though a lot of what we loved about my mom's cooking was my father's devotion to it (at every meal he exclaimed, "that was the best meal I ever ate).  She was a passionate cook who went to French cooking classes (that' her art the far right) and loved to try new things out.  Tall, slender and a cook who walked and ate a piece of bread and butter all day to stay that way also had the motto, "diet at home."
And a lot of it was simple a way of preparation – I recently recalled her way of preparing seasoned, slightly oiled, sliced potatoes (horizontally) that she would roast in the oven alone with chicken after she read that fried chicken and French fried potatoes were not healthy.  They were so delicious that we looked forward to them every week.Being the child of immigrants devoted to trying every new "American" equipment they could,  she would of course have to try a fryer.  The doughnuts she made were, to this day, absolutely the best I've ever tasted.
But even though it was not a specific recipe, I have no photos, nothing written down, and only my own memories of the dish. My dad took rolls and rolls of moving pictures of us skiing and yet some of the best memories were of us eating a homemade steak sandwich on a chairlift or a steak dinner in our motorhome and driving in to the nearest town for ice cream afterward or the steak dinners in our huge backyard at a picnic table in front of a fireplace that didn't work, talking away the summer evenings.
So when I was invited to be profiled in the LA Times article, featuring a favorite recipe from my childhood, I knew I couldn't do "steak" and substituted crepes, which usually never left the stove area because we ate them right out of the pan.  I made about 500 the night before the photo shoot, created a cake out of them with a flower garnish, and never ate a crepe again. This is the picture the superb photographer, Dick Sharpe, took of me "cooking," and it says it all.
So that's why I am writing about  the one-of-a-kind Keepsake Kitchen Diary ™ by Lily & Val, which allows you to capture all the little memories alongside your favorite recipes. It's the perfect cookbook to pass down to your loved ones as a family treasure for years to come.  With Easter and also Mother's Day just around the corner, this could be the perfect gift to start a new tradition.
Lily & Val's Keepsake Kitchen Diary™ is a thoughtfully designed, colorful and clear book, plus a as functional way to combine both "memories and recipes in one place."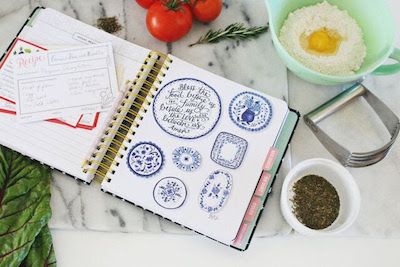 Features is a recipe keeper with a journal to record  precious memories, moments, and stories associated with food.  The appealing book  isthoughtfully designed. For more information, please see: http://www.keepsakekitchendiary.com/
The Keepsake Kitchen Diary™ includes these features:
Thoughtful organization with room for up to 200 recipes
Divided into 6 sections: starters, soups/salads, main courses, side dishes, desserts and miscellaneous
Pockets included for storing photos and special tokens
12 tear-out recipe cards to share
Beautiful hand-drawn illustrations
Durable binding and coated covers to protect from light spills
Inspiring testimonials of how customers are using the Keepsake Cookbook are in the videos listed below.
There's always a fabulous cook in the family.  And there's almost always   "me."  This is why this family recipe book makes a great gift for family and friends that want to pass recipes and traditions down to the next generation. Lily & Val also has a large selection of handmade greeting cards. For additional information, please visit http://lilyandval.com