Taj Palace Regal Cuisine in Pacific Palisades Village
Dedicated second generation chef-proprietor, Sunny Multani, resides over the regal yet friendly dining room and the kitchen of  Taj Palace, tucked into the side of a Spanish-style building off Sunset Boulevard in the heart of "small town" Pacific Palisades.   No wonder, Biryani Rice, the most regal style of rice dishes, titles and dominates the list of grains on the long menu that has been a neighborhood mainstayfor 30 years.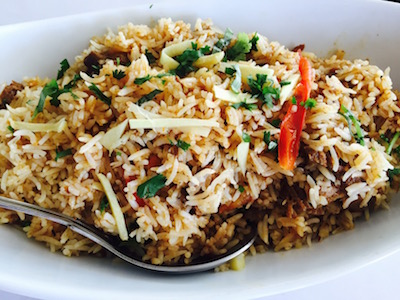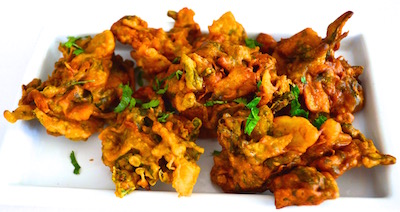 Classic after a A A refreshing Mango Lassi of fruit pulp and yogurt goes well with a study of the long menu. appetizers begin the meal Dipping sauces of carrots, chutney and mint in their own metal bowls complement and contrast the Pakoras.  Crusty Mixed Vegetable Pakora, crinkly and in a variety of shapes with pieces of cilantro drifting over them are in the traditional style as are the fresh, smoother white Fish Pakora, both battered in a flour made with garbanzo beans that give it a unique taste. A simple slice of lemon and slices of green pepper, white onion and carrot shreds add a sleek look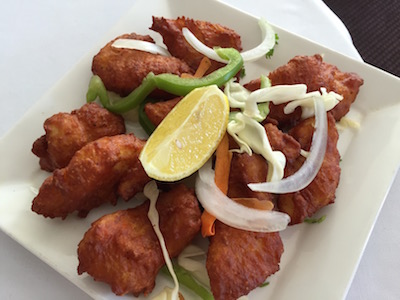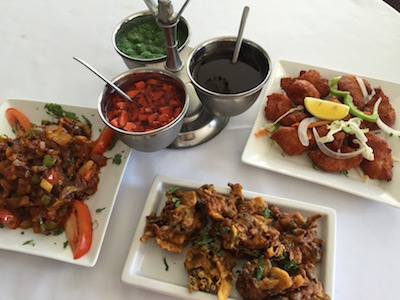 Sauteed mushrooms, an appetizer of grilled onion, bell pepper, tomatoes in the Sauteed Mushrooms features layers of flavor under a sweet tomato sauce.
We talked about Chicken Tikka Masala,  the infamous dish supposedly created by a London restaurant owner by directing his cooks to pour Masala sauce over the classic Chicken Tikka dish when a customer complained it was dry. Now it's become the second more popular dish in the UK.   Sunny pointed out that five ingredients always make up a masala: cumin, cloves, coriander, salt and pepper, but can be so different according to the cook.  We tried the original.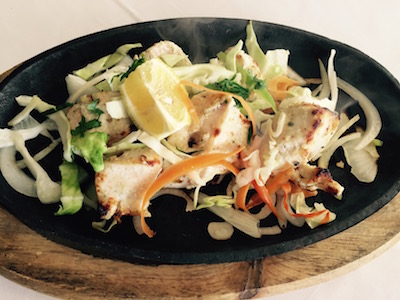 Taj Palace Chicken Tikka is so moist and fork tender it is one of the best, if not the best in Los Angeles.
Proprietor Multani, himself a trained chef, brought out the Chicken Tikka original, a boneless chicken breast marinated in ginger, garlic and Taj spices in a colorful tomato-based sauce.   He showed the variety of chicken dishes with one seared in the Tandoor, Lasani Tikka after being marinated in yogurt and garlic. Brought out on a metal platter set into a wooden tray with smoke wafting from it, garnished with strips of salad, cilantro bits and onion slivers, smelled as good as it looked.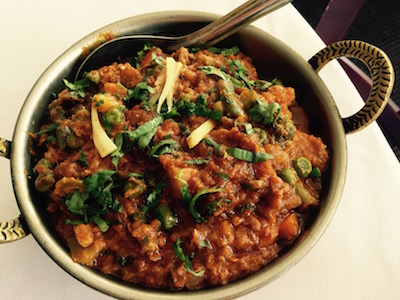 Lamb  Biryani, basmati rice flavored with aromatic spices, was dotted with lamb. The royal saffron rice stew in the Moghul style (referred to as mugalite, from which the English word "Mogul" is derived), is marinated in lemon juice, yogurt, onions, garlic and ginger.
Mugultawny Soup has the very same regional history with this name often more familiar than the dish itself (especially after it was the star of the Soup Nazi's repertoire on a legendary Seinfeld Show). Prepared with lentils, rice, celery stick and chicken stock, the mildly spiced soup displays its royalty with refinement and subtle flavoring.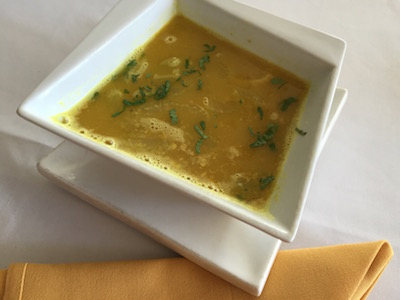 Host Multani  travels through his own home region of northern Indian as well as other part of the country every year to refresh his memories and seek out new dishes.   He regaled us with amusing stories of street eating, which has such strong memories for so many Indians.  Now narrow streets are so jammed with cars, that vendors take orders from customers and deliver food to them in their cars. He talked about the humble da-bo with affection, in the same way Italians speak of their  fast food auto grill stations along the Italian auto stradas.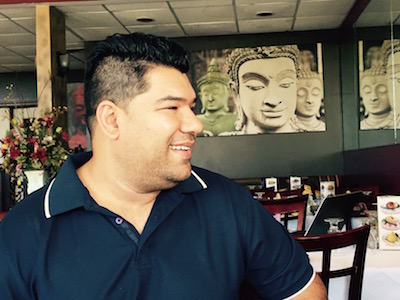 With the Taj Palace specialty Naans comes a lesson in Indian Breads.  Sunny explained that each village in India had one to three shared tandoori. Otherwise a home cook would cook whole wheat dough on a stovetop griddle – the texture and thickness and taste being very different in taste and very visible in the slightly thicker stovetop version.  Sunny had the chefs prepare both in the tandoor and on a griddle top to show us. The whole wheat rotis have a much softer texture than the tandoor-cooked naan although both are best serving piping hot out of the oven.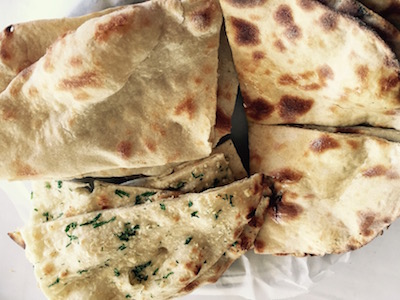 Gulab Jamun put the finishing sweet touch to the meal, dusted with coconut and soaked in syrup.
The eight-page menu of Appetizers, Classic Tandoori Specialties plus Seafood, Lamb and Chicken Curries, along with Breads, that go on for eight separate pages, printed and brushed in gold on pages of thick, creamy paper, are enough so that loyal neighborhood diners can come in several times a week and not repeat a dish. Open seven days a week, when Sunny is not hosting in the dining room, he uses his culinary training to step into the kitchen to ensure the quality of each dish.   When we arrived before lunch a long-time, devoted customer had eagerly dropped in for lunch after a trip to join in the conversation. The Taj Palace is such an inviting place that an upcoming remodel will include a lounge space just to make room for socializing at the bar and with a special menu.
Taj Palace, (www.tajpacificpalisades.com) 15200 W. Sunset Blvd., Pacific Palisades, CA 90272, (310) 514-7148. Order online for pickup or delivery below.