ROKU Adds Teppanyaki Pizazz to the Sunset Strip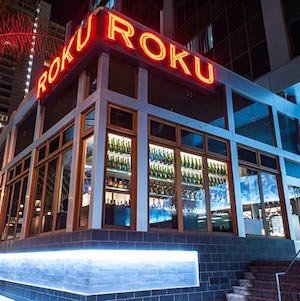 (Darien Morea and Gerry Furth-Sides)image above and below by Ralph Gentile Architects) ROKU, the newest member of the Sushi Roku family, is "a step higher than the others and blows you away as soon as you walk inside – it is so beautiful!" in the words of Darien Morea.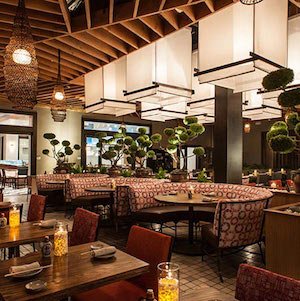 The Asian resort feeling comes across in unexpected elements such as canvas and net-covered fixtures to reflect the  sushi menu element, and the manicured bonsai trees as low room dividers.  The fascinating "hair pin" chairs in the red/gold tones above add a spiffy, breezy Japanese air.
This is the fifth collaboration between Ralph Gentile and ROKU. Knowing it is the same architect who designed the previous garden party Riva Bellainterior  we loved so much is pleasing. A concave reclaimed brick ceiling in the private room from the former incarnation lends a unique feeling of intimacy. Here is a beautiful detailed description of what to look for at ROKU.  (http://www.ralphgentilearch.com/roku)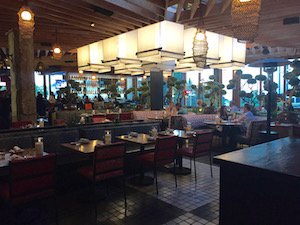 "We could not believe how lovely the late afternoon light was through the glass ceiling," adds Darien,  as we were led through the airy, large space, actually the original, long-time home of Hamburger Hamlet.  Glass divides the main rooms so that each feels separated but not isolated.  
We were ushered into the glass-enclosed Teppanyaki room with sushi kitchen at the north end of the space – which used to be the front entrance.  This new Roku specializes in Teppanyaki, so a room was specially designed for the three performance tables holding a dozen guests each.  Two seat four on each side for more private parties.   We sat at one marked out for two on each end and ten across… which smaller parties can share and still feel a part of the group.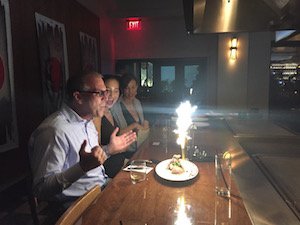 And just as you would, sitting around a campfire, you have as much as you want of conversation at the table.  You can see from this picture how much fun it turned out to be.   How better to celebrate a birthday dinner for dad with his daughters.  The good cheer permeated the room and everyone sang, "Happy Birthday" to him.  And a couple of us tried to help him blow out the trick candle on the cake!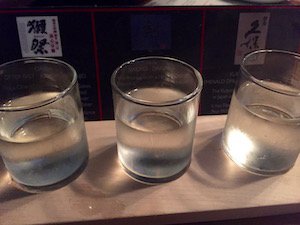 Our cordial, pro and well-informed waiter helped us chose our beverage – explaining the merits of each sake, and helped us to order.  When he didn't have an answer to a question, he went to ask.
Inviting Roku flights feature three superb complementary yet contrasting styles of cold sake.   Ken – Sword Deiginjo, medium dry and smooth, is permeated with notes of grapefruit to give it a bracing feel.  The  silky-smooth  and more complex sake Dassai 23  – Otter Fest with notes of peach turned out to be our favorite, a  Junmai Daiginjo.  The third, also Junmai Daiginjo, Kubota Hekiju – Emerald Dreams, was enhanced with  balanced flavors of nutmeg and pea
Both premium Daiginjo and extra-premium Junmai Daigino Sake are made up of water, koji mold, yeast and rice milled 50% with 50% of each grain of rice remaining. Daiginjo Sake, however, has an added portion of distilled alcohol so it is not quite as silky smooth.
We shared a delectable meal combination of teppanyaki, preceded by some shared DAILY SPECIALS menu appetizers,  described in a clearcut manner.   There is another full menu of Sushi, Sake and Desserts!  The good and bad news is that each of the menu items is so tempting you could order and and all of them.  We did our best.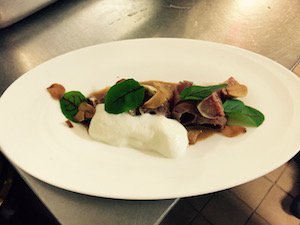 Tuna Tataki Figs ($18) with Goat cheese, almond sauce and garlic chips was a mix of cold and cooked tuna with a surprising almond flavor and snap of chip.  Tataki dishes highlight two versions of the same ingredients, most often hot and cold.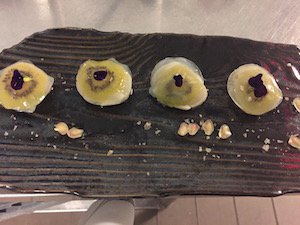 Scallop Kiwi ($18) arrived on a piece of driftwood, an astonishing  ocean flower of Hokkaido scallops, compressed kiwi, yuzu jelly pomegranate and smoked Maldon sea salt.  These prized, succulent scallops from the northern-most island of the Japanese chain are honored in this ethereal presentation, so representative of the innovative, creative energies of the kitchen.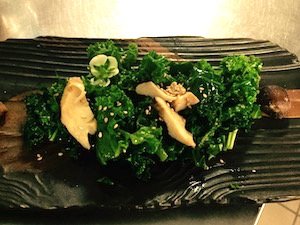 Ginger plum dressing added a new element to the invigorating seaweed salad dotted with shaved radish to give it  just enough bite and tang in the Seaweed Salad ($9.5).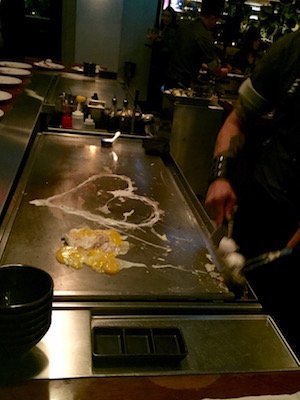 The  Teppanyaki dinner show was prepared by our funny, entertaining chef Darien describes as, "the "Tom Cruise in Cocktail" chef of Teppanyaki, with his knife and spatula juggling moves down to a 'T'. " If there was ever a performer-chef who was out to have his guests entertained and fed well, he mastered it.  
It turned out that everyone from the hostess, manager and server to the buses seem genuinely pleased to be at ROKU as part of a relaxed, alert team to make you feel comfortable and well served.  This feeling starts at the top of management so we were not really surprised.  Every time either one of us visits a Sushi Roku restaurant, we  remember that years ago we had been at a common table in a restaurant with a lovely, friendly guy  — and his grandmother –who mentioned when they left that he was one of the owners of Sushi Roku.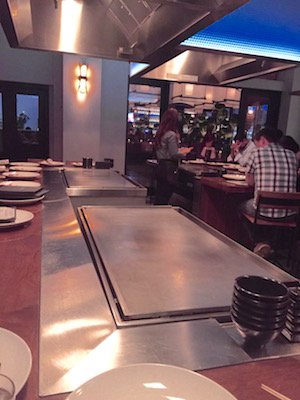 Teppanyaki meals begin with a mushroom soup,  a light broth, plus a mixed green salad with a similarly good dressing, teppanyaki grilled shrimp, and a choice of style of rice.  We chose the Chicken-Vegetable Fried Rice.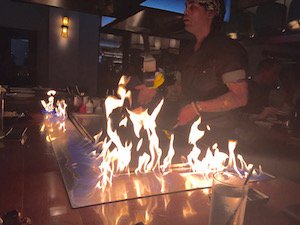 We easily split the amble full-portion combination of Scallops and New York Steak, served with a mountain of Teppanyaki vegetables.  To this we added the special Lobster Garden Noodles, also prepared with flair on the grill.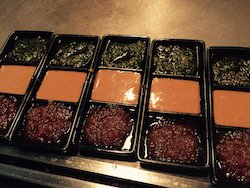 There are three dipping sauces: Truffle Chimichurri, Mustard, and Soy-Ginger.  They add an individual taste to the meat and seafood on the grill.  We both took home food enough for a second meal.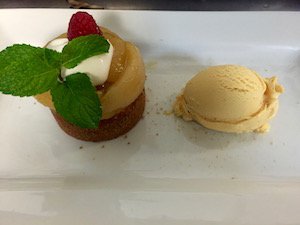 We tried two desserts – Apple Cheesecake with Caramel Sauce was seasonal and baked into a little round cylinder, accompanied by homemade pumpkin ice cream.  The personalized portion was unexpected and rich with flavor.

Our server highly recommended the composed "Japanese Zen Garden S'More"– an imaginative surprise.  Graham crackers were carefully crumbled as the ground cover, with little piles of Matcha Tea Chocolate Bricks in one corner, and little piles of Semi-Sweet Dark Chocolate Brick opposite in the other.  A tiny fire pit with a real fire glowed in the center.  Lots of mini-marshmallows begged to be roasted, dunk into twin pools of liquid dark chocolate and whipped cream, and rolled in the graham crumbs to eat with the chocolates.  Concluded Darien, "Wow – a visual sensation and a taste sensation too. It minds me of the garden at the Huntington Museum. It may be the cleverest dessert I've ever seen, ever. What a great end to an evening."
ROKU is easy accessible just at the outside edge of the traffic-packed Sunset Strip, with Valet Parking and Self-Parking available.  It is definitely a spiffy, special occasion destination place, true enough, but everyone made it quite clear that individual guests are desired, welcomed and enveloped in its home style feel-good vibe every time they come.
ROKU, 9201 Sunset Blvd, West Hollywood (310-278-2060) http://www.rokusunset.com