Sabatino Italian Truffle Adds Zest to Global Cuisine
(Gerry Furth-Sides) When we voted first-place for taste to the Drago chefs' Mushroom Truffle soup recently, we didn't know we could (try to) duplicate it at home with the new Sabatino Tarfufi's new truffle zest seasoning. In fact, we found that the claim is true of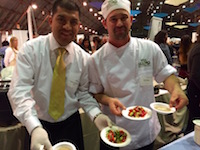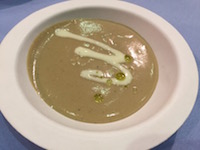 "just a very small amount elevates any dish to extraordinary" – from salads and vegetables to pastas, pizza and even desserts. That's because the powdered "touch" is fresh. With Truffle oil, as with olive oil to a certain extent, the taste is different and kind of stale when it is not at its  freshest –I sense that so many people are not in love with the taste of truffles because they have only know the taste of  truffle oil, and not at its freshest – recently in the fashion of truffled French fries prepared with it in restaurants.  Even when they do like it, I'm not so sure it is the freshest and at its best!!   The delicate Girasol Restaurant carrot crisp, however, was heavenly when a little during of fresh powder was added.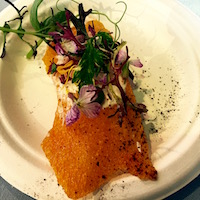 Sabatino Tarfufi owns bragging rights to putting the first ever truffle zest on the market. The reasonably priced counterpart to freshly shaved truffles sold out almost immediately online. While a pound of fresh black truffles costs around $1,500, the zest packs as much flavor for only $13.99.
Unlike most truffle Unlike most products, Sabatino's truffle zest has no artificial flavoring. Over 40% of the product is made up of the natural flavors from actual black truffles, a rarity when it comes to truffle products like oils and powders.
When I worked with Tra da Noi restaurant in Malibu, Executive Chef, Francesco Valasco, generously treated me to so heaps of fresh shaved truffle over dishes – coming in straight from the airport from the trip from Italy. This treasure is fragile! To give you an idea, wholesalers cover overnight airfreight shipments of the stuff with rice on serving trays and store them in a refrigerated room until restaurants open up in the morning for delivery, all done within 24 hours of harvesting.
Chef Valasco created a $1000 pizza for the national LUXE tv show. The non-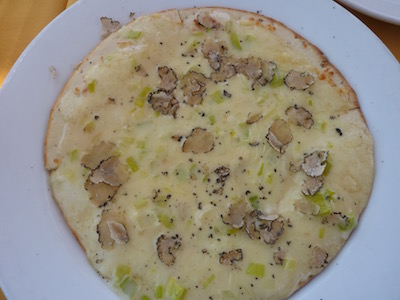 foodie producer remained skeptical even after the shoot that a pizza could cost that much – but it was true.  Sound tempting? Try preparing an Orecchiette Al Peccorino, homemade ear-shaped pasta, fresh peas and mushrooms with a dusting of truffle zest. The rich taste of the cheese seeping through the pasta is the perfect counterpart to the truffle.
At SimonLA, Chef Kerry Simon's secret ingredient in his potato mash was truffle. He told us, "truffles bring an earthy, balanced flavor to the dish while bringing out its own natural flavors." Because his truffle taste was fresh, he could claim, "people absolutely love it, even trying it for the first time."
I swore at the time that I was so satisfied with the truffles I had that I would never have to eat it again. Wrong.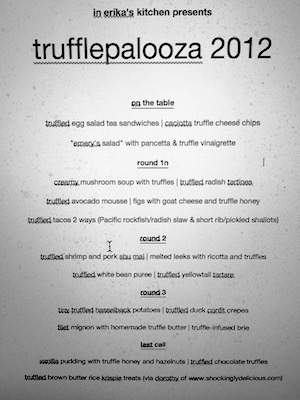 What changed my mind almost immediately was the series of trufflepalooza – with Sabatino truffles – hosted by the venerable food blogger/hostess and entrepreneur, Erika Kerekes.  Sabatino Tartufi truffle zest also transformed this colorful Italian wild sardine salad and roasted brussel sprouts into very special party dishes.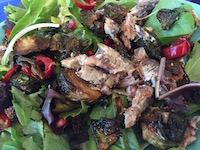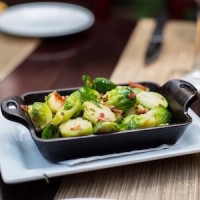 Enticing ideas for the zest include sprinkling it over asparagus or grilled shrimp or adding it into a vinaigrette; buttered (healthy!) sweet potato mash with truffle zest and bourbon; a shake of Sabatino Tartufi truffle zest over pasta or risotto with a poached egg and truffle oil. For more ideas, search out maven Erika Kerekes' own recipes on www.inerikaskitchen.com.  Below is a bone marrow with polenta dusted with truffle zest.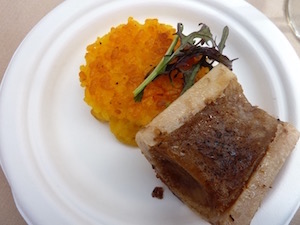 About Sabatino Tartufi
Just after the turn of the century in 1911, Sabatino Tartufi was founded. Sabatino Balestra and his wife Giuseppa began in a small storefront in Montecastrilli, Umbria, catering to local families by distributing truffles, olives, olive oil and sardines.
During this period, in this part of Umbria, the heart of central Italy, people cultivated wheat and corn and their main food was bread and soup made with various pulses, not truffles. However, Sabatino & Giuseppa, certain of the extraordinary qualities of their products and driven by the belief that there was and would continue to be a growing consumer market for high-quality and fresh-tasting products, continued in their efforts to create a company that could share with the rest of the world the value and exquisiteness of the truffle.
Just shy of 100 years in the traditional family trade of producing and commercializing truffles, the present day Sabatino Tartufi, owned and managed by the third generation after Sabatino & Giuseppa, have continued to build the company's solid reputation as the leading authority in the Truffle business. Today, almost a century later, Sabatino Tartufi is the premier source for truffle products and is the leading brand of truffle products in the United States.
Fresh Black Summer Truffles (Tuber aestivum vitt)
Season : May—September
Fresh Black Burgundy Truffle (Tuber uncinatum)
Season : September—November
Fresh White Truffles (Tuber magnatum pico)
Season : October—December
Fresh Black Winter Truffles (Tuber melanosporum)
Season : November—March
Natural truffles are black, brown, white or gray. They vary from the size of a walnut to a man's fist. Bulbs grow from 3 to 12 inches underground near the roots of trees (usually oak, but also chestnut, hazel, and beech. The methodically slow and labor intensive harvesting process involving specially trained animals to route out the elusive fungus that can drive the price up to $2000 a pound.
Trained pigs and dogs are able to detect truffles with their keen sense of smell at their exact moment of "ripeness" underneath the surface of the ground. This is crucial since flavor is directly related to its aroma; truffles not collected at exactly the right time will have little taste.   The risk with a pig, however, is that it may devour the truffle, while a pat on the head and a piece of bread is all a dog asks as a reward!
Of the 70 varieties of truffles, 32 are found in Europe. Although Piemontese chef, Giacomo Morra, is credited with first putting truffles on a modern dining table, ancient Greeks and Romans regularly put them to use as medicine and as a popular aphrodisiac.
 Black truffles of Perigord, termed "the black diamonds" of French cuisine because of their network of white veins on black flesh, are the most highly revered of all – by the French. They require cooking to bring out their flavor and are collected from January to March.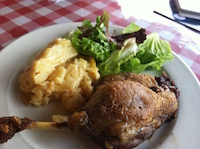 To the left is a duck confit with a truffle "zested" sautéed cauliflower from Chef Josie of Normandie Bakery.
Piedmontese White truffles are named "fruit of the woods" or at times "autumn truffles" because they are in season from October to December. Best when shaved directly on the dish before eating, they also are considered the best, especially by the Italians.
http://www.sabatinotruffles.com