Salsa Festival Puts the Ethnic Sizzle into Oxnard Summer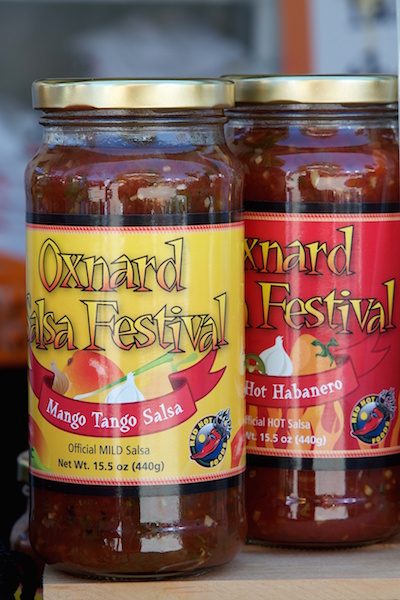 (Gerry Furth-Sides) The professional division of the salsa competition introduced the first "taste" of festival excitement for this summer's Salsa Festival in Oxnard. (photo credit Ken Jones)
For the third year in a row, on a dusty and hot afternoon, the professional competition took place right across the parking lot inside the cool Kitchen.  Being home to the competition is a small town, second-generation family affair since owner Cathy Moreno's mom hosted the competition for years at her restaurant La Dolce Vita in Heritage Square, now operated by her sister, Michelle Kelley.  Being small town didn't stop the Kitchen  from a major claim to fame.  Immediately after opening they were surprised with a feature on 'Diners, Drive-ins & Dives' with Guy Fieri on The Food Network.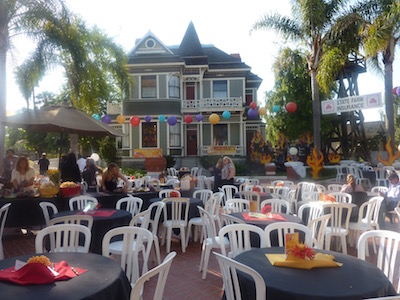 Round tables in one of The Kitchen's large rooms awaited the judges, with bags of tortilla chips and little tubs of sour cream on each one. A bar served beers to cool down the heat inside and out. Mild, Medium and Hot were the first categories judged, each salsa in a waxed paper bowl with a numbered chili tag identifying it. Then the winners were mixed into a new array with red, green and specialties being judged, with a winner for best specialty and best overall.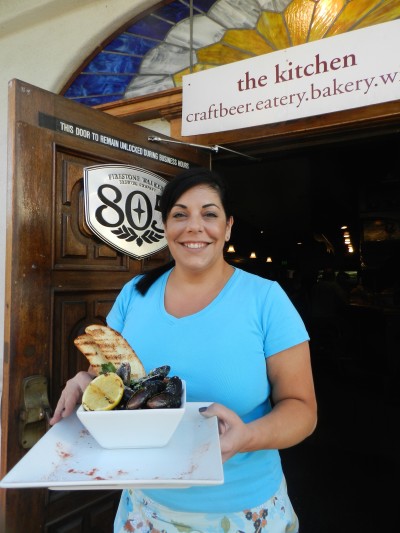 This always brings to mind that Salsa is the Spanish term for "sauce," although in English-speaking countries usually refers to the sauces typical of Mexican cuisine, particularly those used as dips.   The entrants are more and more of a surprise as the years go around with very liquidy and very textured "salsas," along with new specialties.
Tresierras Supermarket in Oxnard with a green Aquacate Salsa won the favor of the professional judge teams, and also won the "people's choice" award chosen in the evening at a VIP party when judges joined the sponsors and vendors for food samplings, live music and salsa dancing.
The Kitchen, where the professional judging event took place, repeated their 2014 victory with a "Best specialty division" award. Their specialty: Strawberry salsa with red onions and cilantro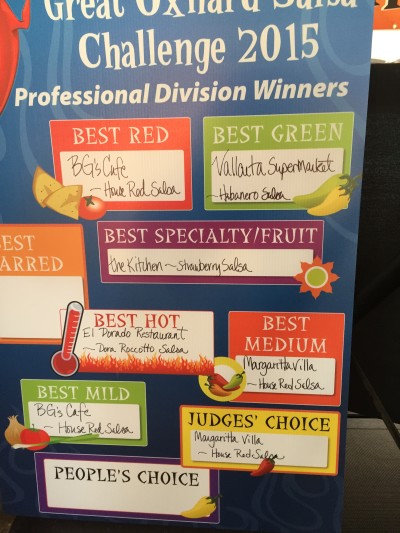 Individual category Winners also included:
Best Green:  Vallarta's Habanero salsa repeat 2014 winner 
Best Hot:  El Dorado Mexican Restaurant
Best Red:  BG's café took over 2014 winner, Vallarta –
Best Medium:  Vallarta – Molcajete
Best Mild:  BG's Café – a repeat victory from 2014
Entrants included El Dorado Restaurant, the kitchen, BG's Café, La Dolce Vita, Naked Infusions, Rootz Sauce, Chehalem Ridge Brands, Vallarta Supermarkets, La Fonda Del Re, Tresierras Supermarkets, Fresh and Easy, and Tomas Café. This list is but a small sampling of the 27 Mexican restaurants and far more number of small Mexican food vendors in the Oxnard area.
On the week-end, non-professional cooks got into the action with an annual recipe contest dubbed The Great Oxnard Salsa Challenge for first place category winners and a 'best of the best.'
The award-winning, expanded event featured Southern California's electrifying salsa and Latin bands plus salsa dance performances and non-stop salsa dancing, marketplace shopping, a fiery Salsa Tasting Tent, international foods, and an expanded Kids Korner with Tortilla Art first created in 2014 with real tortillas provided courtesy of Mission Foods. This year, a mechanical jet ride, inflatables, a giant maze and slides were added to interactive games in the parking lot, along with a climbing wall for older kids. Festival admission and parking are free. www.oxnardsalsafestival.com
The Oxnard Downtowners Festival producers are locals, not corporate event planners, who somehow maintain the town's homespun qualities amidst their ever growing multi-faceted event, a quality that distinguishes it from the rest of the endless, international salsa circuit. The theme is simply "celebrating everything salsa — the music, the food and the dance."  Below Jim Martin's aerial photo.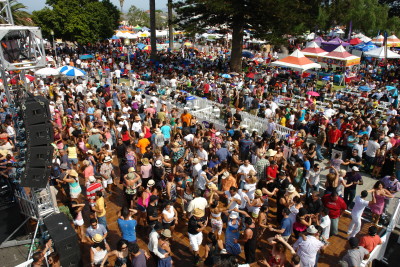 The Festival Marketplace Food & Shopping features a wide assortment of international foods and shopping opportunities in the Festival Marketplace, filled with close to 150 food, craft, gourmet sauce and retail exhibitors.
Inside the big-top Salsa Tasting Tent, the Festival showcased 22 different exhibitors dished up close to 60,000 samples of all six categories of salsas by local restaurants, gourmet salsa purveyors, specialty grocers and Mexican markets and gourmet salsa vendors. (photo credit Z Studios)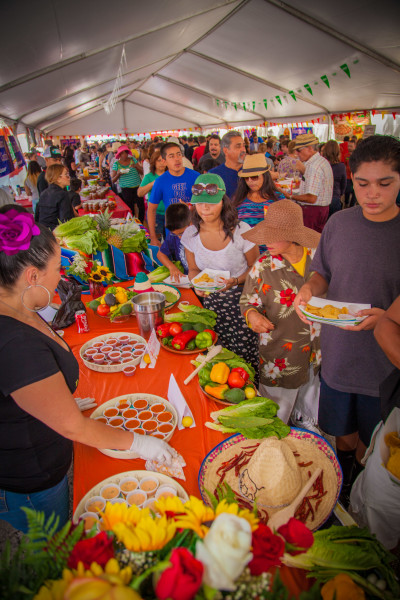 Tent admission is $5 per person, which includes freshly made Mission Foods tortilla chips and 10 tasting tickets. The adjacent Salsa Cantina provided an ideal "cooling off" stop for burning tongues, with ice-cold beer and wine margaritas for sale.
The 22nd Annual Oxnard Salsa Festival is sponsored by Gold Coast Broadcasting, Bud Light, Mission Foods, Oxnard Convention & Visitors Bureau, Ventura County Star, plus more.
Located just 60 miles north of Los Angeles and 30 miles south of Santa Barbara, Oxnard Salsa Festival is accessible by train, car, or bus. The Oxnard Transportation Center is conveniently located just three short blocks from the Plaza Park festivities. For Festival information, visit www.oxnardsalsafestival.com
The coastal location makes for an ideal year round getaway with beach, bike riding at the harbor, sport fishing, golf and even the Dallas Cowboys Training Camp and the Channel Islands nearby. For information, please visit www.visitoxnard.com.
And after the festival, a lively Farmer's market takes over the Plaza Park site.  Below are the fresh picked produce and the zucchini flowers in full glory.