(Savory) Domestic Truffles Join European Beauty Contest
It's truffle season, not the candy modeled after the irregular, warty-shaped little gem but the original with it's very own unique flavor, aroma and story, now served in local restaurants.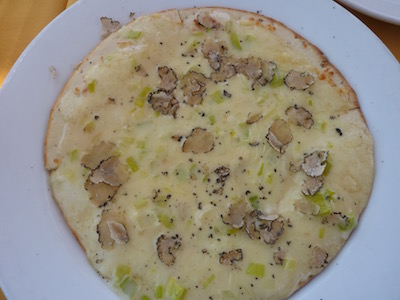 Natural truffles are black, brown, white or gray. They vary from the size of a walnut to a man's fist. Bulbs grow from 3 to 12 inches underground near the roots of trees (usually oak, but also chestnut, hazel, and beech. The methodically slow and labor intensive harvesting process involving specially trained animals to route out the elusive fungus that can drive the price up to $2000 a pound.
Trained pigs and dogs are able to detect truffles with their keen sense of smell at their exact moment of "ripeness" underneath the surface of the ground. This is crucial since flavor is directly related to its aroma; truffles not collected at exactly the right time will have little taste. The risk with a pig, however, is that it may devour the truffle, while a pat on the head and a piece of bread is all a dog asks as a reward!
Of the 70 varieties of truffles, 32 are found in Europe. Although Piemontese chef, Giacomo Morra, is credited with first putting truffles on a modern dining table, ancient Greeks and Romans regularly put them to use as medicine and as a popular aphrodisiac.
 Black truffles of Perigord, termed "the black diamonds" of French cuisine because of their network of white veins on black flesh, are the most highly revered of all – by the French. They require cooking to bring out their flavor and are collected from January to March.
Piedmontese White truffles are named "fruit of the woods" or at times "autumn truffles" because they are in season from October to December. They are best when shaved directly on the dish before eating – and are considered the best, especially by the Italians.
In North America, truffles grow west of the Cascade Mountains, from Vancouver Island, British Columbia all the way south to northern California. In the last 20 years, Oregon truffles have emerged as an international competitor, due in part to the decline since 1900 of European truffle production.   Touted as equally aromatic, Oregon truffles cost less than one-tenth the price of their famed European counterparts.
Sound tempting? At Tra da Noi in Malibu, the famous Alba white truffes have been shaved over Orecchiette Al Peccorino, homemade ear-shaped pasta, fresh peas and mushrooms. The extra taste comes from the pasta being served in a hollowed out cheese so that the cheesy flavor seeps through. It also seeps through the most expensive truffle burgers these days.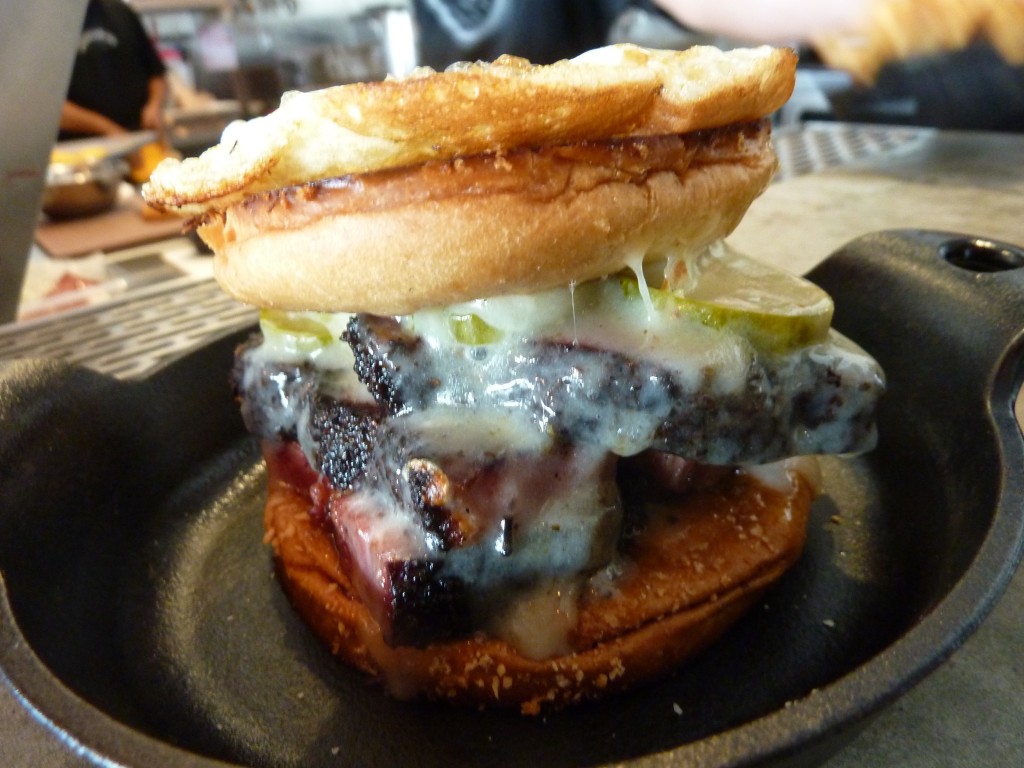 Chef Kerry Simon's was one of the first to use truffle oil as a secret ingredient in his potato mash.  Today it is even commonly used in French Fry coating.   Simon said, "truffles bring an earthy, balanced flavor to the dish while bringing out its own natural flavors." He claims, "people absolutely love it, even trying it for the first time."
Truffle oiled Mac n' cheese is a popular new sophisticated, wonderfully gooey Breadbar dish (www.breadbar.net). Proving its finicky pedigree, its slightly metallic taste is not successful on Truffled Tator Tots at the downtown O Hotel (www.ohotelgroup.com) on the "gourmet comfort food menu. " Unfortunately at times the oil is not the absolute freshest  so diners trying it for the first time are so disappointed they won't try truffles in any other form.
Try this delicacy at home. Truffles soaked in olive oil sounds simple but a reliable, fresh source is critical for the real deal.   Mouthwatering ideas include asparagus or grilled shrimp with truffle oil vinaigrette; sweet potato mash with truffle oil and bourbon; pasta or risotto with a poached egg and truffle oil. For more, search out maven Erika Kerekes' own on www.inerikaskitchen.com.
Store delicate Truffle Oil in the fridge since it loses aroma over time, and best to savor as much – or all of it – as soon. This treasure is fragile! To give you an idea, wholesalers cover overnight air freight shipments of the stuff with rice on serving trays and store them in a refrigerated room until restaurants open up in the morning for delivery, all done within 24 hours of harvesting.