The "Secret" Global Menu at The Pub at Chino Hills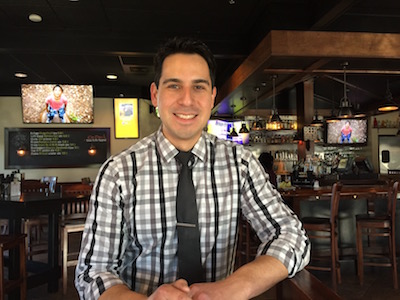 (Gerry Furth-Sides) General Manager Chris Garcia may be the one to meet you at the door with a huge Chino "hill country" welcome but the spirit behind the extraordinary The Pub at Chino Hills belongs to owners Andrew Faour and Mathew Carpenter. The owner-chefs know how to entice diners to try sophisticated, global dishes with imaginative spice and flavor profiles by renaming them in a more mainstream format. They also include familiar and novel American fare and spirits on the menu.  Chris mentioned one, freshly popped corn drizzled with duck fat.  Our reaction matched all the other guests: "It's drizzled with what?" And, like the current guests, we had to try it. Thank you chefs!  Movie theatre concessions, eat your heart out. The more you eat, the more you love it.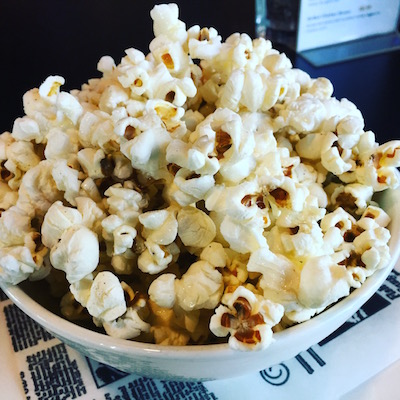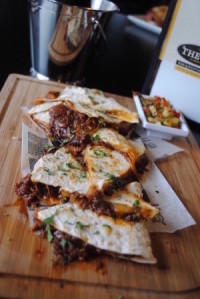 Trained, motivated staff,  excited about the food, also help pave the way for new dishes on the menu. When we asked about the novel dishes, such as the "Wild Boar Quesadilla," (above and left) which brought me to the Pub in the first place, Chris exclaimed, "that's exactly what we had in mind!" No matter what the dish would have been like, I was already 97% won over.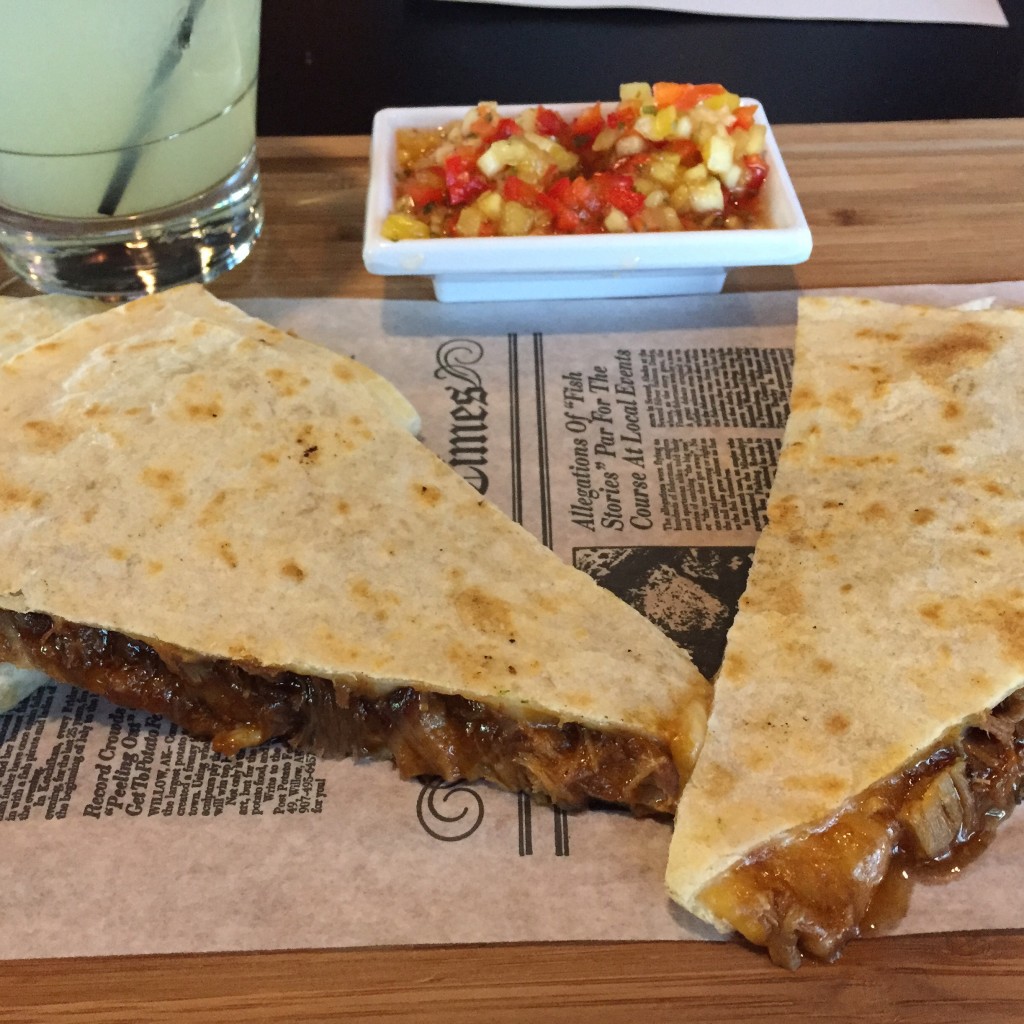 For example, below is the Chicken Curry Salad — I can just hear "burb" diners murmuring, "curry.. Indian food… spicy." I've heard this in Los Angeles. But after two and a half years, the neighborhood here is primed to try it.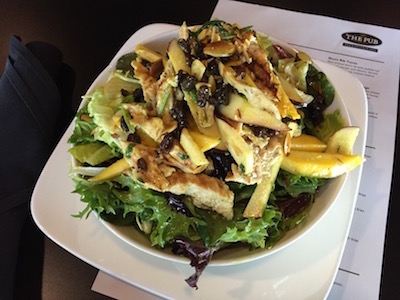 What arrives in the colorful, glam, generous bowl is precisely (and not spicily) seasoned, grilled chicken, mango, apple, raisins, almonds on a bed of mixed greens dressed perfectly (every leaf coated with no dressing at the bottom).  The international yet friendly ingredients add up to texture, layers of flavor and a more than satisfying lunch or dinner dish.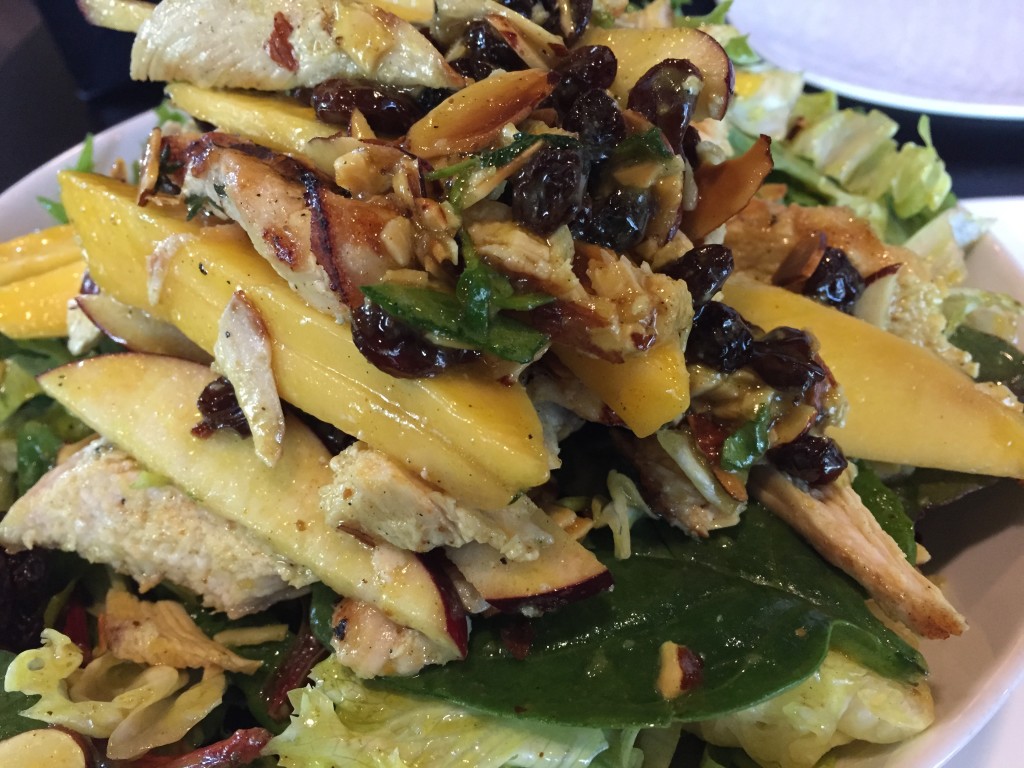 Below is the (Japanese) Kobe Beef Burger on an open face Ciabatta Bread, Aged White Cheddar, Sautéed Spinach & Onions with a Garlic Aioli.  The whimsical "stack" of onions on a wire also keeps them separated.  The "newspaper" on the wooden plank adds to the fun.  In the center is the bone marrow dressing (bone marrow dressing!) that they brought to try.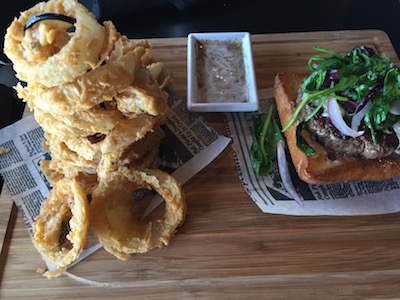 Another dish that combines Italian flavors and a Mediterranean flare into a popular American dish is Chicken Pancetta Meatloaf, Ground Chicken and Pancetta with Minced Onions & Sun-dried Tomatoes with a Savory Tomato Glaze.  The dish is served with mashed potatoes and a garden of seasonal vegetables to make a complete meal.  What a novel, international idea for the chicken also used in many ethnic dishes combined instead with minced beef.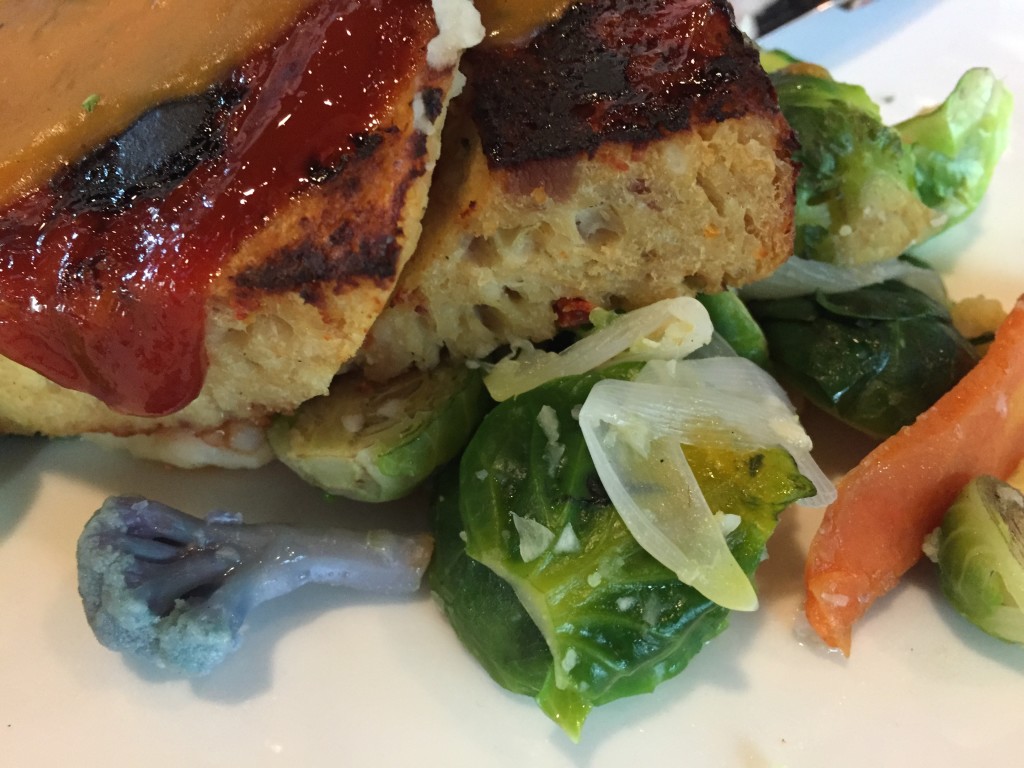 From the outside, The Pub looks unassuming on its corner spot in a spanking clean but fairly typical strip mall, even with rolling hills around it. Developing  the idea of a gastropub took months of hard work, menu preparation, and remodeling. The variety of gourmet starters, appetizers, salads, and entrees are prepared with USDA Prime meats, fresh market fish, arugula and live butter lettuce among the salad greens and some of the worlds finest cheeses.
All the food complements a list of 20 draft beers and over 20 bottled or canned beers, ranging anywhere from local hefeweizen to European-style dark ales. Along with is a selection of international wines and exclusive spirits, along with The Pub's original, signature cocktails.
Dishes have big, bold flavors, even in  their customizable classic sandwiches and more unusual buffalo, and salmon burgers. Dessert options include house- made cookies, Heath bar brownies and a variety of gelatos.
It isn't surprising that it all really started when Andrew Faour, who grew up in an Arab household, where "delicious food was always cooking in the house" realized his passion for food even as a youngster. After graduating with a business degree from Azusa Pacific University, he added a degree from the Le Cordon Bleu in Hollywood.  There he met teacher Mathew Carpenter.   Several years later, the two teamed up, witih Matthew as his co-owner and co-chef, to "create their dream culinary experience." They utilized Matthew's culinary expertise with Andrews business savvy to recreate a classic British gastropub with imaginative fine dining and high-end craft beers, wines and spirits at practical prices.
The whole turned out to be much more than the sum of its parts. The appeal was focused on locals, but has achieved destination dining status. We drove out to the Pub on the basis of the more unusual menu items.   I was at a military luncheon in San Juan Capistrano last week-end, seated next to a fire station cook, who knew his food. And he knew The Pub!  An oasis in a food desert!  The gourmet firefighter also commented on the spacious, private side veranda shown below.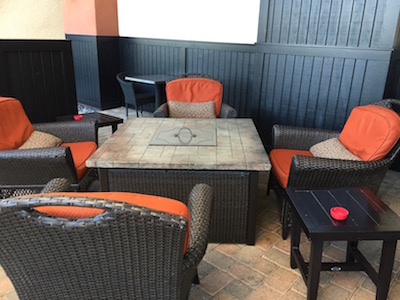 Faour was as impressed with Matthew's "natural skill and insight of food as his work ethic and and know-how." Chef Matt's impressive restaurant experience ranges from Bacar in San Francisco to Heston Blumenthals' The Fat Duck in Bray, England.
Andrew further developed his skills by interning at several restaurants, such as the internationally- acclaimed The Bazaar and XIV.  He worked seamlessly with Executive Chef Matt at the instantly uber-popular MoMed in Beverly Hills, where Matthew was  founding chef who created the extraordinary modern Mediterranean menu. No question it was the food that "made" this stark, dark, impersonal, "order-at-the-counter" place. We went there regularly, especially for their lamb burger, and loved to join customers on the small porch, loving our food and complaining about  service. MoMed's food also achieved line-worthy status at every local elite food event.
Next, Andrew and Matthew became partners, on a mission to open a restaurant offering gourmet quality food on the go.  Then the opportunity for The Pub location nearly fell into the co-owners hands. Located right off of the Pine Avenue exit from the 71 freeway, a string of failed restaurants had haunted the location.  When the focal point of the dining area turned out to be a large bar, they added quality drinks to their concept.
"It wasn't instant success,"  recalled Chef Matt. "When we first opened we had an aggressive menu with a list of dishes that could require a sophisticated food vocabulary," he explained.  "One example was the fairly simple Braised Beef Cheek in Sugo (Italian for sauce, each region with its own version, in some areas known as Bolognese or ragu). The pasta we served it over was a pappardelle.  Yet for the first two months, all we sold were hamburgers.  So we changed the name of the Braised Beef Cheek dish to 'Pappardelle with Bolognese Sauce.'  And guests started ordering it.  We didn't really change the dish.  We changed how we sold it and also how the servers explained things to the customers."
Summed up Matt, "I think when we opened we were a little too much for Chino Hills!  But after two and a half years, we are very blessed to have developed a terrific client base, a much more adventurous one.  They know us and they trust us.  I've turned people on to sweetbreads, duck chorizo, and I could probably even put foie gras on the menu and they would try it.  Now I 'm able to push my chefs to do more adventurous versions of dishes. Now we use cured duck instead of ham in our BLT;  we brine our own turkeys and roast them in house.  It adds layers of flavor to the dish and is part of my opportunity to introduce new spice and flavors. "
Chef Matt's ethnic inspiration comes from "traveling the world, especially the middle east and southeast Asia."  He adds, "One of the beauties of French culinary technique is being able to try dishes in other countries and be able to say, 'Oh, here is the basic French braise and the cooks added….'and I've been able to prepare that dish, and others in the same way."
The Pub's high standards cover front of the house, too, with a team of experienced staff.  As my local guest, educator, Dr. Linda Hanson, said, "they understand critical thinking. They listen. They give thoughtful answers.  Manager Chris Garcia was not only warm and friendly, absolutely giving the impression that he was delighted to work there, but he knew the food and the story. What he did not know, he found out for us.
He also knew his neighborhood. When we left, we noticed a Taco Tuesdays sign on the front walk.  He laughed and told us that the owner-chefs of The Pub at Chino Hills didn't think it would fit into their gourmet menu.   But they allowed him to give it a shot, he recounted, and it worked. "We welcome friends, families, and everyone alike!" reads the menu. And it is true.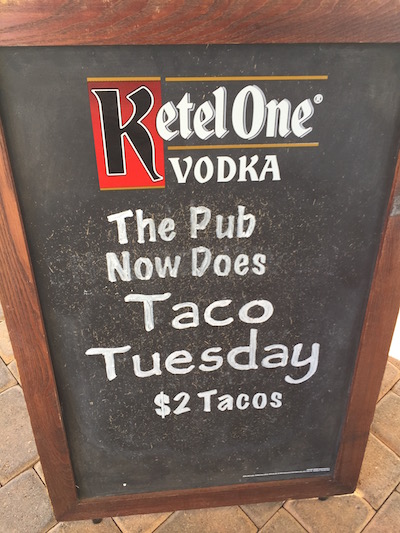 Meanwhile the closest thing in Los Angeles is Souk Shawarma downtown, the only place in the U.S. where you can find wood-burning shawarma with an unconventional (yet traditional) horizontal rotisserie.  Chef Matt did say that there are plans in the future for the gastropubs in other neighborhoods named after the area, such  The Pub in Encino Hills.   I dream about it now.
The Pub at Chino Hills, 5771 Pine Avenue, Chino Hills, CA 91709, (909) 597-2224. http://www.thepubatchinohills.com/.