Simply D'licious American Regional Soul Food on LA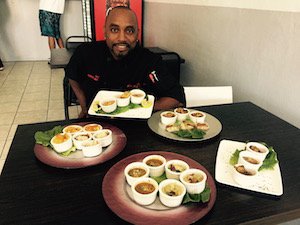 Simply D'licious is Chef D (Dennis Baines)'s take on Louisiana food in a story that took his family from that southern state to California and back to a "Louisiana soul food state of mind."  Baines was raised in Los Angeles though his family arrived in California from Louisiana.  He never intended to be a chef but after he completed successful professional stints as both a rehabilitation nurse and dancer, he almost happened to take a job  at Gumbo, a soul food restaurant in Baldwin Hills down the street.  There, he discovered he loved cooking so much and was so good at it that the restaurant and catering evolved naturally within a few years.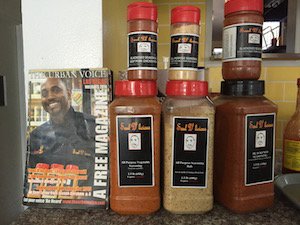 What is "soul food?" It is defined as, "traditional black American cookery, which originated in the rural South, consisting of such foods as chitterlings, pig knuckles, turnip greens, and cornbread."  Add Fried chicken and blackened Catfish and collard greens and okra and a slew of other classics to this.  It was the genius of cooks in the south who took inexpensive food and made it into as original an American art form as jazz.  And warm southern hospitality oozes out of every experience which alone is the price of a meal.   Simply D'licious has all this and more.
Also typical of the southern tradition is the plain wrap dining room cafe  and a straightforward menu to match.   Categories include Southern Cuisine and Creole Cuisine along with Signature sides, Sides, Appetizers, Salads and Desserts.  Reading the list of Southern (fried or BBQ) and Creole (Blackened) dishes is mouthwatering without descriptions so popular today of item origin: oxtails, chicken, pork chops, catfish, shrimp, red Snapper.  Gumbo, Po'Boys and hot links head up the Sandwich category.
The food speaks for itself.  Seasonings and seasonings developed by the chef flavor the food instead of heavy oils flavor the food.  So many customers asked about them that Chef D developed his own line, which has become a star on its own.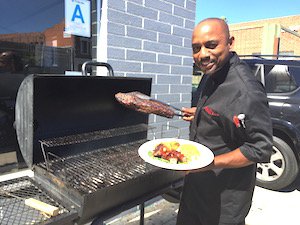 Even before you take a step into the cool interior,what could be more homey than Chef D working  his smoker right on the sidewalk.   The sidewalk also makes for easy customer pick-up.
Inside is one room with booths along one wall, tables on the other. Walk through the doublewide storefront to find a budding party room and patio out back.  This is the party-central for catered events.  Chef D also does on-side home catering.
Below, Chef D an up close view of a short rib plate in the backyard area.  Succulent ribs flavored with his own seasonings come with two sides that include brown or white rice, red beans, collard greens, hush puppies, fried okra or seasoned fries.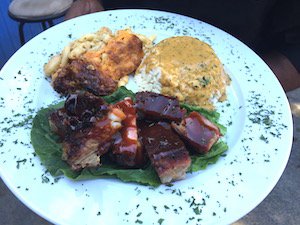 Start the meal a house-made lemonade or Sweet Tea, "like your mother used to make" with just the right amount of sugar in it to make it sweet without cloying.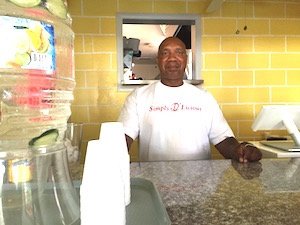 Chef D showed us both his catering and restaurant expertise with a menu of individual sampling dishes.   Each dish was served in its own little ramekin.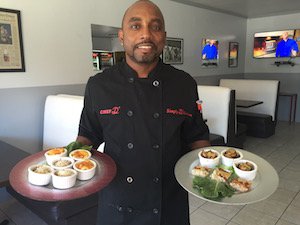 The care and individual flavors bloomed in each dish.   Nancy Foster, a friend and business associate chuckled in agreement when she heard this.  "That kind of attention and preparation is what every customer gets both in the restaurant and at their own parties," she told us.
Because we were invited to a meal between lunch and dinner service, Chef D enlisted the help of chef friend, caterer Sion Holmes (www.cateredneeds.wix.com),  to prepare this very special offering.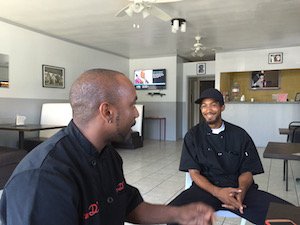 While we savored the dishes, the two chefs sat and explained their techniques while seeing to it that we had everything we needed.  The good natured banter so common in the neighborhood was punctuated by very serious food talk –the facts of Chef Baines entrepreneurial story is the stuff of fairy tales.  Chef D's thoughts on liquid smoke and seasoning alone would an entire article.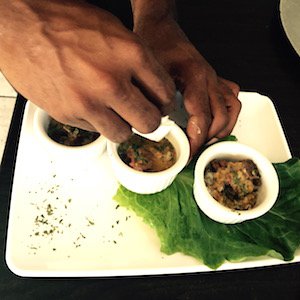 In the words of our colleague, Darien Morea,  "Flavors of all the dishes we tasted were rich and unctuous throughout.  I loved his not-hot Blackened Snapper on Rice with his special Etoufee' sauce, which contains his own seasoning blend mixture that he uses liberally on many of the items.
I personally do not enjoy spicy hot foods but this was just right amount of heat.
The Creole Blackened Shrimp atop classic Sauteed Collard Greens was delicious.  The Mac and Cheese had a rich layer of melted cheddar on top but I confess that I'd like it even more with some cheese sauce mixed into the pasta.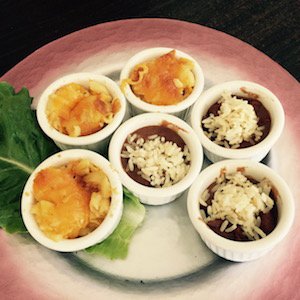 "The gumbo tasted very much of shrimp and had pieces of smokey beef sausage in it.   Both the gumbo and the red beans and rice had an extra smokey flavor, which is a signature of his unique style.  My #1 favorite was the Oxtails, also on top of some rice with that gorgeous Etoufee' sauce.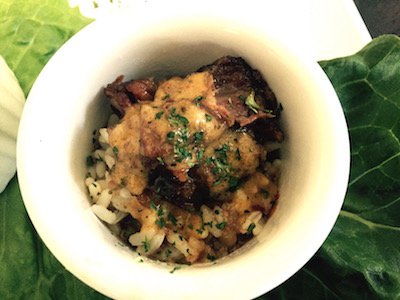 "I've never liked Sweet Tea  but this was another thing entirely and a large pitcher wasn't enough.  It was refreshing all the way.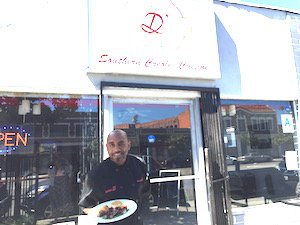 "Simply D'Licious on West Washington is easily accessible from the freeway , about 1/4 mile east of La Brea on the north side of the street.  It's a simple restaurant mid-block, with comfortable leather booths as well as individual tables for larger groups.
"There is a back party room with a long bar, too for indoor-outdoor family or personal celebrations – it can hold at least 60-70 persons I'd say.  The restaurant also caters at private residences.
"Parking can be a challenge but take out is easy as you can park your car at the neighbor's lot next door and Simply D'Licious will bring your food to the car.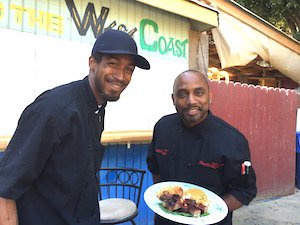 Simply D'licious, (323) 549-9829,  4641 Washington BLVD; Los Angeles, California 90016