Slow Fish Follows Healthy, Sustainable Movement
SLOW FISH is the inspiration behind the second high-energy restaurant opened by Korean entrepreneur, John Lee. The first in North Huntington Beach has been going strong for almost a decade. Friendly Slow Fish Wilshire manager, Bonnie, greets regular customers by name—usually by the second visit.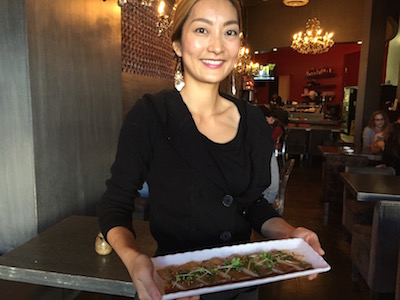 The sophisticated, festive restaurant space includes a patio with seating for 30, enclosed by huge planters. The high-ceiling interior features crystal chandaliers and red, grey, white and black colors.
 Slow Fish eatures unique Asian Fusion cuisine with a California twist "to take advantage of the "astonishing array of fresh produce and fish available in Los Angeles." Chef Sean An, notes that Korean is the "Italy of Asia" since it is also a peninsula rich in fish, seafood and an abundance of fresh produce. It is reflected in An's healthy, artistic Pan-Asian dishes with Japanese, Vietnamese, Italian and American touches.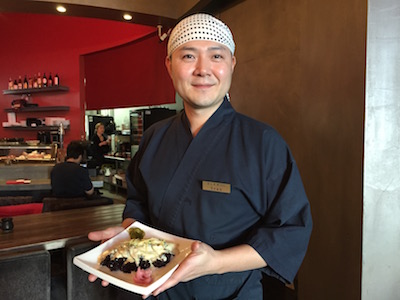 Among the separate dinner, lunch, sushi and drink & dessert menus, the drink menu features soju, the national South Korean drink known as Asian vodka (usually around 20% alcohol) because it's inexpensive, smooth and strong without theharsh bitd of vodka and with a slight sweetness making it perfect for cocktails featuring tropical fruits or "health" ingredients, such as plum, peach and grape soju or ginseng tea soju. The clear spirit made from rice, barley and sweet potato happens to be the largest selling liquor in the world, about double the proof of wine. Beers, including a large selection of Korean beers, and a small selection of wines, are also offered.
Slow Fish has fun with their Korean-based "fusion sushi" rolls and use of spicy sauces.  Servers are pleased to suggest the most popular dishes, most ample enough and designed to share.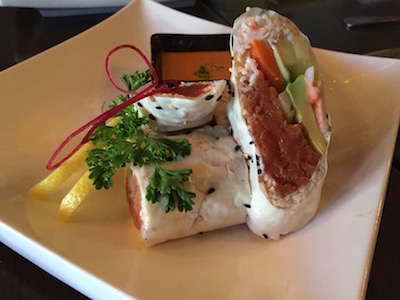 The Seaweed Salad is refreshing plus contains with many beauty products are made with minerals and vitamins rich seaweed, here prepared with five different types, bordered by "crunchies" like sesame seed and to mix into the salad.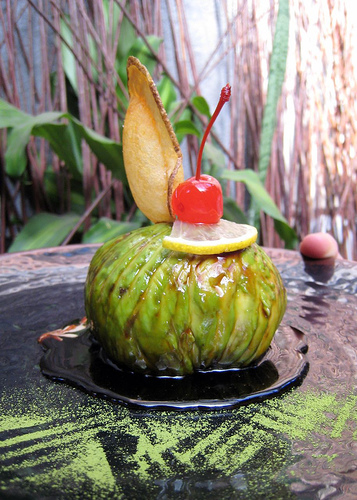 The Spicy Calamari appetizer followed: tender baby calamari stir fried in Spicy Sauce is labeled a "Must Try!" and it was excellent. Fat Avo , Sean's signature dish  inevitably draws "oohs" and"ahs" everytime it reaches a table. Fresh albacore is sensitively seasoned with garlic and pepper, masago and green onions, then delicately wrapped in thin avocado slices layered and overlapping into an "apple" , topped with a toasted diakon "stem" and served with eel sauce.
K
Korean food is delicious and very healthy, a fact attested to by the observation that very few South Koreans are overweight. Popular dishes include bulgogi, the famed Korean barbeque exported worldwide, dolsot bibimbap, rice with a variety of toppings served in a piping hot stone bowl, and a wide variety of chigae stews.   Since the ubiquitous kimchi pickle, made from fermented cabbage and chili, accompanies nearly every Korean meal, it can be an acquired taste so Slow Fish substitutes a touch of Vietnamese chili paste on most of its dishes. The traditional side dishes often served with Korean meals, "kong na mul" (bean sprouts) and "Woi" (Picked cucumbers), are featured in dishes such as salads..
Korean meals are so balanced and filling that desserts are purposely light. Drinks include Hot and Iced Green Tea; Ice Tea, Lemonade; Soda, Waiware Still and sparklingwaters.