Italy's Slow Wine Editore 2016 on World Tour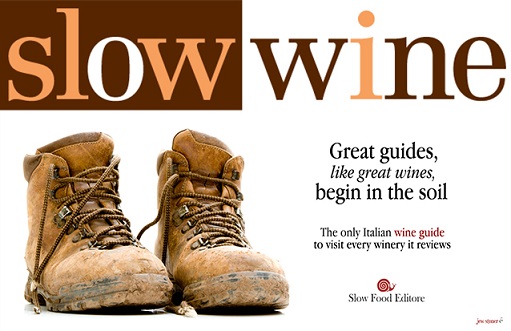 (Gerry Furth-Sides) Slow Food International and Slow Wine Editore debuted their new and updated edition of the Slow Wine guide during the 2016 Slow Wine US Tour. The show on the road for this fifth consecutive year world tour featured the Slow Wine editorial team, along with the winemakers recommended in the guide, with stops in Asia, North America and Europe. (www.slowwinemagazine.com)
Winemakers were on hand to serve and present their wines —the best expression of the Slow Wine Guide's raison d'etre—producers who make quality wines with respect for the environment, biodiversity, traditional grape varieties, and their local areas.
Slow Wine travels to the US because they offer their comprehensive  English-language edition of their guide to Italian wines whose qualities extend beyond the palate. Covering over 400 of Italy's best wineries, Slow Wine critiques wine through the perspective of the Slow Food philosophy, believing that wine, just as with food, must be good, clean and fair – not just good.

This annual Slow Wine guide adopts a new approach to wine criticism, taking into consideration the wine quality, adherence to terroir, value for money and environmental sensitivity. In our English version we review more than 2,500 wines, offering a comprehensive guide of Italian wines (also available in German and Italian).
The Slow Wine guide publisher, Slow Wine Editore, and a delegation of its top wineries started the year by holding tasting events for press and trade during their annual multi-city US tour the first of 2016, visiting Los Angeles, San Francisco, Austin and New York City,  which added a consumer event to the bill of fare.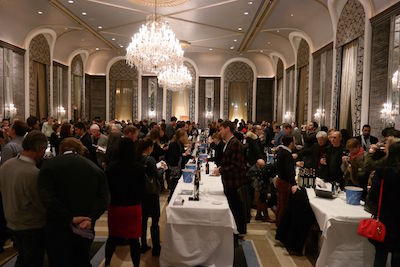 "At Slow Wine, we take pride in recognizing small-scale winemakers using traditional techniques, working with respect for the environment and terroir, and safeguarding the incredible biodiversity of grape varieties that are part of Italy's heritage," said Giancarlo Gariglio, editor of Slow Wine. "We are excited to return to the US with the newest edition of Slow Wine and continue promoting wine, not just a product of a winery but fruit of a certain soil, a specific climate, and a farming philosophy."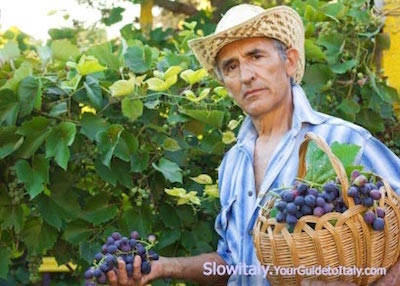 Slow Wine recognizes that wine is an agricultural product, and has an impact on the lives of those who produce it and the environment. The guide uses three symbols to evaluate each winery (see above):
The Snail, the Slow Food symbol, signals a cellar that has distinguished itself through its interpretation of sensorial, territorial, environmental and personal values in harmony with the Slow Food philosophy.
 The Bottle, allocated to cellars that show a consistently high quality throughout their range of wines.
The Coin, an indicator of great value.
The 2016 Slow Wine US Tour started in San Francisco in late January, featuring wines from over 50 winemakers from over 15 regions, at Terra Gallery.  The tour then traveled south to Los Angeles at the and to Austin before its final event in New York City. For the second year in a row, Slow Wine  partnered with the Italian Trade Commission to host joint trade and consumer events in New York. Over 65 Slow Wine producers representing 15 regions of Italy showcased the best of what Italy's wine landscape has to offer.
**Slow Food International is a global grassroots organization that envisions a world in which all people can access and enjoy food that is good for them, good for those who grow it and good for the planet. A non-profit member-supported association, Slow Food was founded in Italy in 1989 to counter the rise of fast food and fast life, the disappearance of local food traditions and to encourage people to be aware about the food they eat, where it comes from, how it tastes and how our food choices affect the rest of the world.
The Slow Wine Guide, published by Slow Food Editore (the publishing arm of Slow Food Italy**) adopts a new approach to wine criticism and looks at a variety of factors to evaluate wineries in their entirety, taking into consideration the wine quality, typicity and adherence to terroir, value for money, environmental sensitivity and ecologically sustainable viticultural practices. Slow Wine was conceived to give a realistic snapshot of the current Italian wine landscape. The guide features reviews of 400 different wineries, each one visited by Slow Food experts. It is available for purchase on Amazon.com, as well as in select bookstores.
This year we've added two new stops to the tour: Austin, a city that we've found to be full of young, passionate wine lovers, and Stockholm, with its restaurants, wine clubs and sommelier groups.
The stops in Stockholm, Tokyo and Hong Kong were organized in collaboration with I Vini del Piemonte, a consortium that gathers some 160 Piedmontese wineries with the aim of promoting and communicating the rich diversity of quality Piedmontese wine.