Sofitel Wine Days at the Sofitel Los Angeles
Sofitel Wine Days at the Sofitel Los Angeles are currently in progress while it is wine harvesting season in France, with special events running through the month of October.  Featured is a wine pairing dinner at Esterel and sampling flights of wine at the bar in the Riviera 31 lounge bar, with platters of French cheese and crackers.   Live Jazz performances take place every Monday evening.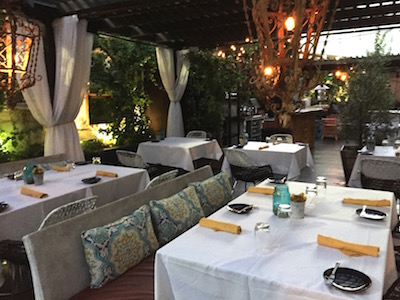 Guests can dine in or outside in the Le Jardin section.  The greenery provides an oasis from the bustling traffic on Beverly Boulevard just outside.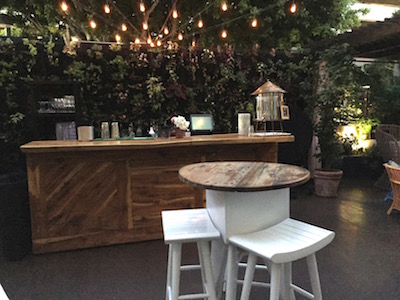 While we were waiting for our meal, Chef Po surprised us with a preview dish to share, Pork Belly reduced in white wine, his "take on earthy Puttenesa." The pork belly was brined in Paprika, salt and sugar, and this talented young chef added touches of thyme, chili flake, coriander, mushroom, capers, anchovies upon a classic French base.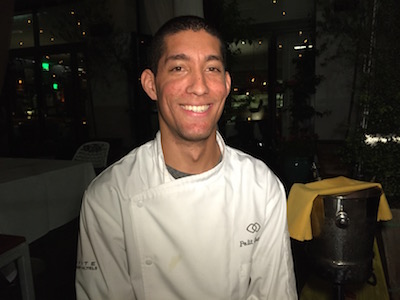 The following are sample Wine Dinner menu options:
 North American Wines
Appetizer:
Beef Carpaccio, French beans, Weiser sunchoke, micro arugula
or
"Crostini", house made fromage blanc, caramelized figs, fougasse
Main:
Pan roasted duck breast, local shelling bean ragout, braised greens
or
Cavatelli, short rib, Bellwether ricotta, mirepoix
Champagne
Appetizer:
Pear & Prosciutto Salad, frisee, crispy prosciutto, French butter pear puree, walnut vinaigrette
or
Branzino tartare, pomegranate gelee, avocado puree, black sesame
Main:
Dorade, bouillabaisse potato "risotto", fennel, cherry tomato
or
Marys Chicken, dumplings, farmers market vegetable, veloute
French Wines
Appetizer:
Roasted local squash, buratta, pomegranate seeds, brown butter vinaigrette, pecans
or
Shaved farmers market vegetables, Le Jardin greens, anchovy vinaigrette, pecorino
Main:
Pan seared steelhead, cauliflower puree, pickled grapes, haricot verts, almond
or
NY Steak, wild mushroom, French gnocchi, agra dolce cippolinis, marrow

Desserts can be ordered from the Esterel Menu, and can include the light but decadent Chocolate Trio here or homemade ice creams and sorbets, including the black cherry ice cream, apple balsamic or white peach shown here.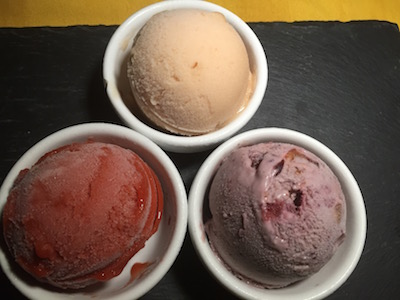 Please check with the hotel for daily menus availability of Sommelier, Enrico Bernardo. Bernardo warned the title of "Best Sommelier of the World, 2004"  at (www.sofitelwinedays-losangeles.com)
Esterel, Sofitel Los Angeles,  8555 Beverly Blvd, Los Angeles, CA 90048, (www.sofitel.com).