SOL Brings Mexican Brunch to the Beach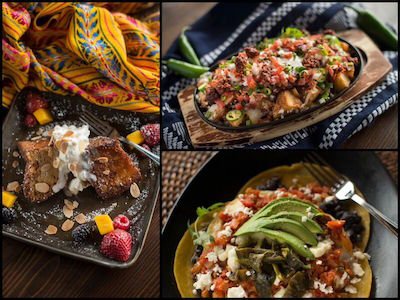 (all photos courtesy of SOL Cocina)
SOL Cocina Playa Vista brings summer to the beach early with their weekend brunch  at the beginning of May.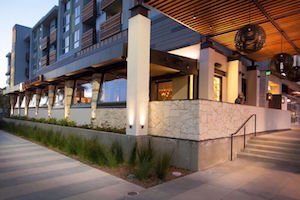 Partner & Executive Chef Deborah Schneider, crafted the menu inspired by her travels through Mexico and the Baja Peninsula.  (Read about SOL at: http://localfoodeater.com/baja-streetfare-inspires-sol-cocina)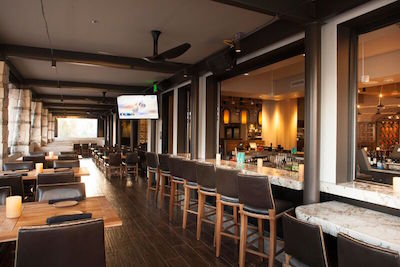 With her sunny personality, blonde beach trim looks and bright smile, just meeting chef Deborah makes you want to follow her on the road to anywhere.  And you know you will eat well!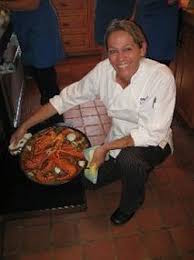 Head Chef, Tia Baker, oversees the kitchen  Vista kitchen, the Weekend Brunch Menu seamlessly marries the vision of SOL with south-of-the-border street flavors experienced first-hand in Baja, Ensenada and Tijuana.
Chef Deborah, author of six best-selling cookbooks (see www.localfoodeater.com). Every one of her original dishes define brunch —the best of breakfast and brunch that include ingredients such as avocado that perfection in terms of ripeness and labor intensive techniques.   Each dish has appeal even to cooks who think they can do better with brunch at home!
"We would get up early in the morning and go straight to the fish market to see and taste what was available," recalls Chef Tia. "Across the way would be fruit stands, where the vendors would be cracking open luscious, fresh fruit like papaya and coconut. It aligned perfectly with the vision we already had going, so why not incorporate it into the brunch menu?"
With visions in her mind of a fruit stand on the streets of Baja, Chef Tia created a SOL brunch exclusive in the Fresh Fruit Copa with seasonal fresh fruit and berries piled into a goblet, served with fresh lime, agave syrup and chile con limon available on request.  In her words,  "The Fruit Copa rounds out Chef Schneider's menu based on the simple, down to earth comfort food and traditional flavors."
Sol Chilaquiles Verde with corn tortillas sautéed in a medium spicy tomatillo salsa with queso fresco, topped with Huevos Mexicanos, crema, cotixa cheese and onions provides a morning snap.  So does the classic, Huevos Rancheros served with three fried eggs over easy on corn tortillas with refried black beans topped with fresh tomato salsa ranchera, roasted poblano chiles, cheese and avocado.
It is "go big or go home" with the Breakfast Burrito, made Sonoran style, with a large flour tortilla filled with Huevos Mexicanos, cheese and refried black beans, avocado, pico de gallo, pickled jalapenos and onion, as well as the robust Machaca Wrap Ahogado comprised of shredded beef cooked with ancho chile, onion, cumin and oregano, folded in a large flour tortilla with Huevos Mexicanos, cheese and refried black beans, 'drowned' in guajillo chili salsa & topped with pico de gallo and avocado.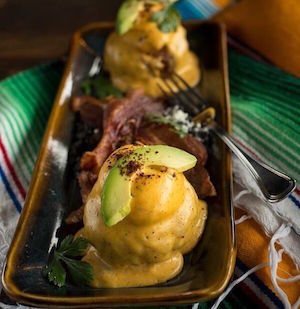 Crab Benedict is shown above with a south-of-the-border touch of avocado and seafood.  A hearty  Chorizo & Potato Scramble is stuffed with diced red potatoes, onions, garlic chorizo, fresh spinach, tomatoes and eggs scrambled topped with queso fresco and smoky crema. Get your weekend bacon and eggs fix with Huevos El Güero, three butter-fried eggs with bacon, breakfast potatoes and a side of salsa Americano.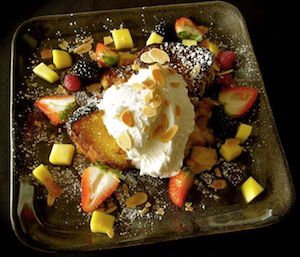 SOL's version of French toast, the Souffle Carlotta satisfies any sweet tooth.  The rich and creamy bread pudding spiked with Patron Citronge, lemon zest, butter-sautéed and drizzled with organic agave syrup, is then topped with mango, berries, vanilla whipped cream, almonds and powdered sugar!
Seafood lovers  Crab & Shrimp Cakes 'Benedicto' served with two crisp-fried crab and shrimp cakes topped with poached eggs, chipotle-orange hollandaise sauce, double-smoked bacon, avocado and refried black beans. The Papas 'Papi' offers a feast for the whole family. It is described as a " heap" of fried breakfast potatoes and onions is smothered in melted cheese, crema, chorizo, bacon, serrano chiles, green onions and pico de gallo.
An array of optional, complementary Sides  to enhance any meal, includes Breakfast Potatoes, Half-Avocado, Tequila-Pickled Jalapenos and 4oz. serving of any Salsa (for indecisive palates, there is also a pick any three salsas option)! For carnivores hankering for some extra protein, there is an array of meaty sides to favor any dish, like Machaca, Bacon, Chorizo, Carne Asada, Chicken and Carnitas.
A Kids Menu for diners seven and under features such appealing dishes as Breakfast Quesadilla ((shown below) with flour tortilla, Mexican cheeses and scrambled eggs, the Kids Burrito made with scrambled eggs, Mexican cheeses and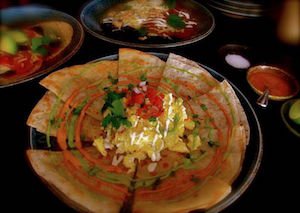 refried black beans, rolled in a flour tortilla, and the Kids Breakfast Taco featuring a single corn tortilla topped with Mexican cheese, scrambled eggs and chopped bacon.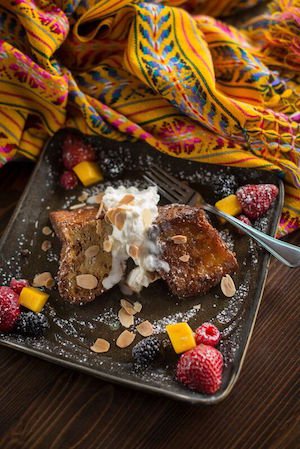 Let the kids indulge in their sweet-tooth with a Mini Carlotta, a small serving of Souffle Carlotta, warm with agave syrup, whipped cream, powdered sugar and a berry. (at left)
Beverage Director Colin Pflugradt, a master with spirits, created a lineup of Weekend Drink Specials to compliment the menu.  Also available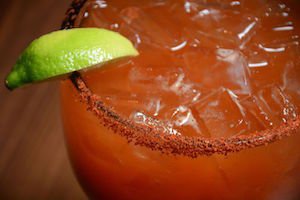 are his popular  classic Signature Margaritas.
The Super Power  Chupacabra is a pour of smoky, powerful Vida mezcal combined with SOL's secret Bloody Mary mix. La Maria & El Don is  SOL's spicy Bloody Mary mix stirred up with smooth Don Julio Blanco tequila. SOL Cocina pays tribute to beer enthusiasts with their Michelada (shown above at right), a spicy Mexican beer drink with clamato, fresh lime juice, Mexican seasoning and a chile con limon rim. Heading the list for the traditionalists  are the house-made Bloody Mary made with Tito's vodka, and the ever-popular Mimosa, (shown below) combines fresh orange juice and sparkling wine.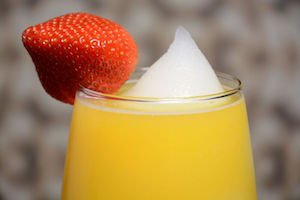 SOL Cocina Playa Vista is open for brunch every Saturday and Sunday from 10:00 am to 3:00 pm.  For information or reservations, please visit http://www.solcocina.com/ or call SOL Cocina directly at 424.289.0066.