"Spoonful of Comfort" is Top Pick for National Soup Month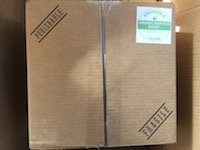 (Gerry Furth-Sides) Just in time for National Soup month a "Spoonful of Comfort" is delivered to our door.  Imagine opening your gate and finding this thoughtfully designed, sturdily wrapped package at your feet. Inside are carefully cooked and packaged homemade soup, rolls, cookies and a beautiful ladle. www.spoonfulofcomfort.com/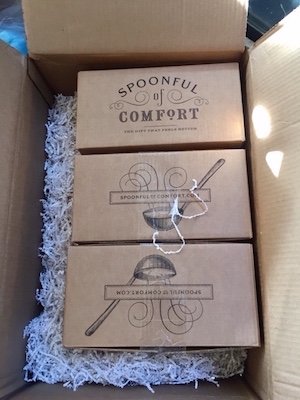 National Soup Month fittingly arrives with January's colder weather.  The commemorative might be relatively new but the dish is ancient. Soup has been traced  as far back as 6000 B.C. to Greece. Hippopotamus was the first known meat used for soups.   Greeks sold soup in their market places and streets – perhaps the first known "fast food!"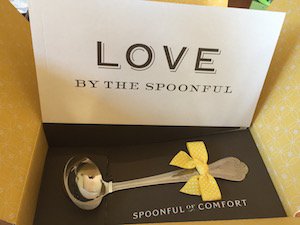 These days, soup can be purchased by the packet, bowl, can, cup, etc.   One innovation is home delivery, which tastes like a gift of a talented chef in your kitchen.  It's perfect as a practical "get well" sentiment, as the founders originally intended, or as a pre-house warming  gift or "care package" to a college students.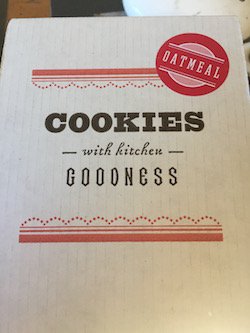 The cookies inside are as bold and big as the graphics on the box. Along with cookies in the basic package of carefully packed boxes  are:
64-oz. jar of homemade-style soup (4-6 generous servings)
1/2 dozen back rolls (just chewy and dense enough, dotted with rosemary)
1/2 dozen cookies
A ladle "to serve up the smiles"
Personalized note card
Colorful, custom packaging that's a treat in itself (editor's note: we agree!)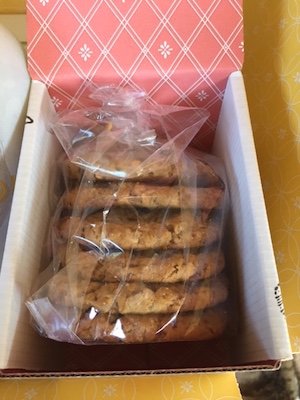 We "got into these cookies" right away, "for research."  The oatmeal raisin were over-sized and with the tiny bit gooey-as-in-raw dough  made every bite perfection.  We could not figure out what made the chocolate chip so good until we looked at the ingredients and saw molasses and wheat flour.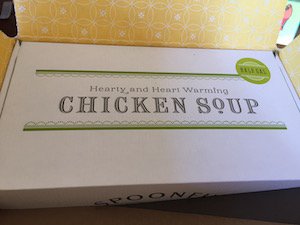 "Spoonful of Comfort" adds a fresh twist upon this old-fashioned favorite, proven scientifically to be healing, with seasoned, roasted chicken, fresh thyme and parsley, and "oodles of noodles."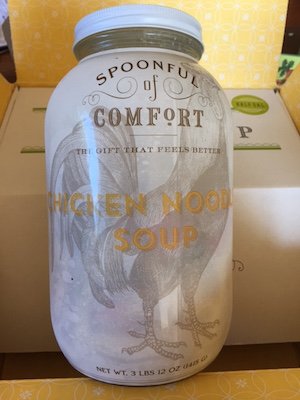 The hearty chicken soup tastes as though it was made from scratch.  It ranks well above what we've tasted in highly touted delis.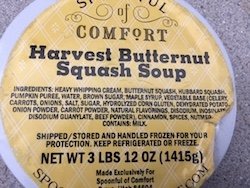 Oh my goodness!  When an LA TIMES writer asked what made the soup so delicious we saw:  heavy whipping cream, butternut and hubbard squash, pumpkin puree, brown sugar and maple syrup.  All you need is a pumpkin ice cream and this would make a wonderful sundae topping.
"Spoonful of Comfort" is beautifully seasoned but not at all salty.  There is absolutely no salty aftertaste and no thirst after eating it… a true test.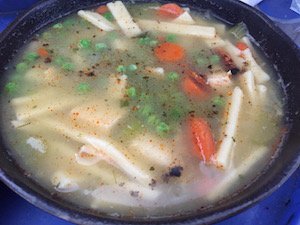 The big chunks of succulent white-meat chicken turn a bowl of soup into a total meal.  The bottle serves 4-6 generously ($10 for the complete meal).    So after our first servings, we added a couple of vegetables to the soup for a bit variety —  and enjoyed it thoroughly each time.  Here you see it with peas.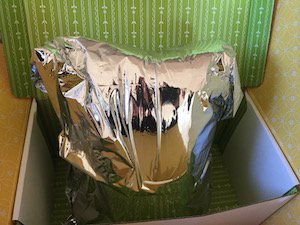 We were able to take the butternut squash from box to freezer because of the sophisticated packing, which includes dry ice. The soup is prepared and sent out for delivery the same day.
Butternut Squash Soup features holiday spices, cream and high grade maple syrup.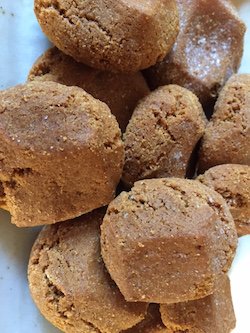 Refined, Gingersnaps with a crunch . A thumbprint cookie flat top surface  makes them even more appealing.
We shared the Tomato Basil Soup with discriminating (to say the least) food writers.  It drew the same compliments from their family:  "Delicious!  We enjoyed it from first to last drop."  The secret: basil pesto, rich asiago and parmesan cheeses.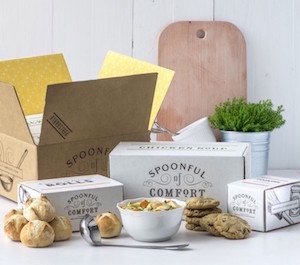 (Photo courtesy of Spoonful of Comfort)
Soup historically was actually just a broth before they began adding legumes, such as lentil and beans, then other ingredients, to make it more interesting.   The broth was initially used to pour over or as a dip for bread.  The bread was called sop, which turned into the word we have all become familiar with, "soup".
National Soup month is observed in  the US.   It's a natural "international" since most countries and ethnicities all have their favorite/famous bowl of soup.  Warm soup is a sure-fire remedy for people feeling  "under the weather" or just to take the chill off a cold day.  Cold soup, like a spiced-up Mexican gazpacho or a cool Russian beet  comes to mind does the opposite.  Soup is really is a dish that knows no season.
Editor's note: We saw the Spoonful of Comfort owners on Shark Tank.  They "did not get a deal."  Why? We want to know.