STAR-STUDDED LINEUP in RESTAURANT HIGH'S "TASTE OF TOMORROW"
STAR-STUDDED LINEUP SUPPORTS RESTAURANT HIGH'S "TASTE OF TOMORROW," ON OCTOBER 14 TO ADVANCE THE HEALTH AND CAREER PATH OF THE NATION'S YOUTH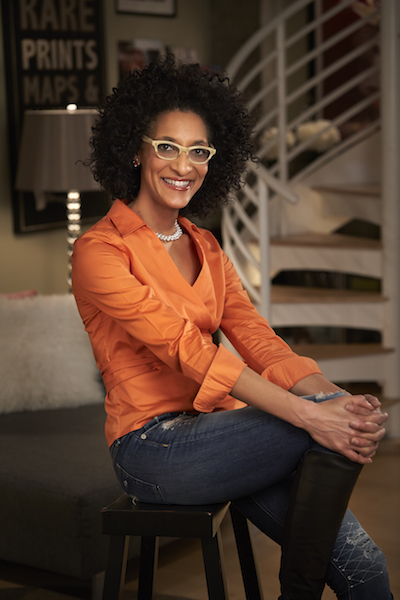 ((Gerry Furth-Sides, LOS ANGELES, CA) — Chef and restaurateur Carla Hall from ABC's The Chew, producer, entrepreneur and television personality will be in support of increasing employment and career opportunities for teens and broader access to quality food.
On Wednesday, October 14, high school and middle school students are invited to join A Taste of Tomorrow, a food and job opportunity fair that promises to "elevate lives and rock your taste buds."
The event is an extension of 
Restaurant High: Hollywood Beginnings
, a legal, business, and policy summit for the restaurant industry, held the same day at The Hollywood Roosevelt. Produced by restaurant attorney Riley Lagesen and his law firm, Davis Wright Tremaine LLP, entrepreneur Kimbal Musk, and charitable partner 
The Kitchen Community
, A Taste of Tomorrow takes place at Hollywood High School from 2pm. to 7p.m.; attendance is complimentary.
 "As we look to the future the world population is projected to grow to 9.6 billion people by the year 2050.  Connecting our youth to the goal of finding sustainable and healthy ways to feed that population is imperative," notes Carla Hall.  "The children who are taking part in A Taste of Tomorrow at Hollywood High are not only getting an opportunity to shape their future career paths, but a chance to potentially help solve some of the greatest problems facing us in the future."
In addition to drawing leaders from over 100 "real food" restaurant groups, the event brings together leaders from a variety of industries including film, law, finance, sports and fashion, to lead mentorship sessions, practical skills workshops, and to discuss job and career opportunities within different fields. Business leaders such as Kimbal Musk (The Kitchen Community co-founder and Tesla board member), James Curleigh (Levi's president), Vivek J. Tiwary (CEO, Tiwary Entertainment Group and Tony Award winning producer and New York Times best-selling author); Chris Adelmann and Mike Grozier (LiveNation executives) Quentin Jammer (former NFL star); Christy Vega (owner, Casa Vega Restaurant) and others hold interactive sessions with students throughout the day.
Celebrity chefs, include Michael Mina, Susan Feniger, Ben Ford, Hugo Matheson, Mary Sue Milliken, Ivan Orkin, Andy Ricker, and Jet Tila discuss opportunities in the food world and share practical home cooking skills. 
 A teen job fair will provide for on campus interviews and hiring, providing, for many, a first opportunity to enter the job market. Chipotle, Universal Studios Hollywood, Mendocino Farms, Panda Restaurant Group, Sprinkles Cupcakes, Fresh Brothers, and many more businesses are expected to participate.
Top Restaurateurs to Participate in Epic Food Fair
More than 20 leading "real food" restaurant groups will delight attendees, including Mendocino Farms, Lemonade, Tender Greens, Cava Mezze Grill, 800 Degrees Pizza, Nekter Juice Bar, Lazy Dog Café, Simmzy's, Asian Box, Border Grill, The Habit Burger Grill, Urbane Café, Pink's Hot Dog, Sprinkle's, Salt & Straw Ice Cream, Wurstkuche, DOSA, Bruxie and Fresh Brothers, along with other acclaimed brands.
The event includes The Kitchen Community's on-site construction and dedication of a Learning Garden on Hollywood High School's campus. To date, the organization has installed more than 200 Learning Gardens at inner city schools in Los Angeles, Colorado, Chicago, and Memphis. 
A Taste of Tomorrow is followed by an after party fundraiser at The Hollywood Roosevelt at 8 p.m. in support of The Kitchen Community, a non-profit co-founded by Kimbal Musk and Hugo Matheson. Iconic British band, The English Beat, is confirmed to perform at the event. Tickets can be purchased 
online
.
Businesses who wish to participate, including those who wish to participate in the job fair, can contact Kimberly Krouse at
kk@nytoast.com
.
Admission to A Taste of Tomorrow is complimentary and based on availability of space. Middle school and high school students can request entry by contacting Kimberly Krouse at 
kk@nytoast.com
.  For more information on A Taste of Tomorrow please visit
www.restauranthigh.com
.
Restaurant executives who wish to attend Restaurant High can contact Molly Klein at 
mollyklein@dwt.com
. 
The Kitchen Community
is a 501c3 nonprofit organization co-founded by Kimbal Musk and Hugo Matheson in 2011 with the mission of community through food. Everyday over 125,000 students have access to one of 240 Learning Gardens in schools around the country. Learning Gardens are outdoor classrooms and experiential play-spaces that connect kids to real food and empower them to make healthier food choices. They are designed to be a place where students want to learn and teachers want to teach. The Learning Gardens were built in some of the largest school districts in the nation, including Chicago Public Schools, Los Angeles Unified School District (LAUSD) and Denver Public Schools. For more information, please visit 
http://tkc.org
 and follow on Twitter 
@TheKitchenComm