Syrian SUCRE Sweets Parisian Ice Cream & Bakeshop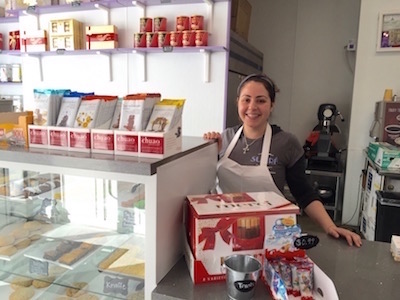 SUCRE Sweets Parisian Ice Cream & Bakeshop with its treasures of Syrian-influenced pastries sits demurely through the archway from Souk Shawarma, it's savory "big brother" next door.  And well it should — owner-pastry chef, Lauren is the younger sister of chef-owner, Andrew Faour, who partners with Chef Matt Carpenter in the venture.
The bold red walls of Souk,  photo mural with scenes of a middle eastern market ("souk"in Arabic) and the fiery horizontal shawarma grill give way to a sparkling white gem of a bakery and ice cream counter.
And there your eye falls on what appear to be familiar middle eastern sweets – an assortment of French macaron, Kataifi Greek pastry, cookies, Baklava, Madeleines and ice cream.  Your eye does not know where to look first!  Rows of packaged, high quality, classic candy bars and tins of candy stand behind There are rose water Madeleines.  The brownies are in the shape of petalled flowers and are infused with cardamom and pistachios.
The Kataifi is made with thin strands of the classic angel hair pasta- like dough that when rolled up resembles shredded wheat.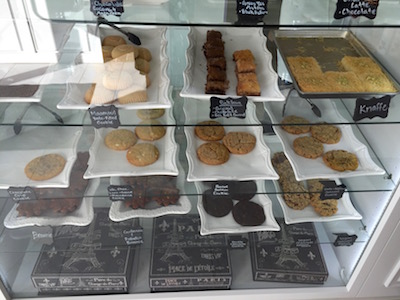 But this "Kataifi" has the name tag Knaffe.  And instead of the treat being soaked in a sweet syrup, it has a cream center and shavings of pistachio uts on top!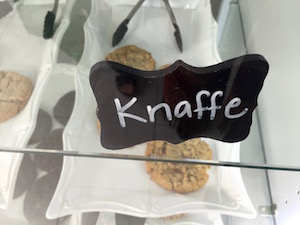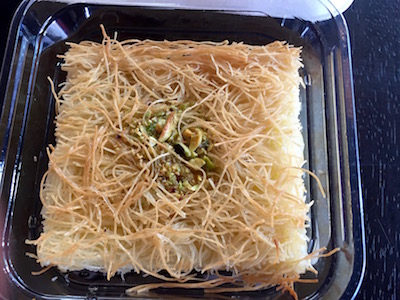 The coconut macaroon is chocolate covered.  The ice cream is rose water flavor.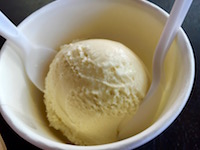 And the shortbread pressed cookie is a Ma'amoul.  These cookies, popular in Levantine cuisine and in the Gulf countries, can be in the shape of balls or domed or flat cookies.  This pressed one was made in a wooden mold is especially pretty and enticing.  Ma'amoul with date fillings are called menenas, but this one is filled with a fig preserve!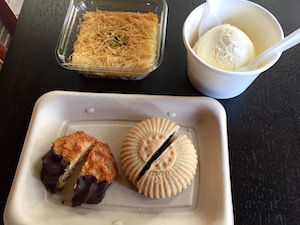 Each one was so unique and delicious the two of us dining ordered an assorted box to go.  Chef Lauren carefully placed the Kataifi in a separate fold-over plastic, with a very small plastic container of syrup.   I presented mine to a discerning Greek art professor who was speechless when she opened the box.  They are deserving of the term, "Parisian," delicate, subtle and rich.  The love that goes into them is also very much apparent.  Brava, Lauren.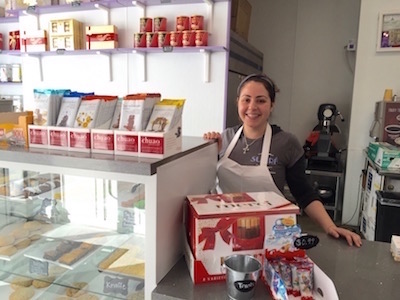 SUCRE Sweets Parisian Ice Cream & Bakeshop, 1111 Wilshire Blvd., Suite 104, Los Angeles, CA  90017 (213-935-8559. Monday-Friday, 11 AM -9 PM, Saturday, 11 AM – 6PM.