Syrian Savories at New Souk Shawarma in LA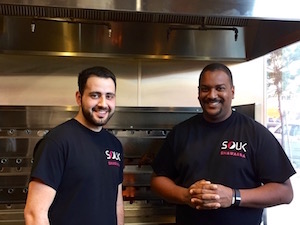 (Gerry Furth-Sides) "Souk" (market in Arabic) is an intriguing enough name to draw restaurant.  What brings people back to the recently opened Souk Shawarma Cafe is the soul-filled food of chef partners (Syrian-American ) Andrew Faour and (Jamaican-American) Matt Carpenter.
Souk stands as the only U.S. restaurant where you can find wood burning shawarma over a horizontal rotisserie offering seven different kinds of shawarma including chicken, duck, beef, lamb, soujouk and merguez, as well as a vegan soy protein.  The partners patterned the authentic Middle Eastern cafe  on the casual strolling market.  They recently added to their evolving menu a house-made Aleppo-style and a Merguez Moroccan-style lamb sausage.
"Both Matthew and I each travelled all around the world, bringing back experiences with spices and pairings with us," reports Chef Andrew.  "These new sausages combine our own visions with traditional preparations."
The pair first joined forces to create the wildly popular Momed Mediterranean menu for Alex Sarkissian in Beverly Hills.  They then became owners of the own restaurant, The Pub at Chino Hills.  
They became a marketing force there, There they learned how to make unusual global fare appealing to a suburban crowd by making familiar ingredients more prominent in their menu descriptions, and by including lots of fun American fare (think, duck fat drizzled freshly popped corn).(http://localfoodeater.com/secret-global-menu-pub-chino-hills/).  The lesson at Souk Shawarma is make their highest quality ingredients  affordable with counter ordering and self-serve side dishes in containers.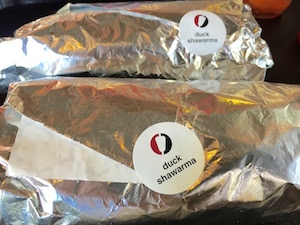 Andrew and Matt describe  Souk Shawarma as being "100%  chef-driven
concept, our brain-child of two chefs who have spent their time on the line, in the trenches, working the typical chef 8-day work week with 18+ hour days.  It is the type of restaurant concept serving the type of food that we want to eat after a long shift.  It is the 'perfect little concept' that we always wanted to have.  It is our 'taco truck,' and has our heart and soul in every detail, every aspect, every recipe — with every detail pondered over."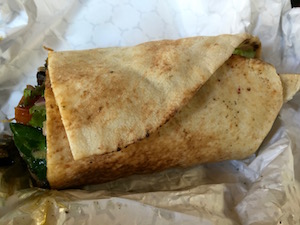 This time around Andrew's Syrian background comes to the fore.  The "secret force" for the shawarma is a horizontal rotisserie grill which keeps moisture in the meat as it is being basted in its own juices while being cooked.  Chef Matt is happy because he gets to "play" with his favorite ingredient, duck, which stars on the grill menu along with beef, lamb and chicken.
Chef Roberta Deen, Capers Catering Owner and former Bon Appetit Magazine recipe tester, and I  were silent as we relished a sampling of the wraps and side dishes.   Each one was filled with vibrant, perfectly balanced flavors and the characteristic unexpected pop of the spices and herbs that Chef Andrew and Chef Matt became known for at their previous venues.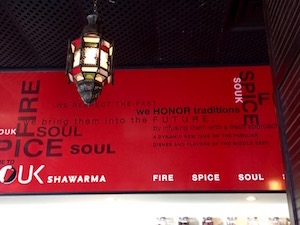 The food lived up to the mission statement on the wall of SPICE, FIRE and SOUL.  Laughed Matt, "we honor traditions and we do this by infusing a new take on the familiar dishes and flavors of the middle east here."
The descriptions alone are mouth-watering.  All natural Duck Shawarma ($9.99 for a wrap and $2 extra for a plate with salad), mixed with all natural hormone free turkey is marinated in Souk's signature wet marinade and served with piquillo peppers, fig spread, oven-blistered tomatoes, house-made garlic sauce and Souk mix.  Laughs Chef Matt, "we have to mix it with turkey or we'd have a $30 wrap here."  The duck leg and thigh are used for a more hearty dark meat flavor, and the fig chutney adds to the richness.
The Souk Mix is red onions, herb salad & sumac — an oil with a definitely addicting taste.  Uncommonly used except as a sprinkle on some Middle eastern and Ethiopian dishes,  it is a welcome addition here.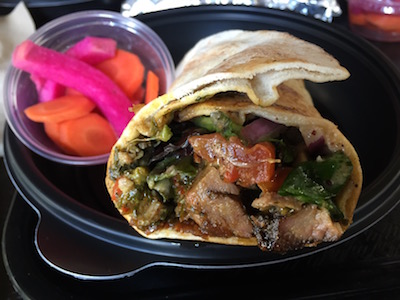 The new House- Made Aleppo- Style Sausage is a Middle Eastern- style sausage made in-house with all natural, hormone free ground chuck and pork shoulder (the only pork product on the menu).  The wrap is served with oven-blistered tomatoes, Souk mix, muhammara spread (red pepper and walnut), Urfa chili, pickled carrots and roasted bell peppers.  ($7.99 wrap and $2 extra for a plate with salad).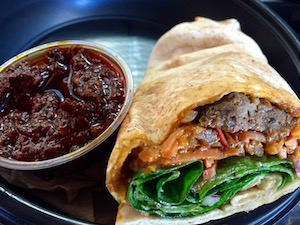 Moroccan- style lamb  headlines the new  Merquez Shawarma, a spicy sausage made in-house with ground Halal lamb, spices and herbs, served with roasted onions, peppers, tomatoes, piquillo sauce and Souk mix.  ($7.99 in a wrap and $2 extra for a plate with salad).  Unlike most sausage, the Merguez Moroccan-style does not use a casing but is instead free-formed on skewers and directly cooked over the open flame.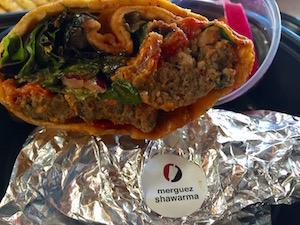 The Halal beef Soujouk Sausage is served with roasted onions, piquillo peppers, house-made garlic sauce, oven-blistered tomatoes and Souk mix. ($9.99 in a wrap and $2 extra for a plate with salad).
For the "Non-Carnivore" there is a chickpeas and fava beans falafel, crispy-on-the-outside and tender in the middle,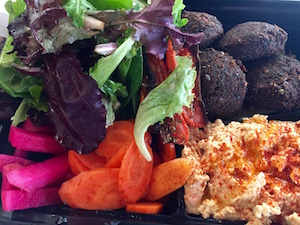 seasoned with Souk's signature blend of herbs and spices, served with green tahini sauce, pickled turnips, oven blistered tomatoes, mixed greens and Souk mix.  (The Wrap is $7.49 and the plate $2 more).  Shown at right is the Popcorn Falafel ($4.99), served with green tahini sauce and pickled turnips for a glorious burst of color on the plate.
Andrew's words describe the idea behind the small, casual dining room as "Soul of the Souk." The Arabic "souk" is filled with "row after row of merchants and vendors lining the streets.  The sights and smells of toasting nuts, dried chilies, succulent eggplant, fresh herbs, spices of every color and texture you can imagine forming perfect, vibrant pyramids along the way.  The produce from the farmer, the lamb and chicken from the butchers are all on display.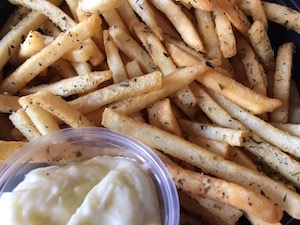 The sounds of the men and women bartering as small children dart between the stalls, laughing and playing.
"The intention of Souk Shawarma  is a journey home for those with childhood memories laced with family trips down to the souk.  You eagerly await the meat as it is shaved and layered into piping hot pita bread, topped with chopped salad, tahini, fries (The generous portion of Za'Tar Fries or French Fries at $3.99 with enough to share for 3-4 people, shown above , are prepared with Za 'Tar and garlic sauce for dipping. Souk Fries or French Fries at $7.99 are topped with beef shawarma, feta cheese, harissa, green onions and pickles– a nod to the American bar crowd.  It is the perfect balance of timeless tradition and modern fare for those experiencing the flavor of the Middle East for the first time.  Andrew's was to create just a small window into the vast culture and the flavorful cuisine of the region.
Andrew Faour, who grew up in an Arab household, where "delicious food was always cooking in the house" realized his passion for food even as a youngster – though never expected to go into such an uncertain and grueling business as the food industry.  So, after earning a business degree from Azusa Pacific University, he added a degree from the Le Cordon Bleu in Hollywood.  There he met teacher Mathew Carpenter.   Several years later, the two teamed up, witih Matthew as his co-owner and co-chef, to "create their dream culinary experience." They utilized Matthew's culinary expertise with Andrews business savvy to recreate a classic British gastropub with imaginative fine dining and high-end craft beers, wines and spirits at practical prices.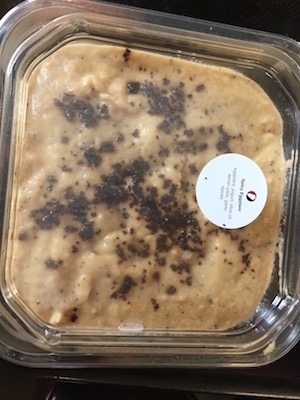 At Souk Shawarma, prices in the neighborhood just outside gentrified downtown Los Angeles are made possible with counter ordering and many of the side dishes packaged in a refrigerated self-serve  "Grab and Go Case,"  such as the Spicy Eggplant shown at left.
There is also a Vegan Shawarma made with non-GMO soy protein, seasoned with Souk's signature blend of herbs and spices, tahini sauce, oven blistered tomatoes and Souk mix.
Also in the "Grab and Go Case" is a Greek Salad and a fashionable Spinach and Kale Salad (each $7.99)  with a middle eastern touch of medjool dates plus a walnut and herb dressing.  The Fattoush Salad has the characteristic snap of  middle eastern fare byway of breakfast radishes, cucumbers, bell peppers, green onions, crispy pita in a on a bed of mixed greens.
My Greek art professor friends tried Souk Shawarma on a Saturday evening.  Her comment: "I had Greek salad. We loved the food, didn't like the plastic containers and the oil in the dressing was frozen from the fridge. They close too early but I understand they are not in a crowded area."
What made up for this, and what tempted the group in the first place were the bakery goods next door Oh.  Through an archway from the rich clay and red-walled room of savories is Andrew's sister Lauren's sparkling white bakery of delicate, rich sweets.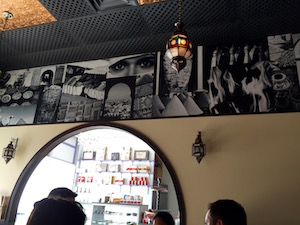 Souk Shawarma, 1111 Wilshire Blvd., Suite 104, Los Angeles, CA  90017 (213-935-8373. Monday-Friday, 11 AM -9 PM, Saturday, 11 AM – 7 PM.  www.soukshawarma.com.  Follow Souk Shawarma on Facebook, Twitter and Instagram.