TART Sweetens the American Regional Menu with Sorghum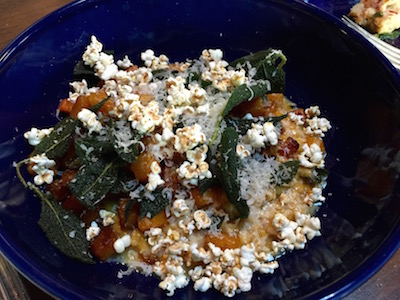 Even knowledgeable foodies may anticipate that the "sorghum" in  Chef Keith Shutta's Butternut squash sorghum "risotto" on his new TART Restaurant menu is a syrup. But when the chef presented the dish, it turned out to be the grain that the chef pops from tiny, globular grains of white sorghum to make a king of miniature popcorn, and that looks exactly like popped corn, pops tiny, globular grains of white sorghum to make a kind of miniature popcorn. The whimsical pops add an original spark to the layers of flavors in the dish of roasted butternut squash, fried sage, popped sorghum and parmesan.
The Butternut squash sorghum "risotto" is one of the robust American regional favorites. Another labeled "snack" is the old-fashioned, Deviled Ham and Eggs – here with Fried onion ringlets on top. It's perfect for the restaurant that sits inside the historic Farmer's Daughter Motel.
A beautiful Roasted Beet with Avocado Mousse, features puffed grains (here are the grains again!), shaved baby turnips, oranges, bulls blood and white balsamic vinaigrette.  "Bulls blood," beet microgreens with a delightful hint of beets, are not as bitter as other common microgreens. With bright red stems, and both red and green leaves, they are tender, sweet and have a beet-like flavor.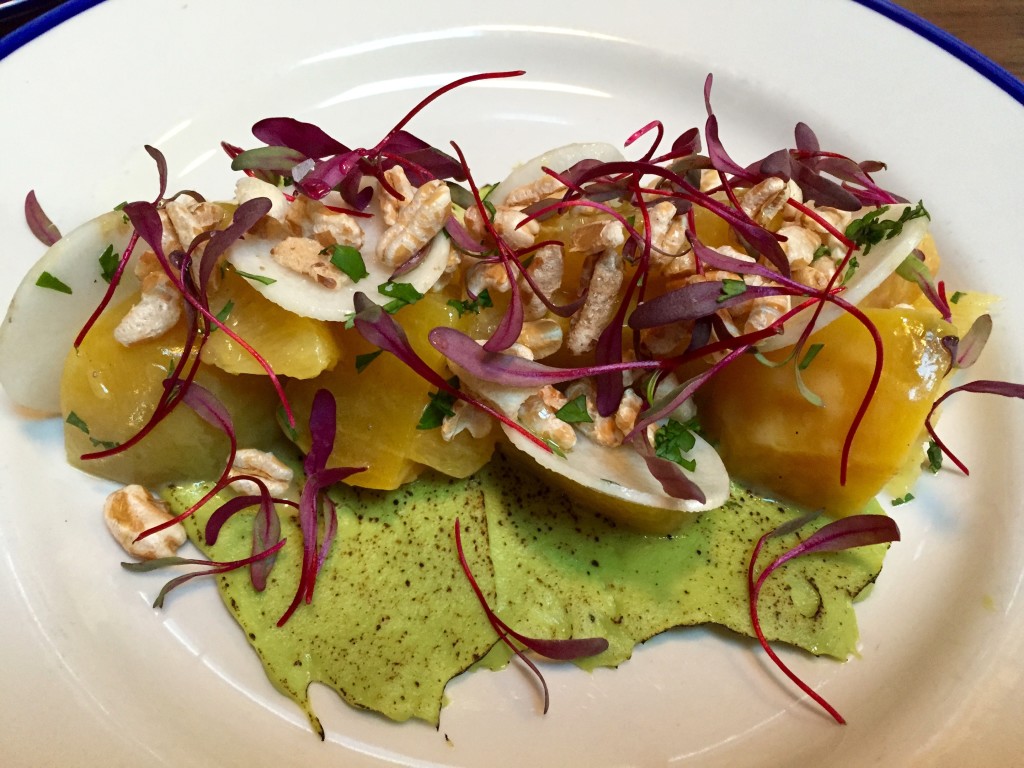 Another original American regional seasonal plate that celebrates both winter and the coming spring is a Crispy skinned "angle eye" with creamed mushrooms, fried rapini leaves, baby leeks and Atomic horseradish butter.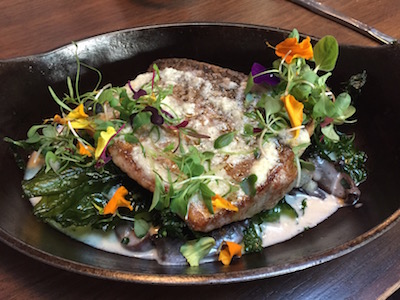 A dish in the Shared section that could appeal year-around is the new Smoked trout dip with shaved celery, grilled peppers, radish sprouts, Ritz crackers and Crystal hot sauce.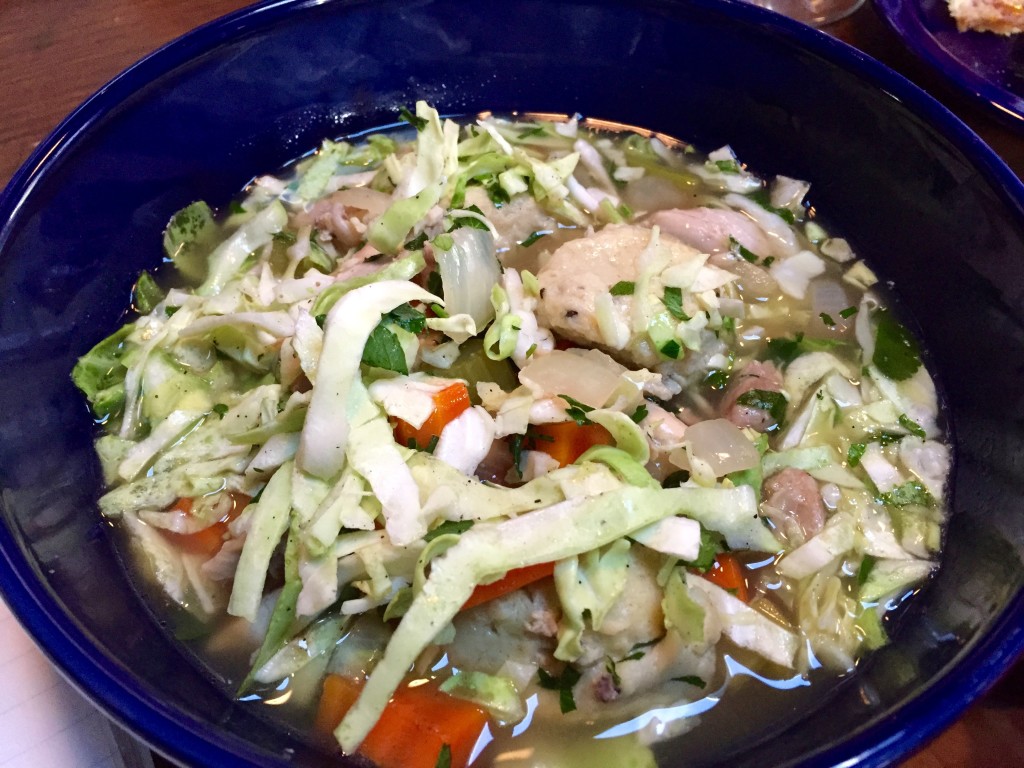 A Little History
Sorghum is long associated with the rural south and, in fact, at the turn of this century Southern chefs paid it some attention when they were working with historic ingredients.   But the idea of eating sorghum as a grain or in flour form itself itself is still, well, exotic…. Exotic in the same way that dandelion or collard greens, arugula and couscous were "exotic" although they were used in kitchens for centuries.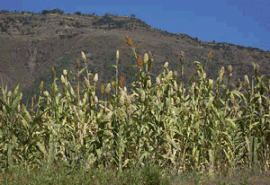 The group of nutrition and flavor-packed grains is so old it's considered an "ancient" grain along with amaranth, quinoa and the latest foodie fad, freekeh. Until now most of it ended up as fuel or animal feed. But recently, domestic farmers, chefs and consumers have recently started appreciating what African and Indian cooks have known for years: that grain sorghum is ridiculously easy to grow, healthy (high fiber! no gluten!) delicious, with a nutty, complex flavor and dozens of culinary possibilities. Sorghum used to be a major player in ancient trade routes like the Silk Road, but in modern times, it's sadly been relegated pauper's food."   Now it seems everyone's getting into the act. South Carolina's High Wire Distilling  recently rolled out a deep amber sorghum whiskey using grains from a Mennonite farm in Central Tennessee.
Chef Keith told us that sorghum is "the third-largest cereal grain in the country, fifth in the world – with the U.S. being the top exporter, accounting for 75% of global trade. Sorghum grain is prized in today's environment since it is drought tolerant and resistant to mycotoxins and fungi. Most of it is grown in the area around the southern parts of both Nebraska and Texas.
Versatile sorghum provides food, feed and fuel. In Africa and parts of Asia, sorghum is primarily a human food product; it is used mainly for livestock feed and in a growing number of ethanol plants in the U.S. – until now. (That's a picture of sorghum being grown in an Ethiopian field.)
Sorghum has an edible hull like some other grains, is commonly eaten with all its outer layers, thereby retaining the majority of its nutrients.  Sorghum also is grown from traditional hybrid seeds and does not contain traits gained through biotechnology, making it nontransgenic (non-GMO). Research is now being done on the positive impact of the sorghum hull on human cardiac health and its ingredients that may have cholesterol-lowering capability
Sorghum improves the texture of recipes and digests more slowly due to its lower glycemic index, so it sticks with you a bit longer than some other flours or flour substitute
(http://tartrestaurant.com) is nested in a sort of barnyard collage of historic buildings inside the iconic Farmer's Daughter Hotel in the historic Fairfax District in L.A., 115 S. Fairfax Avenue, Los Angeles, Ca  90036, (323) 556-2608