Tart's "Beeler" Pork Raised the Native American Way

This Little Piggy went to TART.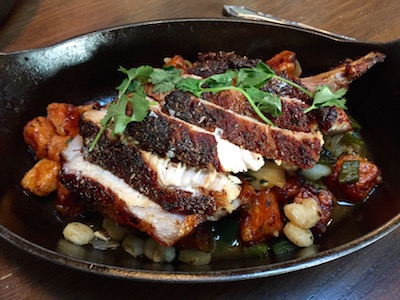 Often when we eat at TART it feels like a good idea to take Chef Keith Shutta's food home to be sure it tastes as good as in the festive air of the restaurant. We did this with the Blackened "Beelers" natural pork chop with sweet potato & hominy hash and a Cajun spiced tomato broth. And it was astonishing the second time at home – moist, succulent, deeply flavored.  The sweet potato and hominy hash complemented each other with the hominy laying an open slate for the gentle sugariness of the potato, and also served as an invitation for the sudden "bam" of the Cajun spiced tomato.  "Broth" is to liquid a description for the stew-like consistency that suited the dish well.  Below, Chef Keith looks as happy as we felt eating his Pork Chop.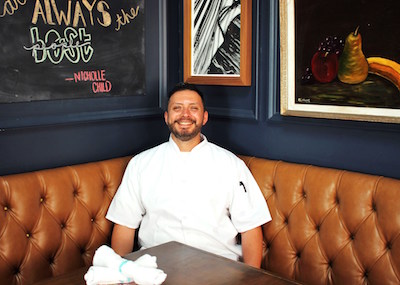 The reason? Beelers Pure Pork, a fifth-generation family owned hog operation in central Plymouth County. If treating animals makes them taste better, this is the prime example if it. Fred Beeler immigrated from Germany to the gently rolling hills of Madison County, Iowa in 1846. Even at that time he began raising pigs with the double idea of breeding and welfare. The company statement puts it this way, "After all, the animals are making the ultimate sacrifice, so we're making sure the animals are treated fairly and humanely."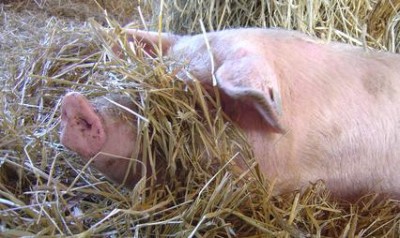 (contributed photo from Beeler Farms)
The beliefs still guide the company, which has named their proprietary method of farming, Heluka, from the native American language meaning, "Full of Sun." They've christened their operation Heluka Farms because every pig is free to wander outside at will and enjoy fresh air and sunshine.   It is an all inclusive proprietary system focusing on pig comfort, welfare and genetics. The Beelers officially started their Heluka system in 2004 with two goals in mind – the welfare of the pigs and the palate of consumers.
The Beelers enhance their pork the "natural" way, with genetics. Because the Beelers do not enhance their pork they require a genetic line with a higher marbling score and Ph level to provide a more tender and juicy cut of meat.
We want consumers to enjoy the real natural succulent flavor of our pork", added Julie Beeler.
Searching the world over the family found the perfect pig, a Danish Duroc, or "red" pig known for flavor explosion, tenderness, and juiciness. I testify to this description. An exclusive line of Duroc Boar is being used as sires. On the maternal side, a line was chosen that proved to be docile, adaptable to the large pen system and willing to respond well to human interaction. These sows are a mix of Large White, Landrace and Duroc.
After observing European hog farming techniques in a land where gestation and farrowing crates have been outlawed, the Beelers worked on the design of their own farms. "We designed our gestation barns after the ones we saw in Europe, of course, no crates, a deep bedded area for sows to nest, root and explore," says Beeler. "There's separate food and water court and, of course, an area for sows to go outside and enjoy the fresh air and sunshine." All of Beeler's barns are naturally ventilated allowing for fresh air and sunshine inside as well.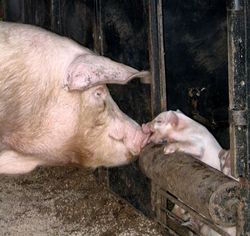 Beeler added that "while our gestation barns are working well, the maternity barns have been a challenge. "Numbers in our maternity barns are not that of conventional operations yet, we are confident we are getting there."
Pork sold under the Beeler name is not treated with antibiotics. -Contributed photo
Beeler explained, "We do treat sick animals, but those that are treated are then identified and sold to the conventional market. "
Beeler said that all pork producers are all in the same game of producing a safe, nutritious and compassionately raised product for the consumer. "Some of us have just focused on a very specialized way of doing it for very selective markets," he added.
The company's hogs are slaughtered at Sioux Preme Pack in Sioux Center. Bacon and hams are processed by Webster City Custom Meats in Webster City.
Sausages are made by Scooter's and Wimmer's in Brunsville and in West Point, Neb. The Beelers provide processors with their own recipes and work with them to ensure the product meets Beeler's standards.
"Since 1846 our family mission has been to provide consumers with superb tasting pork products, free of chemicals, and to treat our animals with compassion. I'm proud to say, that 161 years later, our great- great Grandpa Fred's values are still fueling the success and growth of Beeler Pork," stated Tim Beeler.
(http://tartrestaurant.com) is nested in a sort of barnyard collage of historic buildings inside the iconic Farmer's Daughter Hotel in the historic Fairfax District in L.A., 115 S. Fairfax Avenue, Los Angeles, Ca  90036, (323) 556-2608