Tempting Summer Sandwiches the Got Kosher? Restaurant Style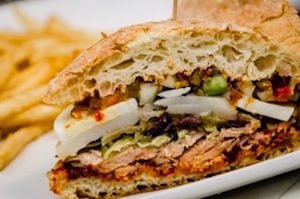 (Carla Crudup) Summer staples of Burgers, Hot Dogs and Tuna Sandwiches are about to come  into season  so why not have the very healthiest and best — kosher from Got Kosher?   They also have the best tuna sandwich — perfect for a hot weather picnic inside a dining room or at the park.
I've studied and cooked kosher foods, but Got Kosher? is an international kosher deli that stands in a category of its own. Nestled inconspicuously in the West Los Angeles Pico/Robertson district, this quaint outdoor café is full of pleasant surprises. At first glance, this restaurant clearly takes claim at kosher cuisine by its name and as it advertises Haute Glatt to go. But oh, just wait. Don't let the unostentatious presence of this café fool you! When you walk through the door, look at the menu and food displays, specializing in kosher cuisine, is just the tip of the iceberg.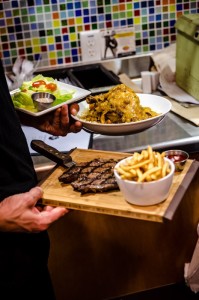 Not only do they include traditional dishes from both the Ashkenzai and Sophardic communities, Got Kosher? also specializes in north African (French Tunisian and Moroccan) cuisine as well as other regional Mediterranean culinary delights and the food is delicious. The décor has a simple, chic flare, with large, colorful menu boards, green concrete floors and gold hanging lights. I was curious as to how such a unique restaurant came about. I had the good fortune to sit down with acclaimed Chef Alain Cohen, owner and operator, to discuss one of the most unique and exotic food establishments I have ever visited.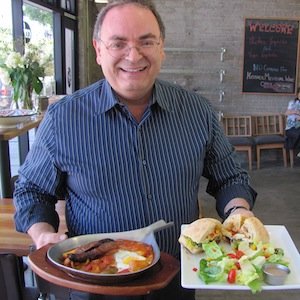 After speaking with Alain, it didn't take long to understand the birth of the restaurant. Born in Tunisia, Alain immigrated to Paris, France, where his father opened a Kosher Tunisian restaurant, which he later transformed into a restaurant to a French Tunisian "fusion" restaurant that still exists. Alain's love for movies brought him to Hollywood, and it was there that he felt a need for an international Kosher cuisine establishment with French Tunisian dishes. According to Alain, "North African cuisine ingredients add 'spice' to the concept of Kosher cuisine, often thought of as Eastern European Ashkenazi style, based on root vegetables because of the many restrictions, and lacking spices, which were scarce. Our dishes have a base in North Africa, with its abundance and variety of vegetables and which 'brings to the table' the incorporation of French cuisine."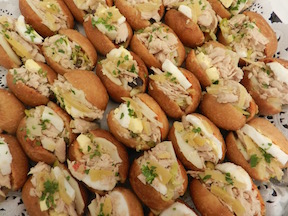 A sea of fricassee sandwiches – mini Tunisian
Tunisian cuisine is different from any other North African cuisine because it is quite spicy. Tunisian fare is a blend of neighboring Mediterranean countries and includes influences from the many civilizations that have ruled over the land, including Roman, Phoenician, Arab, Turkish, French and native Berber people.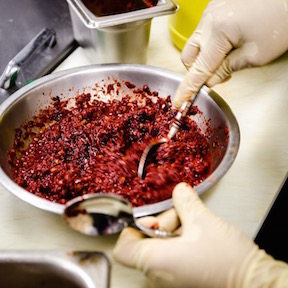 A very popular condiment that is used commonly in Tunisian cooking is called harissa,   a red pepper sauce that includes red chili peppers, garlic, tomatoes, coriander and cumin. The first item served on my visit was Tunisian olives. There was a trio of olive types, which included Kalamata, green Spanish and Turkish olives. The olives were marinated in harissa, fresh lemon, chili red pepper pods, bay leaf and sprigs of marjoram. Delicious. The spiciness from the harissa added a nice heat that didn't overpower the various textures and taste of the different olives.
The next dish presented to me was Matboucha, a traditional Moroccan dish that is a cooked relish consisting of peppers, tomatoes, and garlic. It was served cold with pita bread, but it can also be eaten hot. This is a very popular dish in Israel and can also be served on sandwiches as a dip or with eggs. The lovely cooked tomatoes in a palatable rhythm balanced well with the other vegetables and spices. The taste was simply divine.
The Tunisian Baba Ghanoush was an exceptional appetizer served with pita bread. the Baba Ghanoush at Got Kosher? is roasted aubergine or eggplant dip. But unlike many of its spicy Tunisian food counterparts, Tunisian Baba Ghanoush is very mild. I eat Arabic, Egyptian and Persian Baba Ghanoush and love them all. The Tunisian Baba Ghanoush was very light in color and had a wonderful light smoky flavor, which is typical of this savory dish. The lemon tahini paste and roasted eggplant melded well. The element of surprise for me was that this Baba Ghanoush reminded me of a cool cucumber salad more than an eggplant dip.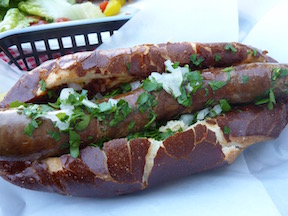 Two mesmerizing sandwiches completed my culinary trip. I was served the all-natural glatt kosher Moroccan Merguez (sausage) Parisian-style sandwich. This particular beef and lamb sausage is seasoned with cumin and served on the restaurant's famous pretzel challah roll. It is topped with parsley, onion and harissa sauce. Scrumptious. The next sandwich provides a culinary exposé of where Paris meets Tunisia and is street food. Delectable. This is called Alain's Tunisian Tuna Sandwich and was served on a stirato roll. The sandwich consists of tuna in olive oil, hard boiled egg, capers, olives, potatoes, British cucumbers, harissa sauce and mechouia. Mechouia is a spicy Tunisian grilled vegetable salad. When I took one bite of this sandwich, it took me back to Cannes, France, when I sat in an outdoor café eating a wonderful nicoise salad for the first time. This salad's components are similar to those in Alain's Tunisian Tuna Sandwich. It's clear to see how Alain has so cleverly combined French and Tunisian cuisines.
Americana is even added on Sundays, they serve barbeque that includes beef ribs, pulled beef brisket, baked beans, cole slaw, roasted corn on the cob and potato salad. Got Kosher? also has a great provisions Shabbat take-home menu. The restaurant has a catering kitchen and an impressive online menu to accommodate any occasion. They cater kosher meals for Wolfgang Puck, Patina and just recently, their savory cuisine been featured at A Taste of Beverly Hills. As I was flipping through the online menus, I saw such items as couscous (which is king in Tunisia), lamb and I even noticed one of my all time favorite French dishes, Coq Au Vin!
This eatery just isn't your everyday café. That's actually an understatement. They have great Kosher cuisine and so much more! From French Tunisian to fresh healthy gourmet sandwiches, salads, grill items, entrees and even sushi, Got Kosher? should definitely be on your to do list of places to eat whether you live in Los Angeles or are just visiting.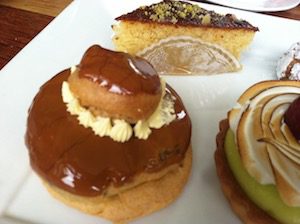 One thing is for sure. Chef Alain Cohen's wonderfully diverse travels, multicultural upbringing and exposure have clearly made its way to Los Angeles, California, via the Got Kosher? café.
(www.GotKosherInc.com). Location: 8914 W. Pico Blvd. (1 block west of Robertson), Los Angeles, California 90035, Telephone: (310) 858-1920, Hours of Operation:Sun-Thurs 11:30 – 9:30 p.m., Fri 9 a.m.-4 p.m., Catering Off-site and take-away catering for 4 to 4,000: 1410 S. Livonia Avenue (at Pico), Los Angeles, CA 90035, Telephone: (310) 858-3123
Airline, vacation, special occasion, institution; fine dining at take-out prices.  Street parking.
Article ©2010 Carla Crudup. All Rights Reserved.