Thai Red Curry Brightens Any Winter Day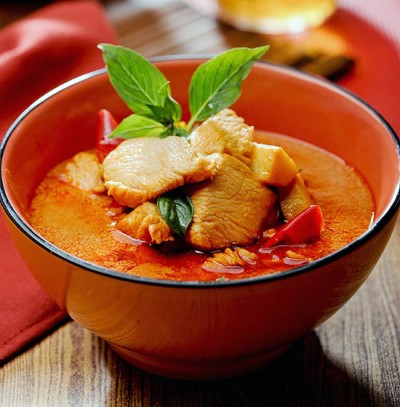 Our California cold snaps may not rival those of the Midwest but they can still feel like the winter "blahs." One way to counteract dull days is with lively colored red curry dishes. They spices up mealtime with a big flavor, comfort-food style and smooth taste.
Red curry paste is made from both wet and dry ingredients. It is a powerful combination of chilies, shallots, garlic, lemongrass, ginger and lime leaf, along with flavorings and spices.
Healthy, snappy and exotic describe red curry. Red curry is fragrant and sumptuous, and can be made anywhere from mild to red-hot, depending on preference. It starts with a homemade Thai red curry paste easily put together with your food processor or blender. Add coconut milk, chicken, and some vegetables, and you have a healthy and hearty paste to awaken your senses and boost your mood. Best of all, a one-pot dishes can be put together and in the oven in under 20 minutes.
Red Curry earned its reputation as a popular Thai ingredient to "heat" dishes based on coconut milk and spiked with fish sauce. They are usually with rice. Commonly used ingredients include kaffir lime leaves or peel, Thai eggplant, bamboo shoots, thai basil and a meat such as chicken, beef, pork or shrimp. For vegetarians, tofu or Quorn can be substituted. In Thailand, red curry is often cooked with Thai eggplant.  Bamboo shoots are also a popular choice. Curry normally has a thick, soup-like consistency and is served in a bowl with a side of rice.
So what exactly is a curry?  First off, the Portuguese and British who were in India hundreds of years ago took to describing all Indian spicy dishes as curry.  The Portuguese had adopted the terms "caril" or "caree" from various words in south Indian languages. For example, in the Kannadan and Malayalam languages, the word "karil" meant spices for seasoning.  This eventually became "curry."  Curry is also called gaeng curry (by various spellings) in the Thai language.
As the British enjoyed their curries and began to cook them as a variation on one theme in their kitchens, the variety of ground spices used in many favoured dishes was reduced conveniently to "curry powder."   By the 1850s, British cookery books simply called for "a spoonful of curry powder" in Indian recipes. It remains an item commonly called for in cookbooks today, easily be purchased in a tinned version.
Red curr, however, is most associated with Thai dishes, such as the classic Panaeng Curry, Thai Muslim Curry, Red Chicken Curry. Red curry fits right in with the ideal Thai meal being not only a harmonious blend of spicy, sweet, and sour but satisfying to the eye, nose, and palate. Don't be afraid of "spicy." Mouth-wateringly different, Thai food is basically 'chili hot.' That means only as hot as you like it. And it is blended with subtle additions of locally grown roots, grasses, and aromatic herbs to lessen the 'bite' with aromatic, flavor-enhancing plants such as sweet basil, mint, and galingale.
You can make a true homemade red curry paste the long way with mortar-and-pestle and a long, long list of ingredients. Or you can buy it ready made at any health food or Asian grocery. All that chopping, grating and blending has been done, and a little jar full of flavor keeps for months in the fridge. Keep in mind, though, that American commercial brands, such as Thai Kitchen are the least flavorful and most processed.
Be adventurous. Go to your local Asian market and pick up some Mae Ploy brand red curry paste. You can buy red curry in small cans (about 4 ounces for less than a dollar) or in 14-ounce jars (a bargain at under $2). And any staff member, or shopper for that matter, will be happy to answer any questions about it for you.
Valley resident, Chef and TV series host, Tommy Tang, known as the "Father of modern Thai Cuisine, features a number of delicious red curry recipes on his website and in his cooking books. Tommy "westernized" the dishes, such as Red Curry Shrimp. "Most Thai chefs make their curries very water – what we think of as a curry broth," he says. They also have a tendency to overcook the coconut milk, separating it and making the mixture greasy. I prefer a thick, creamy curry. That's how it should taste. Red curry paste? Simply buy a red curry prepared paste. Why? "Because most of all," he concludes, "cooking should be fun."