The Thai Town Marketplace Breaks Ground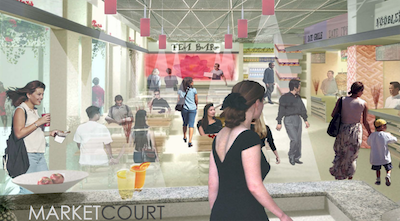 The Thai Town Marketplace Breaks Ground Launching the Thai Community Development Center's Latest $2.95 Million Community Enhancement Endeavor
The Thai Community Development Center (Thai CDC) recently celebrated a ten year victory at the ground breaking of the Thai Town Marketplace (TTMP) located at 5448 Hollywood Blvd., Los Angeles, CA 90027. The marketplace is Thai CDC's current endeavor towards improving Thai Town, providing jobs for the economically disadvantaged and offering the community its next taste of culture. The $2.95 million project is a transit-oriented public market and social enterprise that "incubates" businesses nurturing them until they are viable entities ready to stand on their own.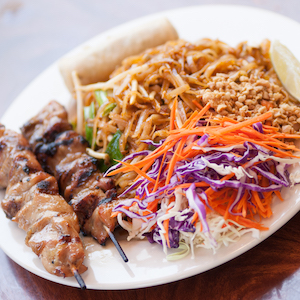 Councilman Mitch O'Farrell's support was backed by a $1.2 allocation from the City of Los Angeles that the Representative for District 13 authored.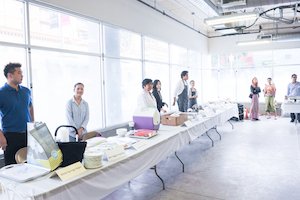 "This is a community-based economic development strategy that creates 26 jobs and 12 microenterprises and provides a synergy with our farmers market that is right outside the market doors on Thursday afternoons," says Chancee Martorell, Executive Director of the Thai Community Development Center.
The Royal Thai Consul General, Tanee Sangrat who just arrived at his post this summer, attended his first Thai CDC event.  He spoke of the impact of this project and others. The Consul General is partnering with Thai CDC to plant 18 trees this December to help improve Thai Town while honoring the King of Thailand's 89th birthday.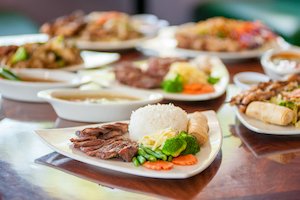 The LA Metro and McCormack Baron Salazar reflected on their partnership with Thai CDC during the decade it took to navigate and satisfy all requirements. Without the cooperation from both entities, the success of this market wouldn't have been possible.
A well-groomed cut in the concrete floors provided the stage for TTMP's ground breaking. Gold shovels were in hand by the leaders and dignitaries as the corner of Hollywood and Western started its latest enhancements that are slated for completion in June 2017.
The official ceremony ended with a traditional Menora Thai dance.  Six energetic vendors were on hand to entice their future customers with the samples of what they plan to offer the public upon opening. Guests were treated to curries, poke bowls, Pad Thai, crepes, rice cakes, veggie fried rice and other items.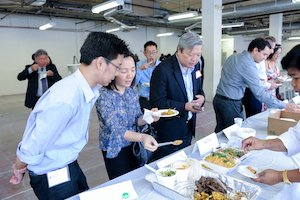 "I'm introducing a vegan healthy food with great nutrition for our busy lifestyle," says Rotchana Sussman, owner of the future stall, White Springs Vegan. Rotchana is also a human trafficking survivor who received services and advocacy from Thai CDC that helped her find justice and economic self-sufficiency. Her sentiment of providing nourishment to her customers was reflected in all of the vendors as they lovingly ladled out curries, poured bowls, and dished up crepes.
Thai CDC continues to mobilize people, policy, and resources towards improving the lives of the less fortunate through economic strategies that are designed to be self-sustaining for the individual and the community.
In the past twenty two years, Thai CDC has not only launched the Thai Town Marketplace but also created Thai Town, built 106 units of affordable housing, provided business counseling and entrepreneurship training, co-founded the Songkran Festival (a Thai New Year's celebration with over 100,000 people in attendance), and initiated many other projects that have improved the lives of not only Thais but everyone who lives in East Hollywood. The ground breaking was a hit with Thursday's audience and will continue to reveal its true potential when the doors open and Thai Town receives its newest addition.
Vendors in attendance:
Bangkok Grill
Poke Please
Ruanthong
GC Crepe Makers
Ja Poaw Kanonkrok
White Springs Vegan
Full Moon Cafe