The Incredible Egg in Korean Bibimbap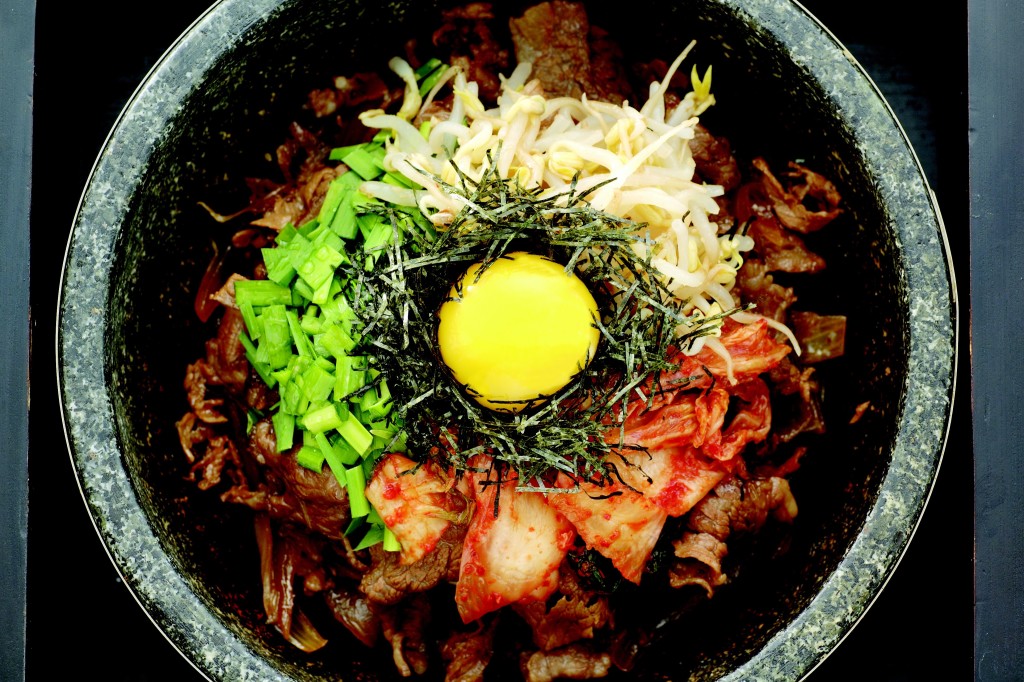 (Gerry Furth-Sides) Ever since I saw my favorite "bad boy" chef Anthony Bourdain make an event out of eating the novel Dol Sot Bibimbap on his TV show I wanted to try it. The actual name roughly translates to a rice dish served in a steaming granite bowl, so hot that when a raw egg is dropped in, it cooks before your very eyes. Add to this a server who literally cuts with a scissors what looks to be a piece of cloth that is actually a paper thin piece of beef.
The fun part is that the server always, in fact, does the final preparation, performance style at the table. He or she mixes the raw egg into the mixture of marinated beef strips, shitake mushrooms, spinach and rice, then anoints the mixture with hot sauce to the specified level of spiciness.
Since the granite bowl holds  heat and takes a good long time to cool off. Within minutes, the egg is cooked through. The rice that comes into contact with the scorching hot sides of the bowl forms a tasty crispy crust – a prize at the bottom of the dish. Even if you are not a fan of rice, and I am not, the toasted rice makes such a surprising contrast to the tender, marinated beef you don't want to take a mouthful of it without the other.
It's perfect for cooling down on a hot summer day or a colder winter one when you want a dish to stick to your ribs.
The Japanese add "Sukiyaki" to the name. It is well known in Japan as the "friendship dish" because it appeals to foreigners. Korean Bibimbap fits the bill since sukiyaki is defined by stir-fried bite-sized pieces of meat, vegetables and sometimes noodles and tofu. It is usually flavored with soy sauce, dashi (broth) and mirin and prepared tableside.
In the Japanese version of "sukiyaki" dishes, diners dip their cooked food into beaten raw egg before eating each bite. Tokyo Table chefs were clever to borrow the Korean self-cooked egg. Raw eggs have been frowned upon for years in the United States, with Caesar salad being one of the best examples.
There are a number of Korean restaurants Mid-Wilshire that serve this dish.